In Spain, tapas are essentially considered their own food group. This style of eating - small, bit-size servings of various dishes - has grown extremely popular in many parts of the world as well, and is often seen as trendy. But tapas can be incredibly easy to make, making a good option for food-on-the-go while on vacation, or to serve guests during parties and other get-togethers.
Perhaps the next time you are visiting Spain, you can enjoy a tapas meal without having to leave the comforts of your accommodation. And surely when you arrive back home, you can impress your friends and family with your refined Spanish cuisine knowledge and skills. At the very least, these tasty snacks will make you reminisce about your amazing Spain holiday.
1. Patatas Bravas
Patatas bravas are simply a must for a true Spanish tapas meal. Cut up potatoes into wedges and cook until just tender. Drain the water and place the potatoes on some wax or foil paper. It is important to get rid of as much water as possible, so you may consider dabbing them with paper towel. Next, arrange them in a casserole dish, coat with olive oil, and bake in preheated oven at 200 degrees until they are golden and crispy. Serve with aioli or patata brava sauce. (Or both?)
Alioli: Mix in a generous amount of chopped, fresh garlic as well as salt and pepper into some mayonnaise.
Patata brava sauce: Cook finely chopped onion in olive oil. Add tomato sauce, tomato paste, garlic, paprika, chili powder, salt, and a touch of sugar. Add more or less of something to taste. Let simmer for 10 minutes. Can be made ​​up to 24 hours before serving.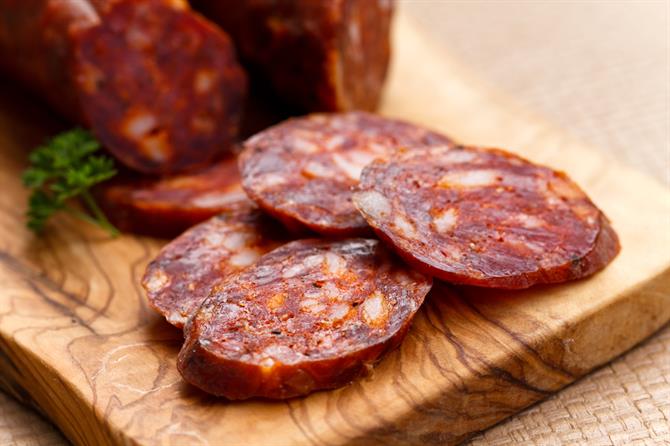 2. Cured Meat

Cured meats are very simple, very good, and a classic tapa. Buy an of assortment hams (jamón) and sausages (chorizo), then simply cut up. Voila! Can be served with baguette slices and olive oil.
3. Albondigas (meatballs)
Small meatballs can be made yourself or purchased. When finished cooking, place them in a pot with tomato sauce and let marinate for a while before serving. Tomato sauce can be as simple as using canned chopped tomato and adding olive oil, salt, pepper, garlic and other spices of your preference.
4. Selection of vegetables
Another dish that does not require any preparation! Simply buy jars of olives (aceitunas), garlic, peppers etc. and serve in small bowls with toothpicks.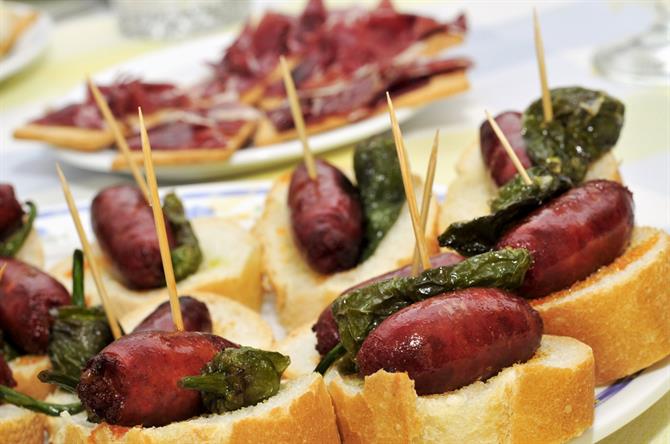 5. Pintxos
Who doesn't like mini sandwiches? Buy fresh baguettes and cut into slices. What you choose to put on the bread is up to you and your imagination! Get creative with your favorite toppings.
If you need some inspiration, some classic Spanish pintxos are as follows: tomato and jamón, jamón and manchego cheese, meatballs, chèvre cheese and fig jam, sardines and canned peppers, Spanish tortilla, smoked salmon, and more. Use toothpicks to hold in place, as your sandwiches should be overflowing with delicious things on top!
6. Cheese
Certainly one of the best (and the most simple), a selection of cheese tapas. Manchego is a must, but there are plenty others of varying strengths, origin, and consistencies for you to choose from. Cut into pieces and serve on platter. Tasty with figs or other fruits that blend well with cheese.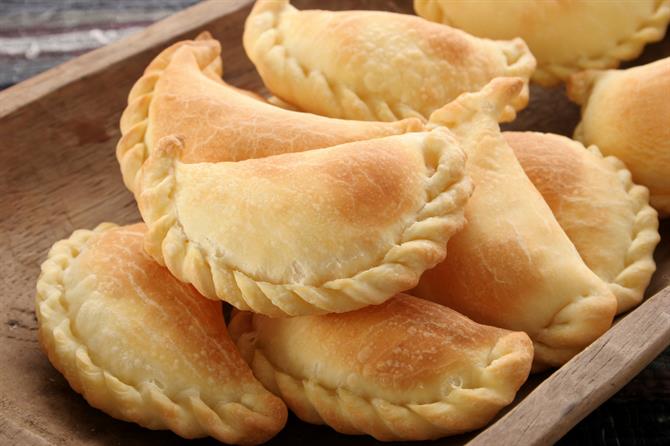 7. Empanadas
Empanadas are not as difficult to make as they might seem. Buy or make homemade. Roll out dough into a thin wafer, and use a large kitchen glass to cut out circles. Add a small amount of filling on one half, brush around the circle with beaten egg, neatly fold the other half over, and press to stick. Squeeze the sides together with a fork. Brush the entire surface with egg and bake in preheated oven at 200 degrees for 20-25 minutes.
Tips to fill: different kinds of meat or sausage fried with finely chopped vegetables and tomato sauce in a pan, or make it easy with chorizo and mashed potato for example. The sky is the limit with these delicious little rolls!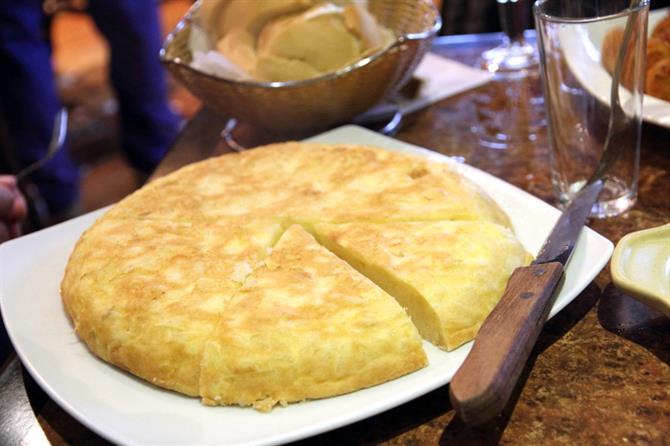 8. Tortilla
Spanish tortilla is just as good served cold as it served hot. Cut potatoes into very small cubes. Do the same with onions. Bake these two together over medium heat, in a good amount of olive oil. The potatoes should be fairly tender, but not brown. Use paper towels to get rid of oil on the potatoes and onions. Whisk egg, salt, and pepper in separate bowl. Mix in onion and potato, and then pour the mixture back into the frying pan on medium to low heat. Cook it until it is stable enough to flip, and simply fry on the other side.
9. Pinchitos (skewers)
Roast chicken, vegetables, sausage pieces, meatballs, or similar foods and stick on skewers! Simple as that.
One very tasty and simple combination is of dates wrapped in bacon and baked in the oven, then strung on toothpicks.
10. Dessert
What would any meal be without a sweet ending? Though not as traditionally Spanish, dessert tapas are often found on pintxo restaurant menus.
You can go for just about whatever you want, just on a small scale. Make a big cake and cut into small squares, garnish each square and stick on toothpick with a berry in the middle. Make puddings or flan in small portion bowls. Get creative!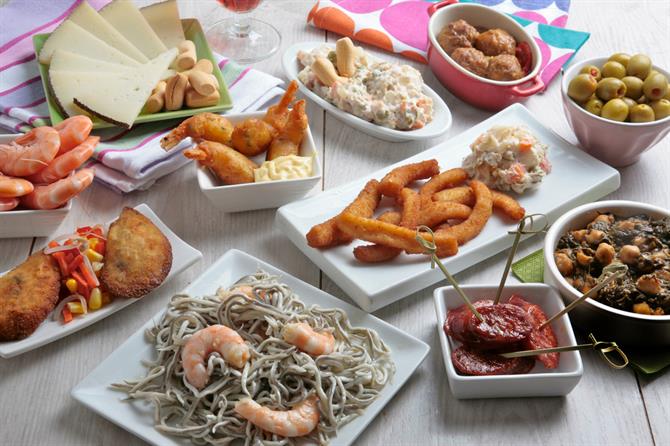 Enjoy Spain's flavors and traditions at home in your own living room, and share with friends and family just as the Spaniards are known for doing. Tapas will be enjoyed bit by bit throughout the evening, in an authentic "mañana" style. If you want to make it even easier for yourself, you can arrange a tapas evening where each guest prepares and brings a dish or two. Who knows, maybe you will get some new ideas from each other. (Be sure to let us know your creative ideas in the comment section below!)
Drinks to compliment your tapas!
Lastly, we will show you two typical Spanish drinks you can serve with your tapas. Spanish red wine is a given, but if you want a little change, make a pitcher of sangria or tinto de verano!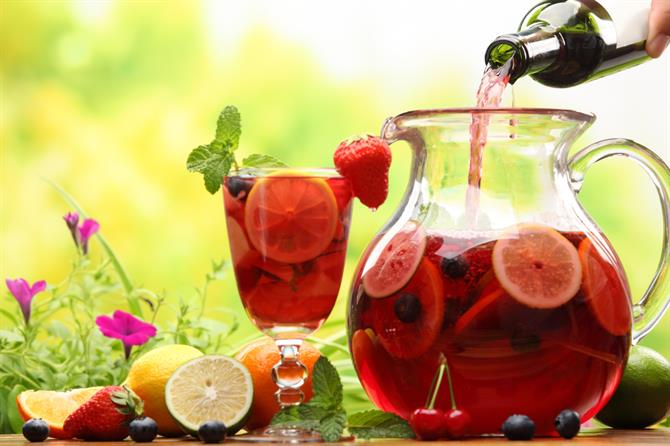 Sangria: Pour a bottle of red wine into a large pitcher or bowl. Cut up an orange, a lemon, and an apple, and add them in the red wine. Mix in a few tablespoons of sugar and a dash of brandy. Leave it cold as long as possible, preferably overnight. Just before serving, mix in a bit of lemon soda or club soda.
Tinto de Verano: In a large glass, mix equal parts of red wine and lemon or orange soda. Serve with ice and a lemon. Also works with white wine.
¡Buen Provecho!