Everywhere you look around
Love is in the air - well, it will be next month when St.Valentine's day rolls around again. Propose a romantic holiday in Spain...She's bound to say yes to that! Choose a cosy place for two, using our list of places as a guideline, and get packing for next month. February 14th falls on a Friday this year = no excuse NOT to have a weekend away.
Decisions, decisions...
So, you've decided that Spain is the place for that love filled weekend - but where exactly? There are castles and mountains, big cities to get lost in and isolated stretches of coastline: but which is the perfect romantic Spanish destination for you? Let's take a tender look at the romantic destinations in Spain for celebrating St Valentine - you'll be passionate about all of them!
1. Granada
Of course, it's top of my list - it's one of my favourite places in Spain, not just for February! Ignite your weekend of love with a stroll around the Alhambra palace at sunset. Forget the crowds and hordes of high season, watch the sunset turn the walls of the palace pink, take a picnic and a blanket and sit in the grounds. Explore the gardens of the Generalife - if you want to smell the roses it's the place to be.
2. Madrid
The capital of Spain still has that certain something for lovers and singles alike. Whether you want to explore the galleries and museums of magical Madrid arm in arm, or find an intimate restaurant and a table for two. Take a trip to Retiro park, and rent one of the rowing boats, there really is nothing more romantic.
3. Barcelona
For art lovers and absolutely everyone. Barcelona is such a seductive city, from the Gaudi overload right down to the bohemian atmosphere and the quirky café life. Stroll on the Rambla, enjoy the buzz of Barcelona, or only have eyes for each other, it's easy to be charmed and fall in love in and with Catalunya. Choose a Catalan Cava to celebrate with!
4. Seville
Flamenco and passion. Sultry and seductive. Seville is not just hot in summertime, there's much more to it than just the weather and the stunning sights, Feel the heat of passion in Seville for yourself, take in an authentic show of the stomping and fantastic flamenco - it's an unforgettable experience.
5. Toledo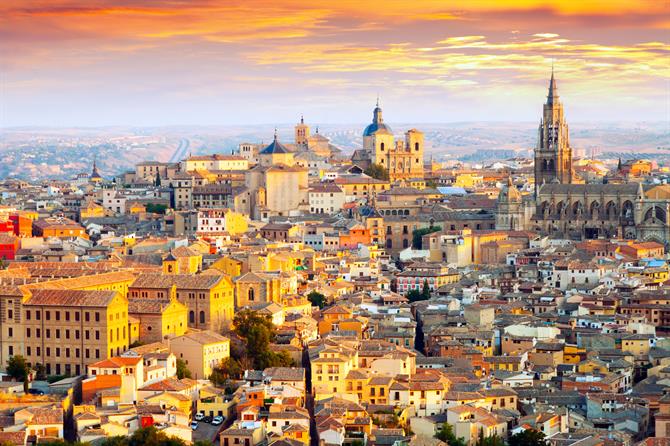 Imagine a time machine to transport you both back in time. If fairytale castles and medieval streets are your idea of romance - then Toledo will steal your heart. Be warned: it's love at first sight - an ancient castle on a hill, twisting and turning cobbled streets tumbling down to the river below. This UNESCO World Heritage Site seduced Greco all those years ago, and still works the same magic today.
6. Segovia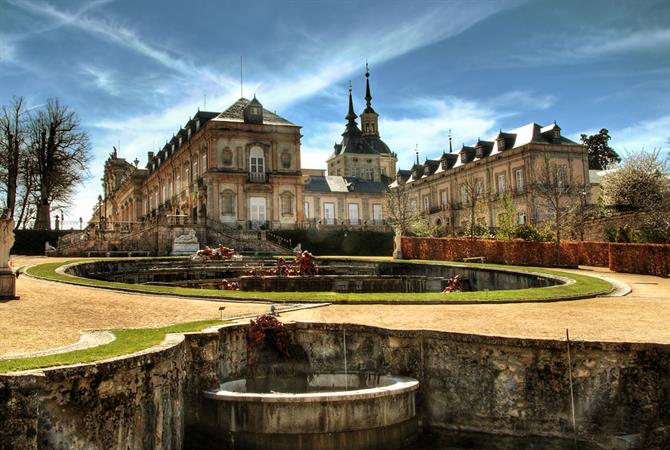 Segovia will seduce. The entire Old Town is walled and protected, with UNESCO status. If you're a couple that love history, ancient architecture and medieval sights then Segovia is for you. Wander and get happily lost in the maze of narrow alleyways and plazas, a new discovery around each corner. A mix of Moorish landmarks, little individual artisan shops, and perfect gardens to explore - a quiet and culture filled weekend is yours if you choose Segovia for romance in February.
7. Mallorca
An island getaway? Castaway together on a sunshine filled island appeal to you? Then think Balearic and choose a weekend - or perhaps a little longer - away from the mainland and on the magical island of Mallorca. Explore the coastline by boat - or kayak if you're feeling braver! - the secret coves and stunning hidden beaches. Pine scented air and white sands, perhaps still too early for a dip in the sea, but perfect for a stroll at sunset. A seafront restaurant afterwards, a seafood platter for two.
8. Lanzarote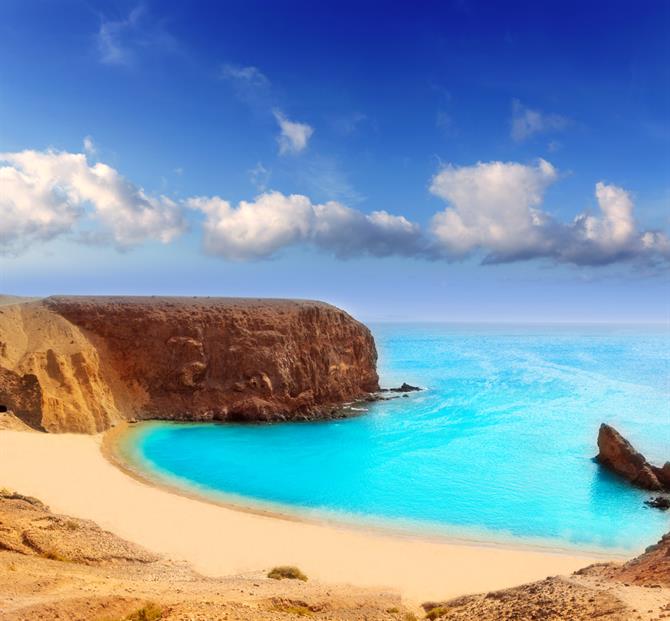 Close your eyes and imagine the perfect sunset, the two of you strolling arm in arm on a perfect beach. The weather will almost certainly be a bonus, Lanzarote as one of the Canary islands has it good all year round, and makes the ideal romantic getaway in February. Beat the hordes of families and tourists on the larger islands of this sunny group, and take a quieter break to Lanzarote.
9. Galicia
Green and rugged, wild and windswept in winter, deserted beaches and coves made for romantic pirate stories. Perhaps you won't find Johnny Depp, but you can create your own paradise here in Galicia.The best seafood in the world - indisputably! Taste aphrodisiac delight as you choose the best bounty from the sea - at an intimate table for two! Visit the famous Cathedral Beach, where you'll be amazed at the power of nature.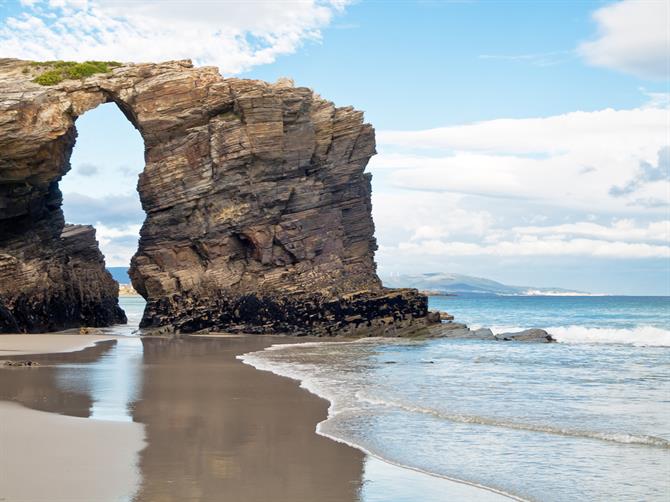 10. Teruel
Teruel makes the list? Why? Ah, let me tell you a story.
In 1217 a young couple - Diego and Isabel - fell in love, but in true West Side Story fashion he wasn't good enough for her family. Sent away to make his fortune for 5 long years, Isabel's father managed to marry her off to a more suitable suitor. On her wedding night Diego came back, dying, and begged her for a kiss. She refused, pleading allegiance to her new husband, and so he died. The next day, dressed in her wedding dress, Isabel lay on top of his coffin and passed away herself, broken'hearted. The two were buried together. Later, exhumed, they are now in decorated tombs in Teruel, and much visited all year round. If you're in the mood for some Romeo and Juliet old style romance, then take a trip to mountainous Teruel, and see them for yourself!