Festive food
Christmas tastes different in Spain, there are some familiar dishes, but it's about more than turkey and stuffing in Spain! So while you may be looking forward to the traditional plate of turkey, roast potatoes, and those bitter little Brussels sprouts, in sunny Spain things are done a little differently - perhaps it's the sunshine, or the abundance of fresh local food, but it's an altogether fresher, more festive affair!
Family first
Wherever you happen to be in Spain during the festive season, whether it's the biggest city or the smallest mountain village, you'll find that Christmas is a family affair. Far flung cousins gather from far and wide to be with their parents and loved ones, and of course, as with most events in Spain, food takes a front seat.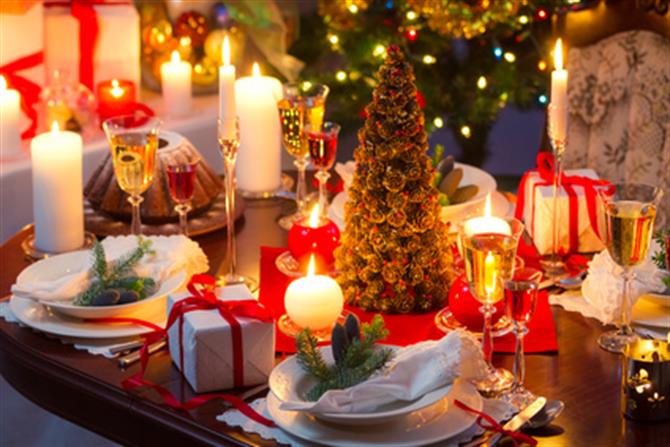 On the menu
So what will Spanish kitchens rustle up for Christmas? It's all about Nochebuena, or Christmas Eve. Midnight mass bells will ring out all across the country, and kitchens will turn up the heat as everyone finds a chair and tables are laden down with festive food. Let's see what just 5 of the Spanish Christmas dishes that are guaranteed to make an appearance.
1. Charcuterie
Shall we begin? Grab a glass of Spanish Cava and sit down. The tablecloth will be quite invisible, as every space will contain a platter or plate of cured meat or cheese. Soft Goats cheese and Manchego will vie for space with Queso Azul and cream cheese. Pate and crackers, sausages of every description, Morcilla, Salchichon, and Chorizo. Plates of soft and silky mountain Jamon, cut so thinly and so melt in the mouth. And to think, this is just a taster!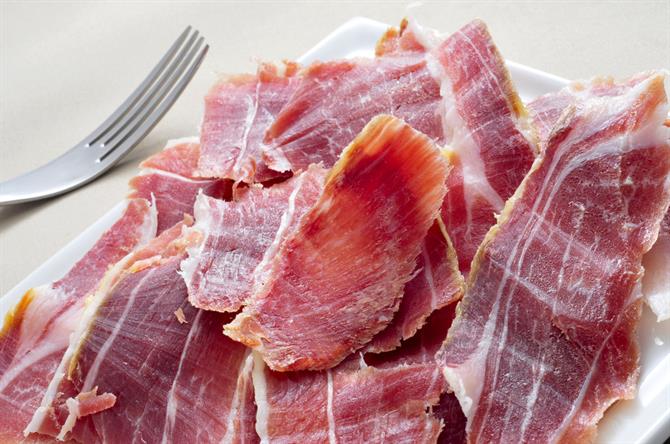 2.. Seafood
In all guises! A trip to a city market this week proved that seafood is probably the most popular dish at Christmas-time in Spain. Prawns of all names and sizes will be snapped up this week, and piled high on platters for Christmas Eve. There'll be fresh mussels loaded with tiny chopped cucumber and tomato, very refreshing.
Seafood soup - sopa de mariscos - is a traditional starter too, swimming with Christmas crustaceans and mopped up with crusty bread. But there's plenty more to come...loosen that belt.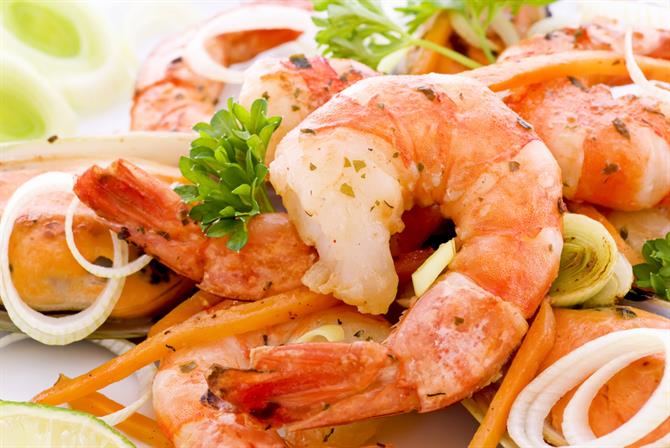 3. Turkey
Yes, even traditional turkey gets a mention. It's not the centrepiece that it is in the UK though, usually smaller and stuffed with a mixture of hazelnuts, sultanas, grated cheese and egg yolk. There might also be roast lamb, or pork. Our neighbour invited us last year for Nochebuena, and cooked her Christmas speciality - pig's feet - for us - simmered until soft in their own gelatine. We were glad of the other food available!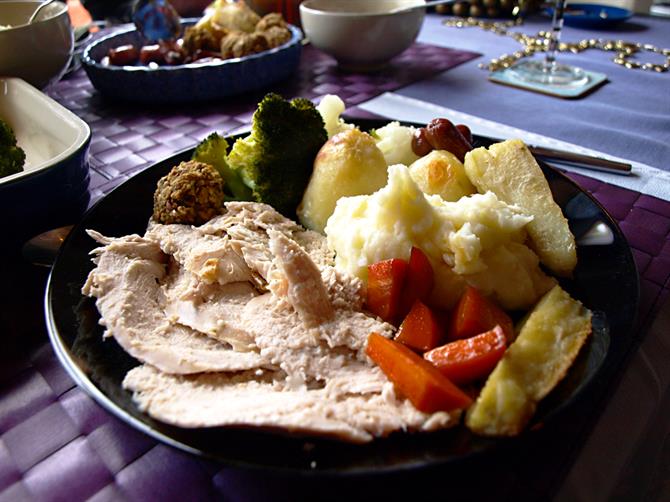 4. Salad
Whatever the season, there will always be salad days in Spain. Russian Salad, Crab Salad, Green Salad. Plates of it will arrive and be devoured, a fresh and sunny side to the heavier festive food in Spain. The Costa Tropical grows summer salad ingredients all year long, and nothing ever seems to be out of season.
5. Just desserts
Sweet tooth? Can you manage anything else?!
Tronco de Chocolate is a chocolate log, a sponge square rolled around a mixture of chocolate fondant and cream, and very festive. There'll also be a platter of Polverones and Mantecados, those crumbling Almond based sweets, they're quite dry though so you'll need another glass of that Spanish Cava.
Turron too of course, the tooth breaking nougat from Alicante that thankfully comes in a softer version too.
If you can move after all of that, then there'll be plenty of Spanish sherry and wine to try and maybe just another couple of those sweets - groan!