Walking in the still relatively undiscovered Picos de Europa makes you feel like a pioneer. Resist the temptation to plant a flag on what appears to be unclaimed territory. Instead, spoil yourself rotten by hiking through some truly unspoilt terrain. Whether you be in Asturias, Cantabria, or Castile y León.
Cares Gorge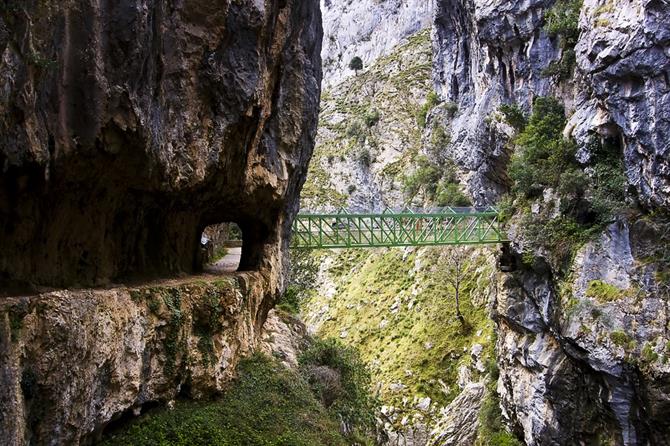 Ravine mad? Then you'll fall crazy in love with the 12km-long Cares Gorge, Garganta de Cares, path. There are two starting points to choose from. Either begin in the north, in Asturias' Poncebos, or in the more southerly Caín, in Castile y León.
Allow around three and a half hours walking time. But then you'll have to factor in extra gawking time. Especially as your vantage point is an antiquated hydro-electric maintenance track which has been carved into the cliff face.
Fuente Dé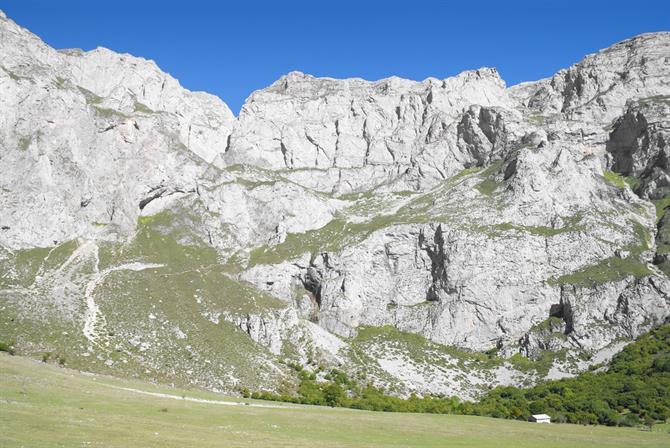 A circular walk begins with a cable-car ride close to Potes in Cantabria. Ascend 762 metres (2,500 feet) from your original starting point. Then follow the PR-PNPE.24 aka the Ruta de los Puertos de Áliva. But instead of descending all the way to Espinama, take a track on the right-hand side to loop back to Fuente Dé.
Jermoso Traverse
This is one for seasoned hikers only as it's a two-day trek. Taking in the most rural stretch of the Picos de Europa, contemplating a pre-human Earth will require no great effort on your part. What will be more taxing is the climb from Cordiñanes in Castile y León to Peña del Porracho. Your body will receive a serious workout before you reach Cantabria's Fuente Dé where the hike draws to a conclusion.
Lagos de Covadonga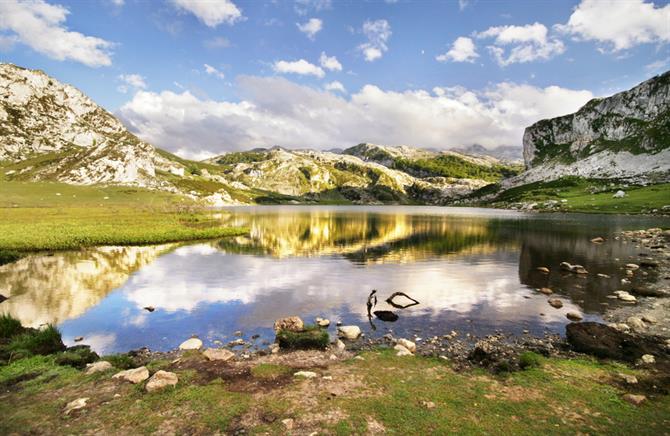 Shining like chandeliers, this pair of lakes, Lagos Enol and Ercina, form the original heart of the Picos de Europa. A 5km, two-hour circular walk will provide plenty of lets-stop-awhile-and-admire-the-scenery moments. Particular at the viewing point of a hillock between the two lakes, the Mirador Entrelagos.
Macizo Central de Picos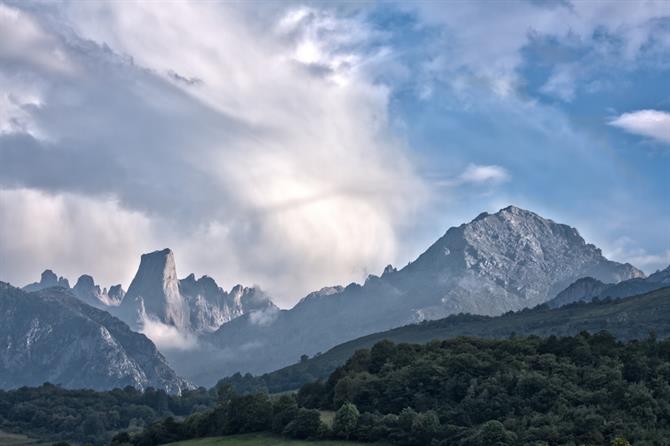 This central massif houses the Picos de Europa's highest peak, the Torre de Cerredo. A suitable massive 2,648 metres (8,688 feet), it's not for vertigo sufferers. But it is for mountain goats whose milk helps to produces the distinctive Queso de Cabrales, a piquant blue cheese.
The steep terrain also provides a home for the chamois, a species which appears to be an antelope-goat hybrid. If you see one, or more accurately if one sees you, it will probably be hurtling past you at a rate of up to 31 mph (50 kph). Running is not the only thing they're good at, they can also spring 2 metres (6.6 feet) in the air.