The majority of Spain's most historic buildings are religious. They don't all date from the same era, however, and feature architectural styles from Romanesque to Baroque. Prepare to be wowed.
Burgos – Catedral de Burgos
Burgos Cathedral is Spain's oldest example of Gothic architecture. Started but not finished in the 13th century, it replaced the 11th-century Romanesque church which had previously been Burgos' main place of worship. Influenced by pre-existing French cathedrals, UNESCO declared it one of their World Heritage Sites in 1984.
Avila – Catedral de Avila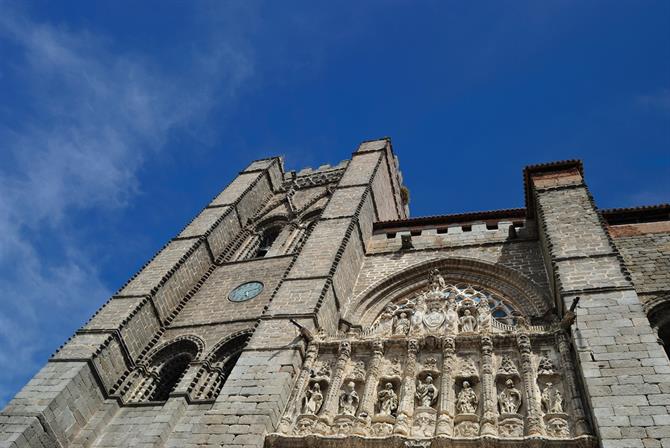 Another construction to draw on the architectural influence of France, Gothic Avila Cathedral replaced the Romanesque cathedral which preceded it. Which in turn was built on the site of a humbler church. As much military as religious, this fortress of a cathedral's apse doubles as one of the turrets of the city's medieval walls.
Toledo – Catedral de Toledo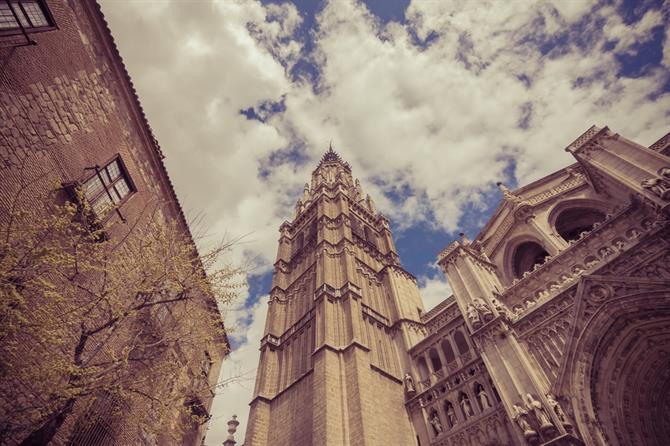 Featuring a mishmash of architectural styles, work began on replacing the city's mosque with this cathedral back in 1226. The cathedral was completed in 1493 with Toledo Cathedral standing on the site of what originally had been a Visigothic church. Boasting a dramatic interior to match its heartstopping exterior, the high altar is a flourish of Baroque whilst there are also two paintings by El Greco.
San Lorenzo – Real Monasterio de San Lorenzo de El Escorial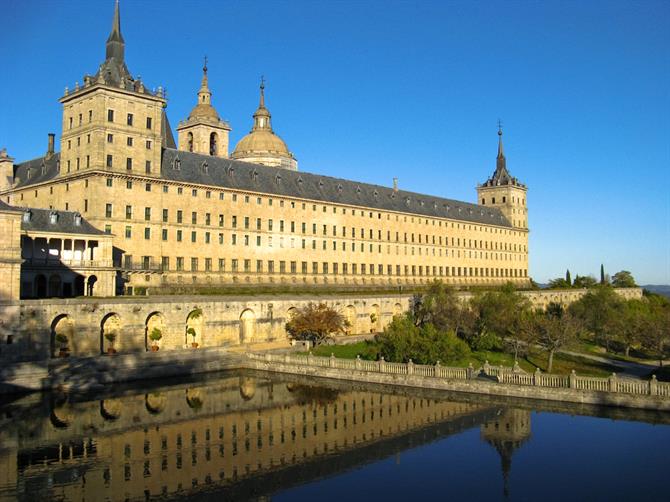 Located in the Province and Autonomous Community of Madrid, this monastery makes for a great day trip from the capital. Another of Spain's religious World Heritage Sites, this Golden-Age building, which has been a royal residence in its time, now houses monks of the Order of Saint Augustine. Sharing space with tombs featuring members of both Spanish and Habsburg royal families.
León – Catedral de León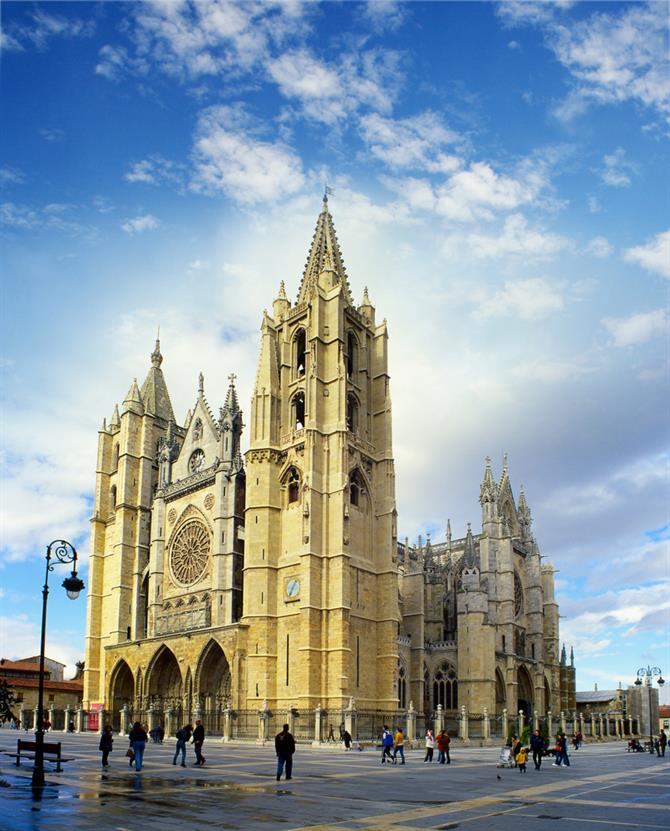 Such a national landmark has León Cathedral become, that its image has even adorned Spanish stamps. Dominating the city's skyline, it's also known as the House of Light. The stained-glass windows, all 125 of them, are one of this cathedral's most distinctive features.
Zaragoza – Basílica de Nuestra Señora del Pilar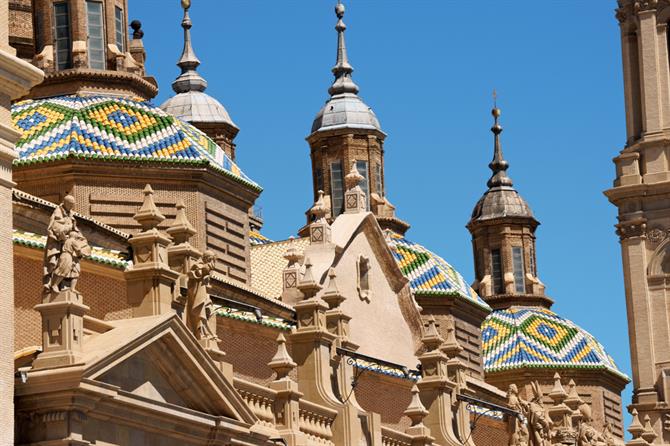 Reportedly the first church in the world dedicated to the Virgin Mary, the Basilica of Our Lady of the Pillar dates back to either the 1st or 2nd century AD. Co-cathedral of Zaragoza with the nearby Catedral de La Seo, thousands of Catholics make a pilgrimage here every year. In much the same way as those visiting the Catedral de Santiago de Compostela.
Barcelona – Basílica i Temple Expiatori de la Sagrada Família
Gaudi rather than gaudy, the Sagrada Família is an unfinished masterpiece. Work started in 1882 and the legendary architect was still working on this church up until his death in 1926. The aim is for this ambitious project to be completed by 2026, to mark the centenary of Gaudi's passing away.
Seville – Catedral de Sevilla
Seville Cathedral is the third largest in the world. It's also where Christopher Columbus was buried. Its Giralda, bell tower, dates back to 1198. When Seville was the capital of Al-Andalus, the medieval state ruled by the Moroccan Berber-Muslim Almohad dynasty, and the tower was a minaret of the mosque itself.
Valladolid – Convento de San Pablo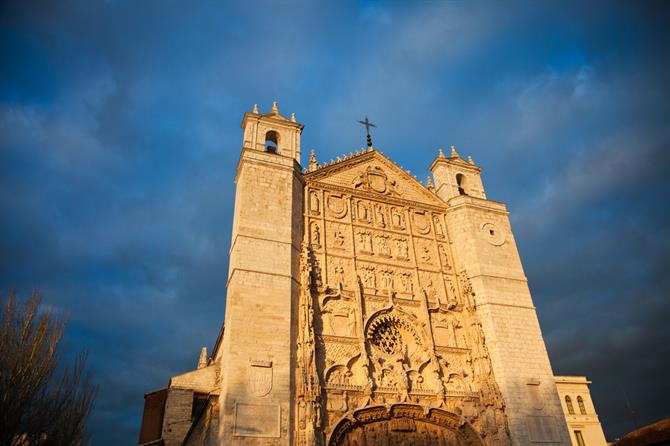 It was Doña Violante, wife of Alfonso X The Wise, who dug deep to fund the building of this church back in 1276. Its intricate facade is more modern though, added in 1497. And for those who like the world of interiors, check out the handiwork of sculptor Gregorio Fernandez which includes a reclining dead Christ with a hole in his chest.
Santiago de Compostela – Catedral de Santiago de Compostela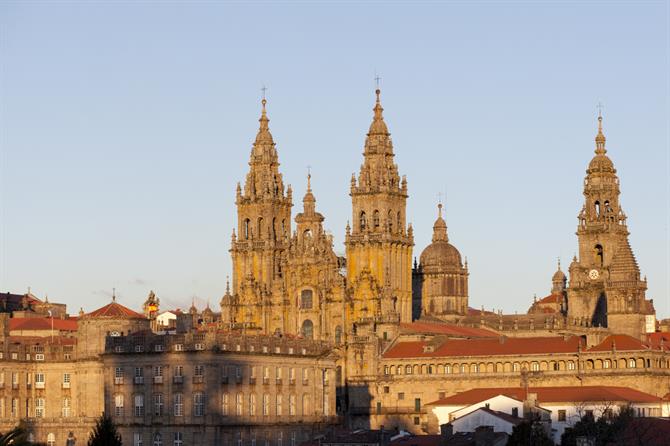 Pilgrims have been making progress towards this the legendary Santiago de Compostela Cathedral ever since discovering that this is the reputed site of Saint James' burial. Essentially a Romanesque structure, nevertheless there have been some Baroque and Gothic add-ons. It's also one of the Twelve Treasures of Spain, as voted by the Spanish public back in 2007.