In the months of January and February magic falls over the Spanish landscape. It could be said that the blossoming of almond trees is one of the most awaited moments that mother nature offers each year. This magic can be found in the Malagueña town of Almogía, in Andalusia.

Video of the Almond Trees in Bloom
A Taste of Spring
Every year hues of white and pink flood the Mediterranean scenery. For many this is a taste of Spring, usually taking place during the months of January and February. At this time, fields of almond trees are dressed in an elegant coat of colourful blossoms, while the winter, and the accompanying cold, are still at their peak.
It is a beautiful landscape to see if you are on holiday in Spain at this time of the year.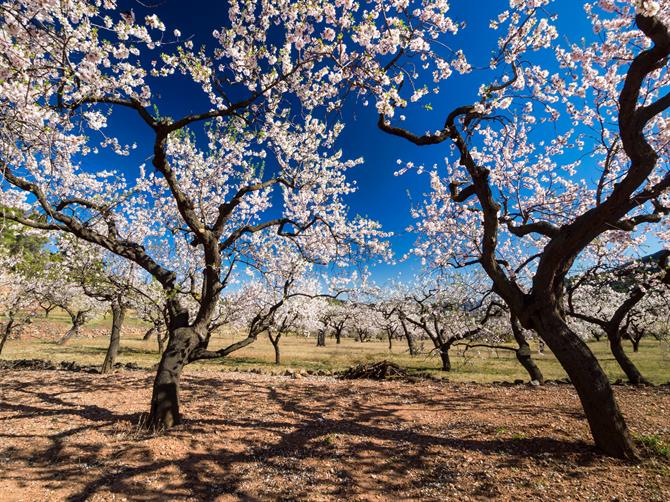 Five Routes to see the Almond Blossom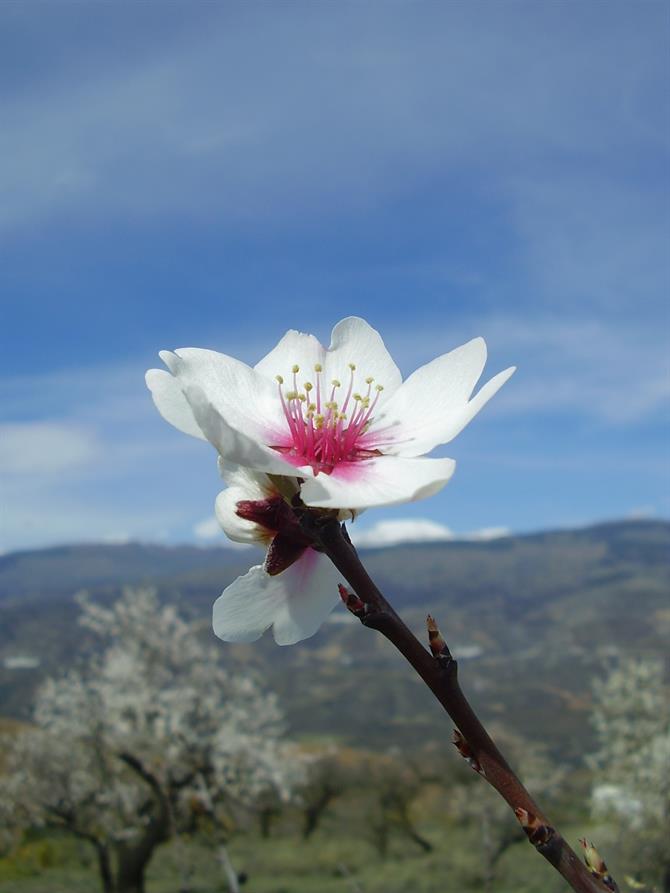 In the province of Málaga, in the south of Spain, many itineraries allow you to see the beauty of the flourishing almond trees. One of my favourite routes passes through the andalusian villages of Casabermeja, Colmenar, Riogordo, Periana and Alfarnate. Along this route you will notice the contrasting scenery between the plains of Casabermeja and the rocky mountains of Alfarnate.
The second route, still in Andalusia, follows the Valle del Guadalhorce to the Las Tres Cruces hermitage between Álora, Almogía and Cártama.
A third route, on the island of Majorca, in the Balearic Islands, is a magnificent journey by train which links Palma de Mallorca to the town of Soller. The half-hour train ride offers beautiful views overlooking the almond fields of Majorque.
A fourth route can be found in Calpe, on the Costa Blanca. Every year, the Calpe tourism office organizes an 8 kilometer trek across the almond fields of Vall del pop. The walk costs 5€ for adults and 3€ for those under 16 years old. Included in the price is travel by bus to the starting point and a trek of about three and a half hours.
The fifth and final journey of my list, which may be the most beautiful, is in the town of Estrémadure de Caceres along the famous route of Garrovillas de Alconétar. The relaxing path is part of public trails and the trip can be made by foot, by bicycle or on horseback.
Spain, the World's Second Largest Almond Producer
The almond is an international symbol of Spain. In fact, Spain is the world's second largest producer of almonds, following the United States. In Spain, most almond trees are found in the mediterranean region and the country produces 260,000 tones of almonds annually. As one of the most important products cultivated in Spain, it isn't surprising that the almond is often found in Spanish cuisine.