Tenerife has always been the perfect choice for a holiday in the sun. The south of the island has picture-perfect beaches, incredible sights and of course - a fantastic food offering. Tenerife's gastronomy is influenced by ancient traditions and traces from all different cultures that inhabited the island over the years. The strong culinary identity is reflected in local food specialities which have developed over a long period of time.
The busy holiday resorts of Los Cristianos, Las Americas and Costa Adeje are home to some of the best restaurants on the island.
Casa Tagoro, Los Cristianos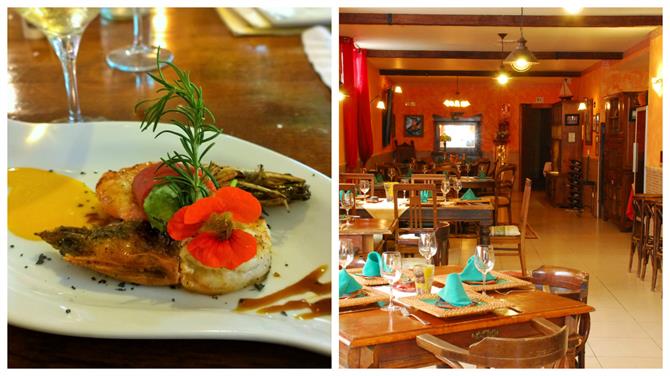 Casa Tagoro is a true gem just around the corner from the main square of Los Cristianos. The friendly owners Karin and Gerhard exude culinary charisma. Their international team of chefs work their magic in an open kitchen under the owners' careful supervision. Casa Tagoro showcases internationally inspired menu of high-quality cuisine with true dedication. Casa Tagoro has also been recommended by the renowned Michelin Guide.
Try Casa Tagoro's amazing menu (4 or 6 courses, including an aperitif, from 68 euros), which offers an excellent opportunity to savour a creative take on seasonally inspired flavours. To mention few of the favourites - steak tartare, tiger prawns, breast of quail and beetroot risotto. Casa Tagoro has also paid special attention to serving the best wines from the island.
Address: Calle del Valle Menéndez 28, Los Cristianos
Opening hours: Tuesday to Saturday from 18.00 - 22:00, Sundays from 13 - 22.00, closed on Mondays.
Tel. +34 822 660 833
Price range: €€€€

Masia del Mar, La Caleta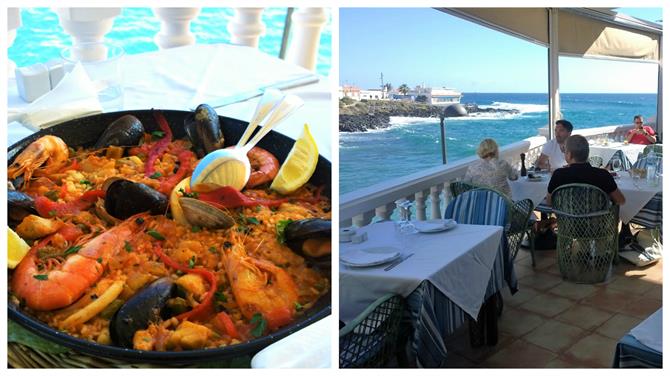 Masía del Mar is undoubtedly one of the most popular seafood restaurants in southern Tenerife with breathtaking ocean views, especially at sunset. Located in the charming village of La Caleta, a stone's throw away from the bustling resort of Las Americas, it is a family run restaurant with a history of more than 40 years.
Masia del Mar's area of expertise is seafood. Their specialities are the seafood paella, lobster, fresh octopus and local fish prepared with care. Masia del Mar uses the freshest fish and ingredients. Their wonderful wine list ensures you will have the perfect drink to complement the flawless food.
Occasionally they host live music with different themes during the evenings. Dine here on the side of the island where the sun sets.
Address: Calle El Muelle 3, La Caleta
Opening times: daily from 11.00 to 23.00
Tel. +34 922 710 895
Price range: €€-€€€

Molino Blanco, Costa Adeje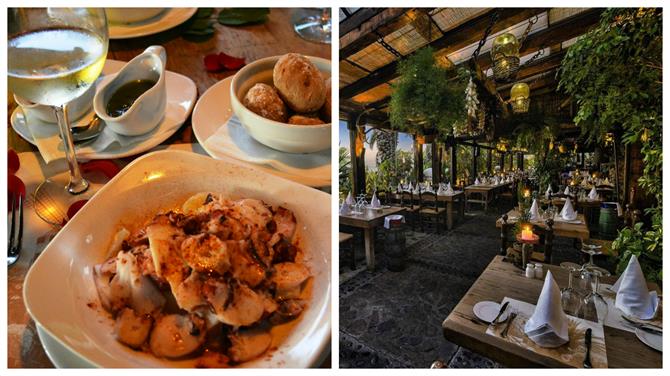 Molino Blanco is a popular restaurant in the heart of Costa Adeje, with a legendary reputation in Canarian cuisine. The restaurant's interior has an authentic Canarian rustic feel and its landmark is the big white mill at the entrance. The restaurant features daily music performances and it has been visited by celebrities such as Mariah Carey and Rod Stewart. The dining experience in Molino Blanco is ideal for those looking to try authentic Canarian dishes alongside good music and dancing.
Molino Blanco's extensive menu is a combination of traditional Canarian, Spanish and international cuisine. For a starter, try Galician octopus, garlic king prawns or mussels in marinara sauce. For a main dish, the fresh fish of the day is recommended, accompanied by delicious Canarian potatoes and mojo sauces. For meat-eaters, Molino Blanco offers great fillet steaks and Canarian style meat 'Carne Fiesta,' another delicious option is duck confit in a citrus sauce. When it comes to drinks, Molino Blanco has a carefully chosen wine list of both international and Canarian wines to taste.
Address: Avenida de Austria 5, Costa Adeje
Opening hours: daily from 14.00 to 24.00
Tel. +34 922 798 987
Price range: €€€€

El Rincon de Pancho, Los Cristianos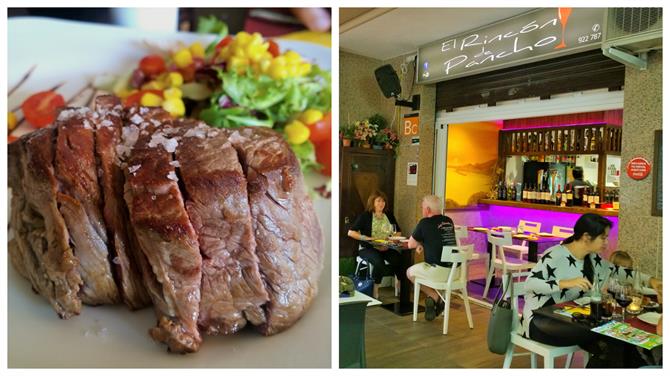 This restaurant is a true find for those who want to try something truly delicious without spending a fortune. A recent addition to Tenerife South's food scene, El Rincón de Pancho has a great selection of traditional Canarian cuisine, just around the corner of the main square. Although the restaurant only opened a few years ago, it has already risen to the top of Tripadvisor reviews in Los Cristianos. The modest-looking restaurant is usually packed with both locals and tourists, so be sure to book a table on weekends and local holidays.
Owned by brothers Francisco and Carlos, this restaurant invests in the quality of the ingredients they use just as much as the taste. Some of the most delicious tapas-dishes include 'almogrote' cheese paste, baked banana wrapped in bacon and house croquetas. Lovers of seafood will be pleased with the restaurant's speciality 'bacalao' in red pepper sauce and their fried squid. Those who long to sink their teeth into a sizzling steak will love the 'solomillo a la parrilla.' You will be served a hot frying pan set over a burner where you can cook your meat just the way you like it.
Address: Calle del Valle Menéndez 20, Los Cristianos
Opening hours: Monday to Saturday from 13.00pm to 23.00pm
Tel. +34 922 787 393
Price range: €€
Meson Las Lanzas, Playa de las Américas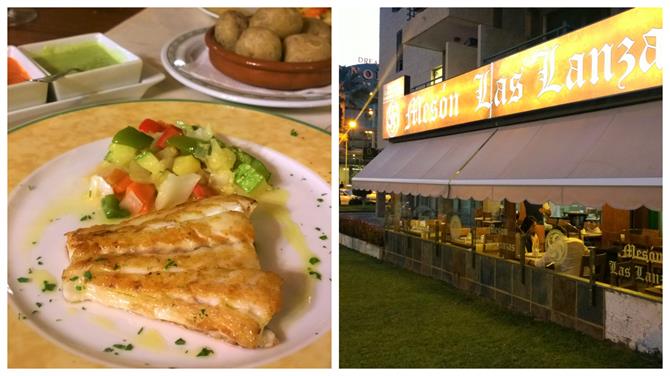 Located right in the heart of busy Playa de las Américas, Meson Las Lanzas is an authentic Spanish restaurant. The kitchen is run by friendly owner Alejandro, serving straight-forward, fresh food without a hefty price tag. This place represents Canarian cuisine at its best and is a must-try on a holiday to Tenerife South.
The restaurant caters to both meat and seafood-lovers, with options ranging from fresh local fish and clams to T-bone steaks and roast lamb. The menu also features a mouth-watering selection of tapas, such an Iberian ham platter, different croquetas and specialities such as squid and tuna carpaccio.
Address: Avenida Noelia Afonso Cabrera, Residencial Las Viñas, Playa de las Americas
Opening hours: Monday - Sunday (closed on Tuesdays) 13.00 to 16.00 and from 19.00 to 23.30
Tel. +34 922 791 172
Price range: €€-€€€
El Cine, Los Cristianos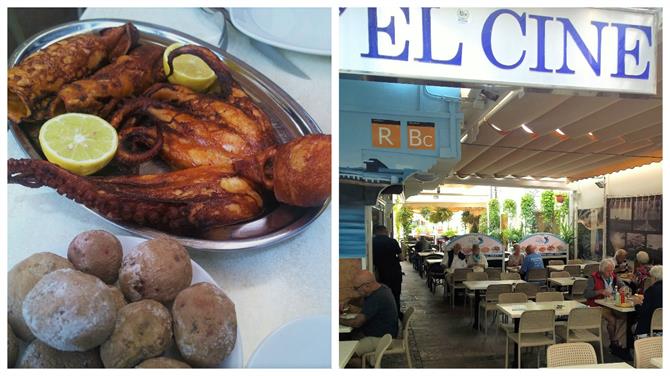 El Cine is hands down the busiest restaurant in Los Cristianos. Even before lunchtime, the restaurant is packed with both locals and tourists. Queuing is the rule rather than the exception.
El Cine has been a strong seafood favourite in Los Cristianos ever since it opened its doors in 1987. With modest decor, they serve excellent, locally-sourced Canarian food without frills at wallet-friendly prices. Be adventurous and try the house speciality - fried octopus. Grilled cuttlefish, fried squid, grilled prawns and sardines are also delicious accompanied by Canarian potatoes with house mojo sauces.
Address: Calle Juan Bariajo 8, Los Cristianos (Next to the pharmacy in Los Cristianos beach)
Opening hours: daily from 11.30 to 23.00
Tel. +34 609 107 758
Price range: €

Map