If you think of the gastronomy in the Canary Islands as mainly consisting of all day British breakfasts at worst or simply grilled meat and fish at best, think again. Know the right places and your tastebuds are in for a culinary treat.
There's a burgeoning gourmet scene on some of the most populated Canary Islands, ironically thanks in part to tourism. Luxury hotels have brought in top chefs to meet the high expectations of discerning guests whilst talented local chefs have 'enhanced' their skills by travelling further afield to learn their trade before returning to their homeland to spice up some staid traditional dishes with new ideas.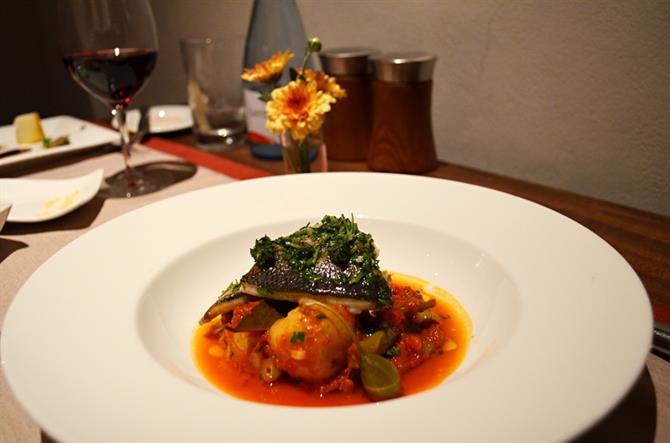 Tenerife is leading the way with this gastronomic renaissance with some of the other islands following closely behind.
These are ten gourmet palaces to seek out the best of contemporary cuisine in the Canary Islands.
Abama Golf & Spa Resort, Tenerife
The only Michelin star restaurants in the Canary Islands are on Tenerife and both are located in the Moorish confines of the luxurious Abama Hotel in Playa San Juan. M.B. is from the stable of renowned Basque chef Martín Berasategui and seasonal products there are given the M.B. makeover to create innovative dishes like red prawns on avocado and seafood logs and roasted monk fish with cheesy marshmallows.
At the other Michelin star restaurant on the premises, Kabuki, head chef Daniel Franco fuses classic Spanish dishes with Asian favourites to bring two contrasting cultures seamlessly together. Hamburger sushi anyone?
Lucas Maes, Tenerife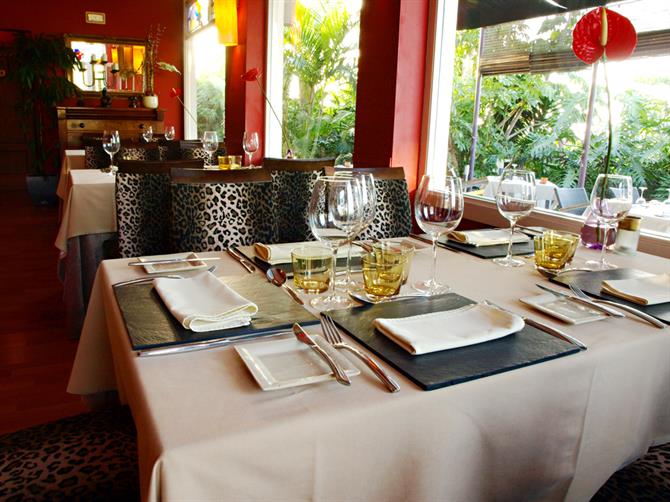 Despite being close to Tenerife's main northern resort of Puerto de la Cruz, most people would sail past Lucas without knowing he was there as his gorgeous restaurant is located off a motorway approach road. Although originally Belgian, Lucas considers himself a Canarian chef who reinterprets traditional dishes. Whatever his nationality, the most important thing is that he keeps treating us with delectable dishes like scallops in champagne and smoked salmon in a saffron, honey and caper dressing.
Los Roques, Tenerife
Voted one of the ten best restaurants in Spain by Tripadvisor users last year, Los Roques offers sophisticated food in a romantic setting overlooking the small fishing harbour of Los Abrigos – a winning combination. Everything on the menu is desirable, but whatever you choose leave space for the 'Palta', an orgasmic lime and avocado sorbet sat atop an almond biscuit in a thyme scented white chocolate sauce. Yes, it is as good as it sounds.
El Rincón de Juan Carlos, Tenerife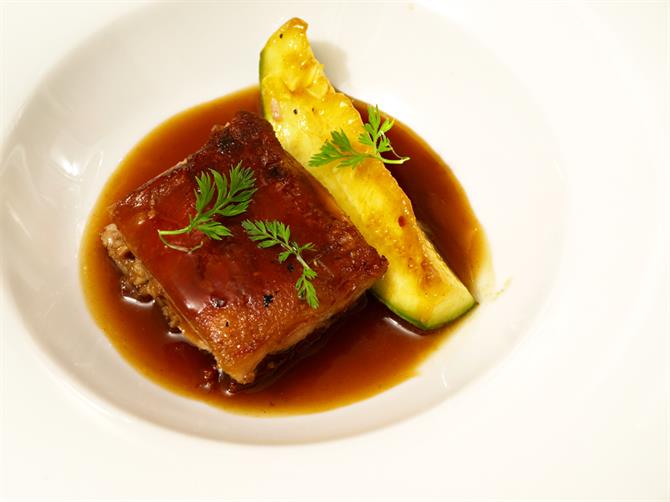 A family affair tucked away in a side street in one of Tenerife's most popular holiday resorts, Los Gigantes.Juan Carlos produces Michelin star quality food but not at Michelin star prices. The food is wonderfully imaginative and a treat for both eyes and mouth. Anyone looking for typical resort food who wanders in will be disappointed, whilst those who love good food will be elated with the discovery.
Bohemia Suites and Spa, Gran Canaria
The 360 Restaurant in Playa del Inglés lives up to the Bohemian tag... and promise of 360 degree views that include the ocean and the natural golden wonder a.k.a the Maspalomas Dunes. With views like this, the food needs to be good to distract. It is. Chef Xavier Franquet picked up plenty of delicious tricks of the trade during the years he spent with Catalan maestro, Ferran Adriá at his world famous el Bulli restaurant.
Allende, Gran Canaria
There are three Allende eating establishments in Las Palmas de Gran Canaria; La Taberna del Puerto, Allende Triana and Allende Muelle. Whichever you choose you're going to be presented with a seriously appealing menu that mixes traditional Canarian with influences from around the world. Expect to have those decision making skills tested. How do you choose from ceviche with passion fruit and coriander, octopus with sweet potato, and mini hamburgers with foie, brie and quince?
El Mondalón, Gran Canaria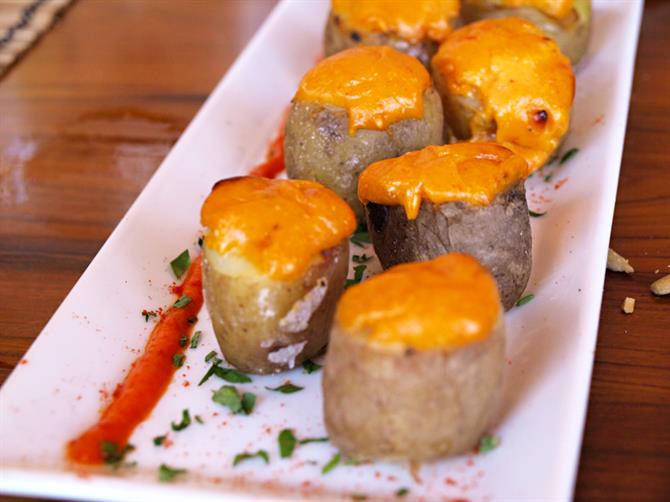 Located near the Bandama Crater, the food at El Mondalón is probably more traditional than some of the other restaurants mentioned. But chef Pepe Gonzalez has infused some dishes with a personality as big as his own. The foie with violet dressing is subtly wonderful whilst the papas arrugadas (wrinkled potatoes) with hot almogrote (savoury cheese paté from La Gomera) is an inspired pairing of two Canary Island classics.
La Tegala, Lanzarote
Germán Blanco is another chef who might not have a Michelin star but in his super stylish restaurant in Yaiza, with views of neighbouring Fuerteventura, he prepares dishes that are as tasty as you'll find anywhere on the Canary Islands. Although contemporary in composition, the food's roots are often local, such as papas bonitas dressed in avocado tartar and finished off with a tuna topping.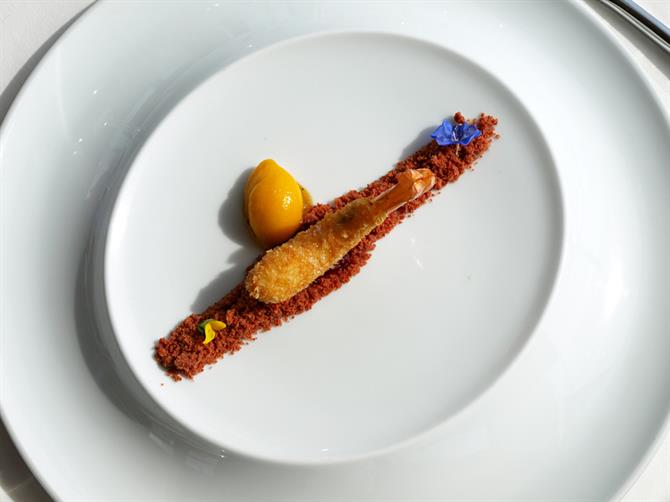 Verde Mar, Lanzarote
Verde Mar is an arty little restaurant with a nice vibe tucked away in La Santa, an area of Lanzarote favoured by visiting athletes. On the face of it, the menu might look quite standard as it includes usual Canarian suspects like sea bass, goat's cheese and sardines. But at Verde Mar the sea bass has a thyme and lime glaze; the goat's cheese comes wrapped in Serrano ham and the sardines are drizzled with mojo verde (cilantro sauce). Familiar but very different.
Mahoh Restaurant, Fuerteventura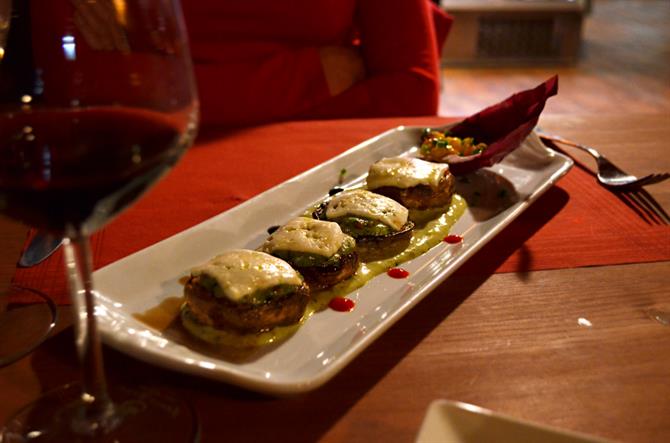 The Mahoh in Villaverde transforms from a casual rural hotel during the day to a slickly run and very professional restaurant at night. The sort of place where the wine waiter sniffs the wine cork to make sure it's quaffable and the maître d' gives a detailed run down of what's on the menu. This can range from typically traditional (half a rabbit) to dishes with a bit more flair (parrot fish paté or mushrooms topped with cilantro sauce and local goat's cheese).
This might be a list of ten of the best gourmet restaurants in the Canary Islands, but there are many, many more... not always in the most obvious places. Go explore and discover the treasures of a rich and diverse culinary world that is a million miles away from the one commonly connected with the Canary Islands.