Many visitors to Tenerife view the island as a hot, subtropical pressure valve; a place to chill out, let their hair down and blow off a bit of steam. Others see its rocky ravines, volcanic rock formations and huge Atlantic swells as something else altogether – a wild adventure playground.
If your idea of a holiday is going head to head with nature rather than lying on a beach sizzling, here are five ways to get the adrenalin pumping furiously on Tenerife.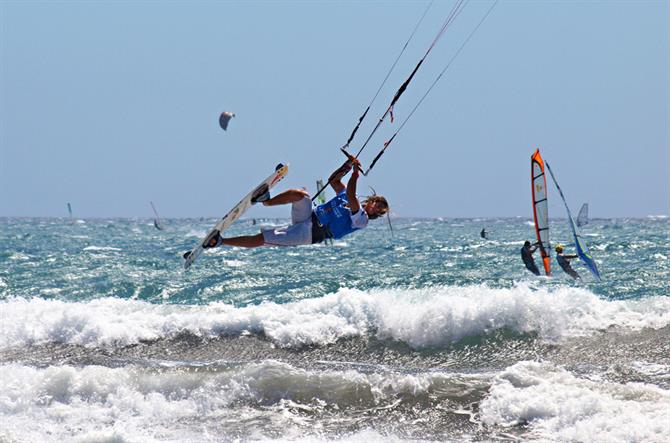 Riding the waves
Whether you prefer holding a sail or performing acrobatics assisted by a kite, El Médano is the place to be. With a long, pale gold beach stretching from the town all the way to Montaña Roja there's enough space for windsurfers and kiteboarders to do their 'thing' without getting in each other's way... most of the time. A near constant breeze keeps mass tourism away, subsequently resulting in a town that has an appealing surf dude/Canarian personality.
It doesn't matter whether you're a pro or wobbling on a board for the first time, windsurf and kiteboard schools in El Médano area cater for all levels.
Flying high
With the land rising steeply from the coast, Tenerife's terrain makes it the one of the best European destinations for jumping off a mountain. There are a number of high spots around the island favoured by paragliders from across the world – La Corona above the Orotava Valley in the north; Ifonche above Costa Adeje in the south, La Ladera de Güímar in the south east and Izaña on the spine of the island, over 2000 metres above the sea.
There's no need to go it alone as various companies offer tandem flights so you can sit back and enjoy the view whilst someone else does all the work.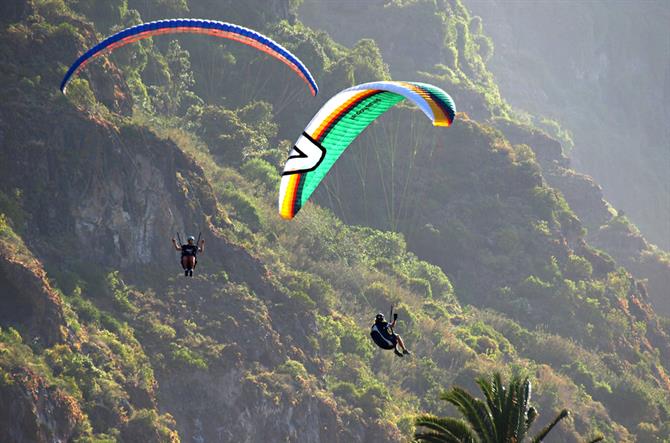 Social climbers
Given some of Tenerife's terrain has been fashioned by volcanic eruptions and it also boasts the highest mountain in Spain, you'd think that rock climbing would be a bigger sport than it is on the island. Most people never see climbers doing a Spiderman up rock faces as the best of the climbing action takes place well off the beaten track. Hike the Siete Cañadas route in Teide National Park and the eagle-eyed should spot the tell tale signs of carabiners, gleaming in the sunshine, decorating surreal orange pinnacles. Few visitors ever set foot in Arico's towns, yet behind one lies a challenging ravine that's a magnet for rock climbers.
Not all climbing areas are in remote places. The Martiánez cliffs, overlooking the resort of Puerto de la Cruz, are often teeming with climbers, concealed by the cliff's black shadow.
Canyoning
Possibly the ultimate way to experience the wildest areas of Tenerife is to go canyoning as it combines hiking, abseiling, climbing and shooting through smooth, rocky water courses. On an island known for its hot weather, careening through a canyon submerged in water might be an extreme way to stay cool but there's no denying it's an exhilarating one.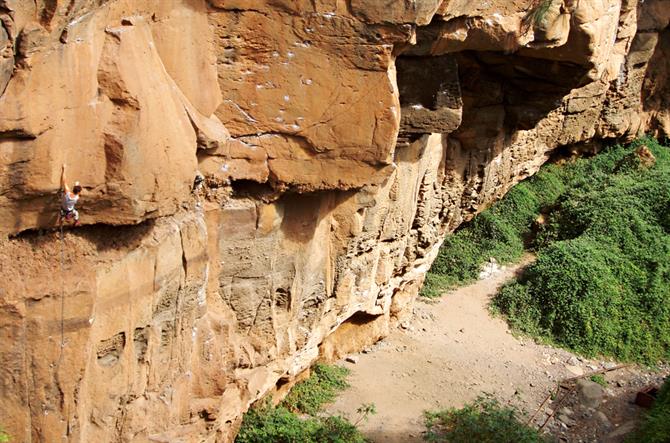 Bungee jumping
Still one of the craziest of extreme sports, there aren't many places on Tenerife where you can throw yourself off somewhere and pray the elastic holds. But it is possible. What's most surprising that one of the most popular places for bungee jumping isn't off a bridge over a ravine in rural Tenerife, it's off a bridge in the centre of the capital city, Santa Cruz.
Whilst the others hold an adventurous appeal, the last one will never make it on to any bucket list I compile.