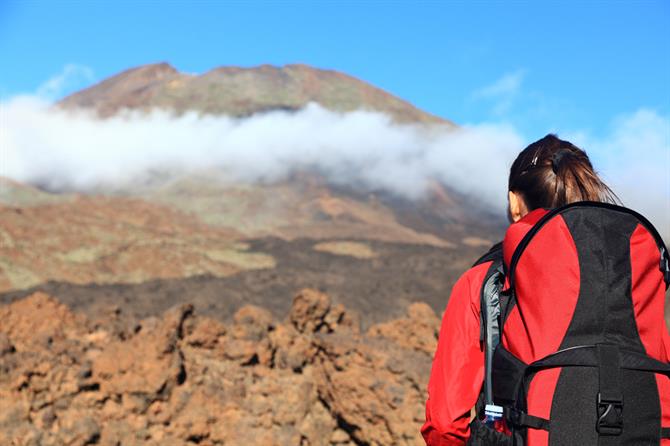 A snow-topped Mount Teide is the very opposite to the usual sun-and-sand image of the Canary Islands. So when Unesco declared the Teide National Park a World Heritage Site in 2007, it came as no surprise to the residents of Tenerife. What was rather more of a shock, however, was that it took Unesco so long to recognize the Parque Nacional del Teide.
Balconies on the world - Miradores del Teide
You don't have to go all the way to the top of Teide to be awarded with excellent views of Tenerife and beyond. Head to the cable car top station and you'll soon see the Pico Viejo (Old Peak) mirador. The view you receive is like travelling back in time, with no need for a machine. Little wonder that they filmed 2010's mythical blockbuster Clash of the Titans in the Parque Nacional del Teide.
Another good vantage point is offered by the Roques de Garcia. These rock formations were originally as high as you could go on Tenerife. They include the emblematic Roque Cinchado, the natural word's answer to the Leaning Tower of Pisa which looks like it could topple over at any minute.
Be prepared - El Teleforo Bravo to Pico del Teide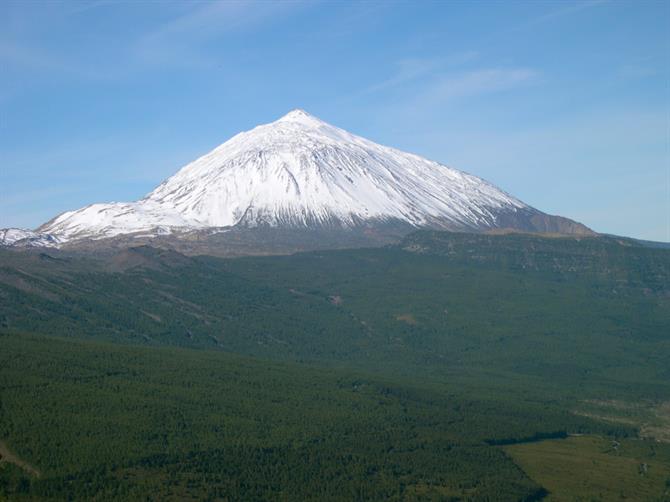 They don't allow any Tom(as), Dick or Harry to reach Teide's peak. You'll have to apply for a permit in advance to access the final 200-metre ascent of the La Rambleta path. Known as El Teleforo Bravo, it's a demanding one-hour trek which saps the energy of even the most experienced hikers.
Whilst Tenerife is an all-year-destination, dress accordingly. T-shirt, shorts and flip-flops are perfectly appropriate for the resorts, even in winter. The seasons are a bit more predictable the higher you go on the island, however. So wear more sensible clothing as temperatures can hit minus figures when the sun goes down.
Means of transport - Teide by bus, cable car, and foot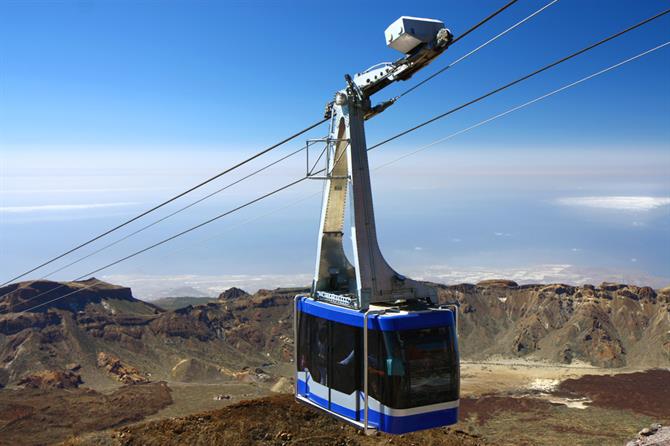 Catch the morning 342 from Playa de las Americas or 348 from Puerto de la Cruz. Please be advised that these TITSA buses are are a strictly one-a-day service. Both depart from their respective resorts at 9:15am, returning tourists to their bases at 4:00pm.
Enjoy the ride of a lifetime on the cable car which climbs Montaña Blanca. Running from 9:00am to 4:00pm, weather permitting, it's a bracing eight-minute experience which is like being at the most picturesque theme park the world has ever seen. The upper cable car station boasts a bar and buffet restaurant.
The alternative is Shanks' Pony. Walk La Rambleta from its inauspicious beginning at TF-21 (KM 40). A five-hour trek starts as a 4x4 track before becoming a steeper footpath as you approach the Altavista mountain refuge.