Santa Cruz, the capital of Tenerife, has stylish restaurants, exotic parks, colonial architecture, interesting museums and innovative art galleries. So why don't more people visit?
Santa Cruz de Tenerife is a curious place. It is arguably the most important city in the Canary Islands and yet if it wasn't for cruise passengers, its sub-tropical streets would have hardly any tourists on them. Its character is 100% Canarian and reflects a Tenerife that many of the millions of holidaymakers who descend on the island never experience.They're missing out.
History
In 1493 the conquest of Tenerife began from the area now called Santa Cruz. The port subsequently built there was at the crossroads between Europe and the New World, which meant just about everyone heading to and from the Americas passed this way, including all manner of miscreants. Famous battles were fought at Santa Cruz. Admiral Robert Blake destroyed the Spanish treasure fleet here in 1657, more or less ending Spain's military ambitions in Europe. Interestingly, locals claim that Blake was defeated because he didn't actually invade. Admiral Nelson was famously defeated at Santa Cruz in 1797, losing his right arm in the process. The culprit cannon, el Tigre, can still be seen at the Castillo de San Cristobal underneath Plaza de España.
Colonial Architecture
On the face of it Santa Cruz isn't one of Spain's pretty cities. But a wander around its streets reveals an attractive mish mash of architectural styles from jaunty fishermen's cottages around the Iglesia de la Concepción in the Noria district to imposing mansions between Plaza Weyler and La Rambla.
Parks and Plazas
Because of an almost perfect climate, the default setting is warm and sunny, Santa Cruz is a city where people spend all year enjoying outdoor spaces like parks and plazas. A turquoise man-made lake at Plaza de España is most visitors' introduction to the city. Heading inland, Plaza Weyler mixes shady gardens and a marble fountain with a border of military buildings, whilst the fountain at pretty Plaza de los Patos will look familiar to anyone who knows Parque de María Luisa in Seville. Best of all are the 'lungs of the city', the leafy and artistic Parque García Sanabria; a lush wonderland filled with exotic foliage, amusing sculptures, throaty frogs and squawking parrots.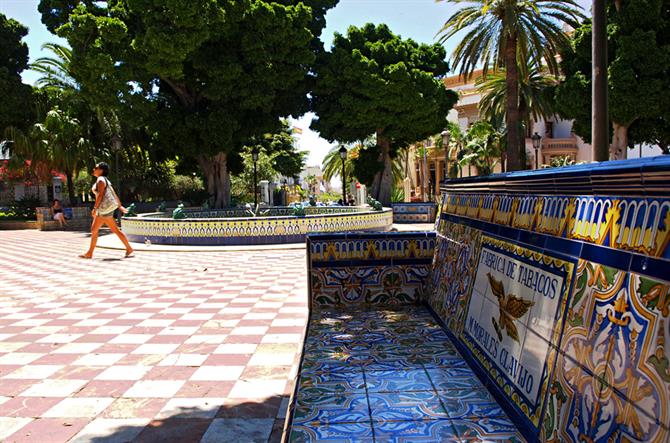 Restaurants
From moody tapas bars to traditional tascas and chic restaurants, there's plenty to tantalise the tastebuds in Santa Cruz. If time is short I'd recommend heading to the Noria district where there are a selection of bustling bars and individualistic restaurants with a mix of traditional and contemporary menus. However, it's not my favourite area to eat; it can be pricey by Tenerife standards and sometimes restaurants can be complacent. Some of the most interesting restaurants, Solana, El Libano, Victor Cruz, are found in the streets on either side of La Rambla and can take a bit of exploring to uncover.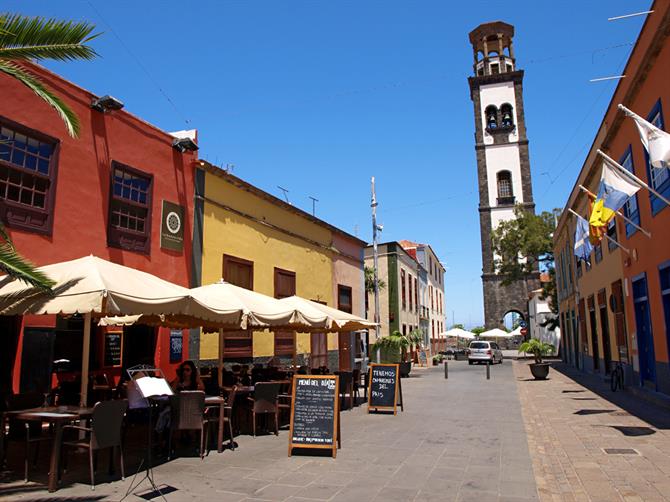 Nightlife
When non-Spanish talk about nightlife on Tenerife they tend to focus on the main southern tourist area around Playa de las Américas. Whereas Las Américas is the island's cabaret capital, the metropolitan area (Santa Cruz and La Laguna) offers a more authentic taste of Tenerife's nightlife with great bars, atmospheric clubs and a healthy live music scene. Noria is a good starting point for a bar crawl as it's lively from before sundown. Bars there morph from being the place for a post work, early evening drink to rooftop partying after midnight. In the early hours there's a choice of clubs along Avenida Anaga or slightly out of centre venues like the marquee at Isla de Mar. Personally I prefer atmospheric bars and a scour of the back streets could lead you to 'hidden' places like Banda Aparte, a gin joint near Noria. The downside is that good bars in Santa Cruz can be spread out and valuable mojito drinking time is lost hoofing it between them.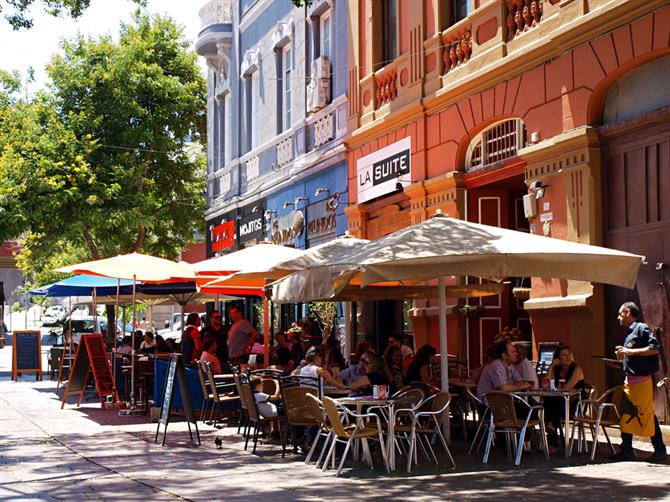 Art and Culture
A stroll down La Rambla doubles as gentle exercise and a perusal of an open air art gallery, a legacy from a street sculpture exhibition in the 1970s, with works by Joan Miró and Henry Moore. The Museum of Fine Arts behind Plaza del Príncipe offers a more conventional way to view artistic offerings, inside the classically styled walls of a building from the 1920s that doesn't need a sign to give away the fact that it's an art gallery. At the opposite end of the scale is Auditorio de Tenerife Adán Martin, home to rock, classical and jazz concerts as well as ballets and musicals. Anyone with a bit of knowledge of Spain's most iconic modern architecture will know who designed it as soon as they set eyes on its unusual curves and blinding white surfaces – Santiago Calatrava. Less flamboyant is TEA (Tenerife Espacio de las Artes), home to some of the most innovative cultural activities in the capital, which initially looks as though it might have all the charm of a bunker but whose minimalist appearance grows on you over time.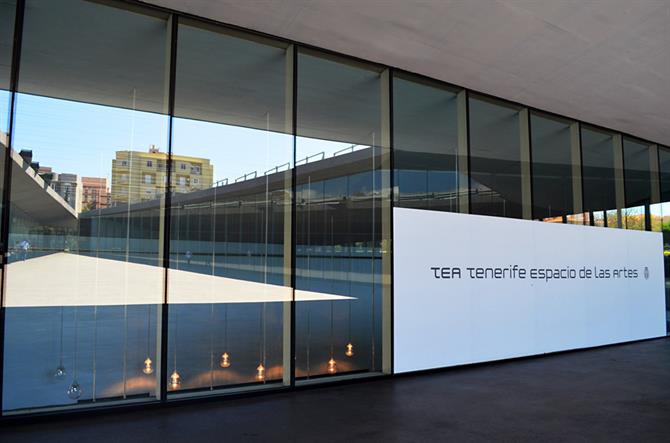 Shopping
Santa Cruz, or Tenerife even, isn't great for shopping, apart from stocking up on unique local goodies like wines, cheese, honeys etc. Saying that, Santa Cruz is as good as anywhere on the island for picking up some stylish garb, with Calle Castillo being home to the best of mainstream Spanish fashion shops. There is a decent El Corte Inglés beside the bus station.
Beaches
Despite the balmy weather, you don't go to Santa Cruz to sunbathe. If you insist on stripping off, there's the Parque Marítimo César Manrique swimming pool complex beside the auditorium or the best looking beach on Tenerife at Playa de las Teresitas, eight kilometres outside the city.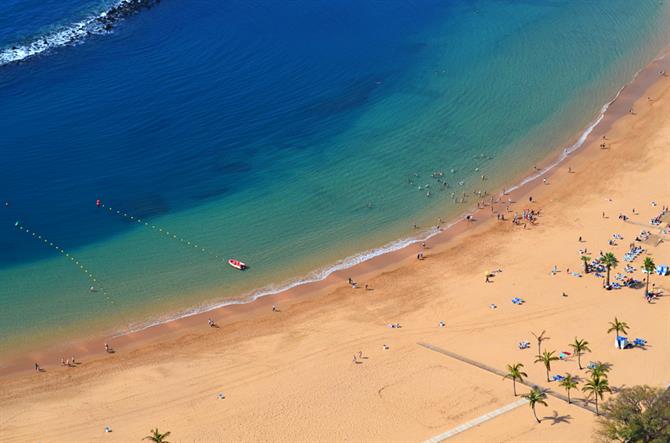 Getting Around
The tram system (tranvia) is cheap and convenient but only covers a section of the city. Alternatively there's the usual open-topped tourist bus which sets off from Plaza España. Neither beat exploring the place on foot.