Tenerife is the ideal place to plan your next vacation if you are hoping to let off a little steam on an island oasis. The imposing mountains inland, varied coastlines, fabulous beaches, and many climates offer travellers endless opportunities to be active while taking moments to relax.
We are here to give you tips for choosing the best activities on both land, water, and air on Tenerife.
The island is much too beautiful to drive around aimlessly in a rental car or to merely take a tour bus to all the main sites. Instead, try venturing around and exploring by bike, horseback, foot, or perhaps even surfboard to really experience the best of the Canary Islands' great outdoors! Here are our recommendations for an active holiday when you stay in a Tenerife villa.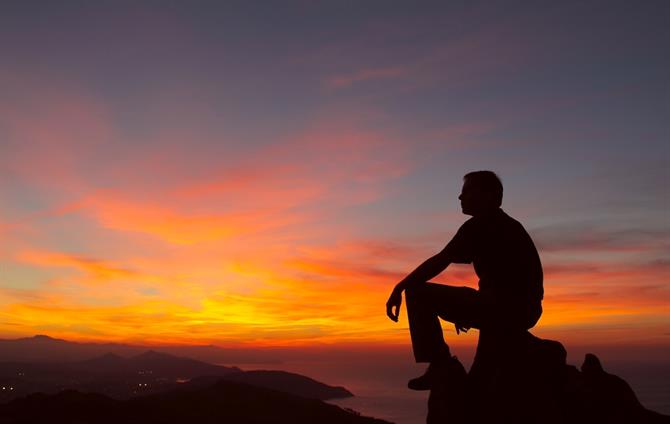 Mountain biking in Tenerife
The island's plethora of mountain regions offers a number of great trails accompanied by breathtaking views over the expansive blue Atlantic lying at the mountains' feet. Especially after the rainy season, the northern part of Tenerife is green and lush and visitors marvel at the diverse flora.
For cyclists, Tenerife offers suitable challenges for all levels: be it a casual tour along the beach front, a shopping trip in Puerto de la Cruz, a challenging mountain tour in the Anaga Mountains, or a scenic route around the Pico del Teide volcano, the choice is completely up to you! (Might we suggest doing more than one?)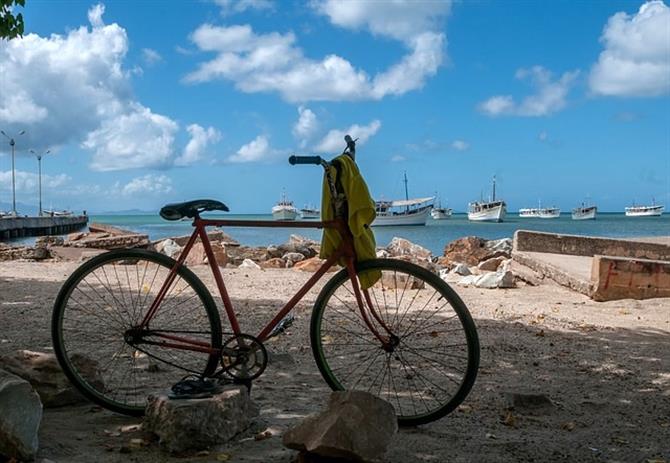 Tour tips for cyclists of all claims
Of particular interest is the area of la Cumbre (the summit), a place that passes through the center of the island's north mountainous region. Here you'll find sandy forest slopes, magnificent pine forests with ever-changing terrain, and microclimates that make both tropical and desert-loving plants thrive. Also recommended is a tour of the cañadas around the caldera - the gigantic volcanic crater that has the same name as the nature reserve on Mount Teide. Here you can gaze in amazement at the highest mountain of Spain, the Pico de Teide (3,718 m), protected as a World Heritage Site.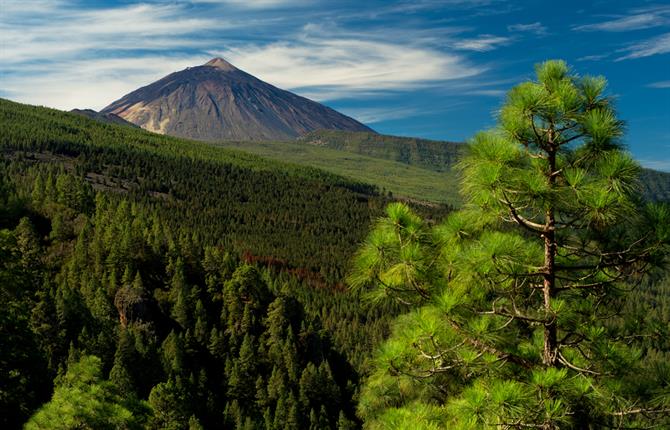 For people who enjoy a more relaxed bike pace, a city tour from Los Cristianos to La Caleta along the beautiful beachy coast is recommended. While on this excursion, cyclists can always take a break and dine in the many beach bars along the way, sampling some of the Canary cuisine.
Are you interested in culture? Do you also love to bike? Perhaps then, a city tour through Tenerife's World Heritage city of San Cristobal de La Laguna is just right for you. The historic town consists of the colonial buildings from the 16th and 17th century as Laguna was the island's capital. Since the Canary Islands did not have to partake in any of the 20th century wars due to its remote and secluded location, the testimonies of the glorious past are still well preserved.
Well-trained cyclists tend to love the route from Santiago del Teide to the famous Piratennest Masca - a traditional mountain village with 80 houses, stunningly situated on a plateau at an altitude of 800 meters.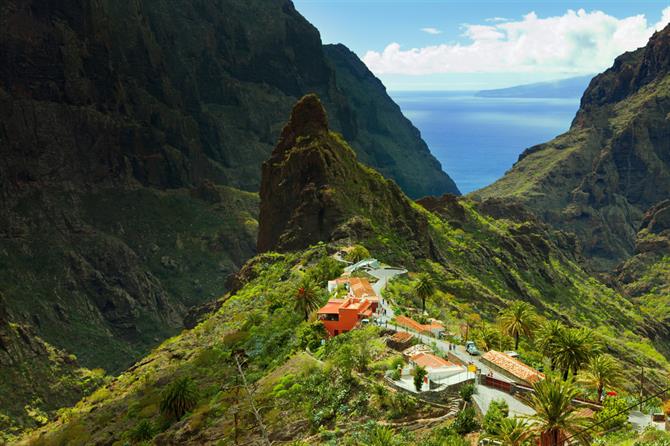 Fun fact: using Google Earth, view these routes and more by clicking on the bicycle symbol. Try it out and see for yourself just how fantastic the landscape really is!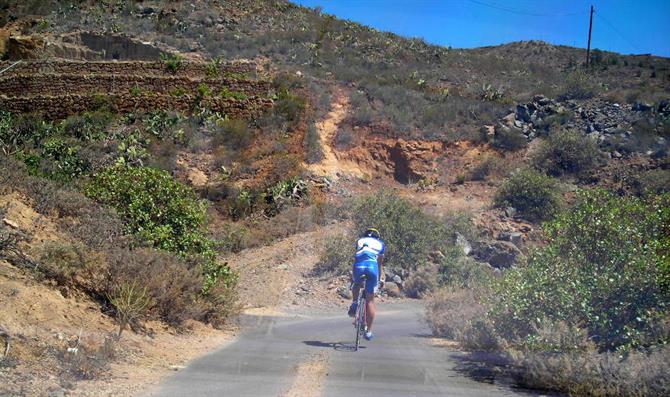 Paragliding in Tenerife
The Canary Island attracts visitors throughout the year not only for its mild temperatures, but also for its uniform and ideal wind conditions. It's a wind sports enthusiast's oasis! Summer or winter, nothing beats the views of the natural paradise below when paragliding.
Because of the steep mountains and the proximity to the sea, Fasnia's geography is perfect for the sport. From there, a glide of 2,300 meters towards the sea is possible. Those who want to try paragliding for the very first time can receive training by experienced pilots or take a tandem flight, as both are offered by a number of companies on the island.
Hiking through Tenerife grandiose natural landscapes
The volcanic island is one of the most exciting hiking areas in the Canary Islands. The variety of vegetation, climatic conditions from north to south, and fantastic mountains offer countless appealing destinations for those who love to trek and explore by foot. Tenerife also happens to be a paradise for migratory birds. Who flies to Tenerife for the first time, should already make a plan on the plane, all of which should be visited. For some mountain tour at the other island can already take a whole day to complete. A car is essential for exploring the island on your own.
There are many sophisticated hiking programs in Tenerife, many that will bring hikers directly to the starting points by bus. Make sure to ask the experienced mountain guides all the best trails secret on the beautiful volcanic island. Such hikes can be arranged at anytime and are easily integrated into whatever holiday program you have planned.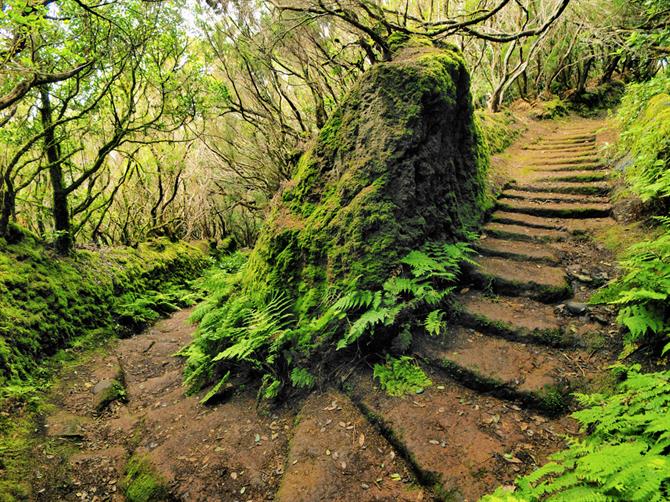 Trips to the mountains of Teno, amongst the magnificent volcanic landscapes, are characterized by solidified lava flows and vineyards with wine tasting in the Bodegas. Viele hikes are, to no surprise, wildly romantic.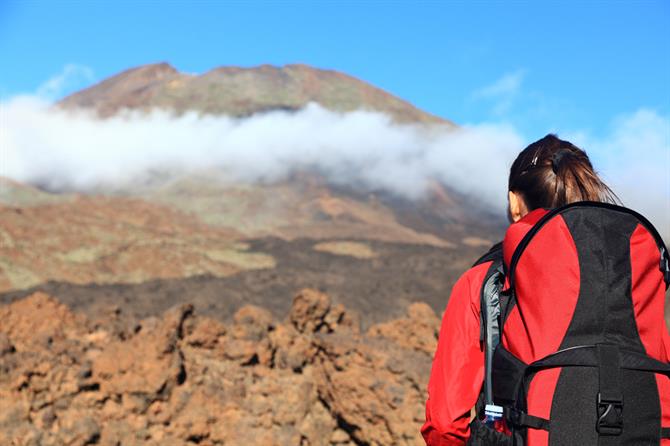 The view over the Orotava valley, featuring volcanic stone basalt columns which are called organ pipes, is totally unique and completely unforgettable. The German naturalist and world traveler Alexander von Humboldt was so blown away by this vegetation-rich area, that he compared them with the landscapes of the Gulf of Genoa and Nepal.
Many of the longer hikes often wind through valleys and mountains on mere donkey trails, but offer the best views views over the ocean. Imagine taking a morning hike and seeing the clouds life over the coastline to unveil the neighbouring islands and mountains. A once-in-a-lifetime experience!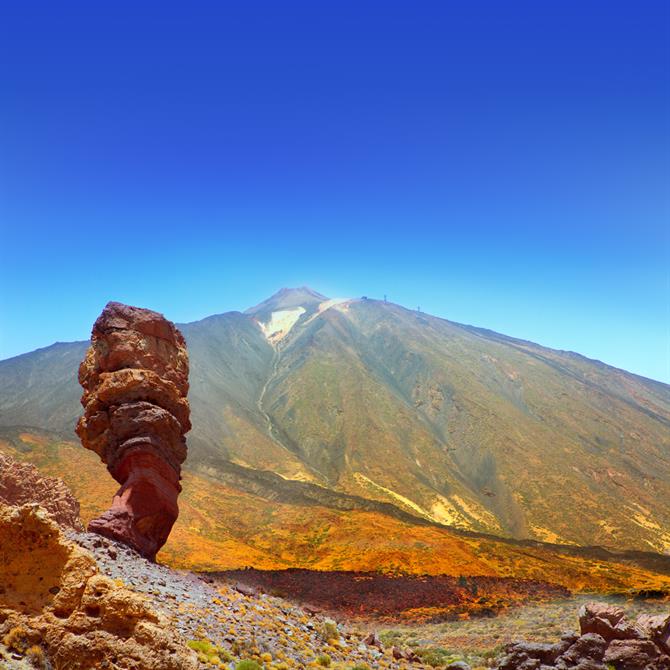 Hiking Tips for Tenerife:
Barranco del Infierno
San Juan del Reparo
Cruz del Carmen
Las Carboneras
El Teide National Park
Teno mountains
Bergdorf Masca
Orotavatal
Cañadas
Snorkelling and scuba diving along Tenerife's colorful coast
Volcanic islands are typically ideal for diving. If you think what you see above sea-level is impressive, you had best get your gear on and explore the depths of the ocean. What lies below are fantastic gorges, caves, and mountain tines. In this exciting underwater mountainous region, an extremely diverse range of flora and fauna have developed and thrive.
Because of their proximity to Africa, influences from the Mediterranean, and also the incoming ocean currents from South America, the Canary Islands offer diverse areas for divers and snorkelers.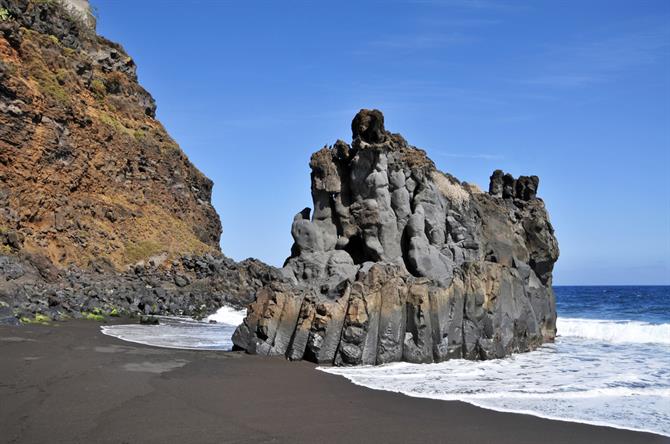 On the rock walls hang decorative sponges and colorful gorgonians. Tenerife is, much like the other Canarian Islands, a paradise for a plethora of impressive marine life.
Predatory fish such as barracuda, tuna, and mackerel swim mainly only in the open waters further away from the coast.
Diving spots in Tenerife:
Bajamar
Charco del Viento
Costa Adeje
Playa Espaghetti
El Medano
Garachico
Las Gaviotas
Los Cristianos
Mesa del Mar
Surfing locations in Tenerife
The island of Tenerife has a coastline of 400 km; many long sections of the rocky coast remain untouched. In between the cliffs, however, you'll find little nooks of the best sandy beaches and areas suitable for surfing. Occasionally, dolphins have been known to approach surfers in playful mood - truly an experience that would be remember forever.
Partly Tenerife acts with its tropical Feeling a bit like a Caribbean island. The beaches on the volcanic island are mostly covered with fine black volcanic sand. This wild landscape of rock formations and fine lava sand has its own special charm.
In order to find secluded surf beaches like Igueste de San Andrés (on the northeast coast around Santa Cruz), it is recommended to rent a car. Those who are looking for a really laidback atmosphere with likeminded peers should check out Tenerife's surfer's paradise town, El Medano. It's easily accessible from Las Americas. In contrast to the nearby tourist resorts and hotel chains, here an authentic island hippie community has settled, and it is known by other surf spots worldwide. Another famous surfer spot in La Americas is La Izquierda, know to be one of the best places to surf in the Canary Islands.
Windsurfing, kitesurfing and bodyboarding in Tenerife
The best windsurf spot is also El Medano, which is located in the south-east of Tenerife and is reachable from the within ten minutes. Because of the constant winds, the area is suitable for all levels of windsurfers including entry-level. Medano consists of two bays.
The best months for windsurfing are from May to September. In mid-summer (June to August), the wind is strongest. Beginners and freestylers are encouraged to keep to the right, on the beach Playa el Medano. Advanced surfers should search for more extreme conditions further away from the beach.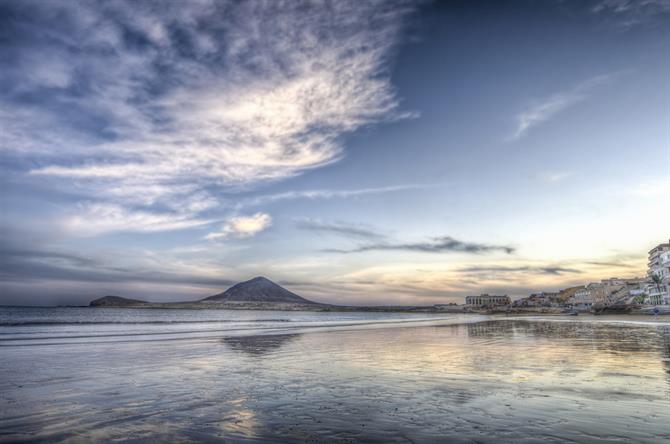 Further east is a location known as Playa del Cabezo. Today, the area hosts regular surfing championship competitions. The spot is thus quite popular!
Tenerife's coasts, even on the shallow sandy beaches, should not be underestimated. Many rocks, stones, and undersea caves are a danger to surfers, and there can be strong undercurrents. Those who don't know the area well should be cautious and maybe consult a local or guide.
Other popular surfing locations are Las Americas, where mainly bodyboard surfers like to have fun (especially in the winter). Las Americas is located in the tourist center of the island and is usually pretty busy.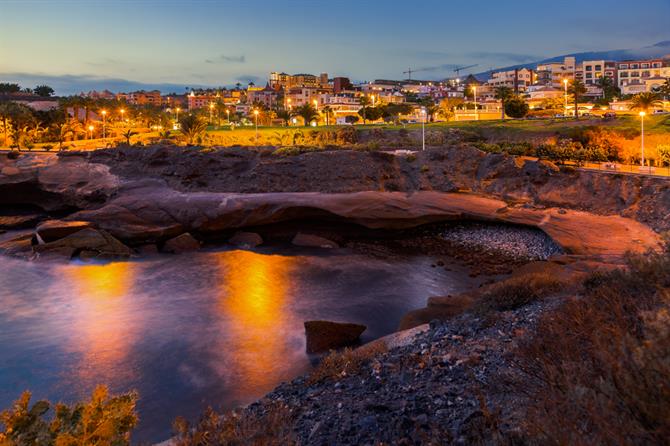 The best bodyboarding is done at La Machacona because challenging waves typically form here. The waves move very rapidly and in the direction of rocks, where they then break with a lot of force. This area is only really suitable experienced bodyboarders.
Surfing locations in Tenerife to check out:
Almáciga - Beginners

Los dos Hermanos - Advanced
Bajamar - Advanced
El Socorro - Popular spot for all levels
Igueste de San Andrés - Advanced; very popular with good conditions