The problem with arranging a Christmas break in a sub-tropical climate is that it just won't feel Christmassy enough, right? Wrong.
In Tenerife you can enjoy a warm and fuzzy old-fashioned type Christmas and a rollicking good New Year even though the sun is sizzling and the palm trees are swaying gently in the sea breeze. If you're very lucky, you might even experience a white Christmas.
Here are our top 10 tips for getting the best out of Christmas and New Year on Tenerife.
Christmas decorations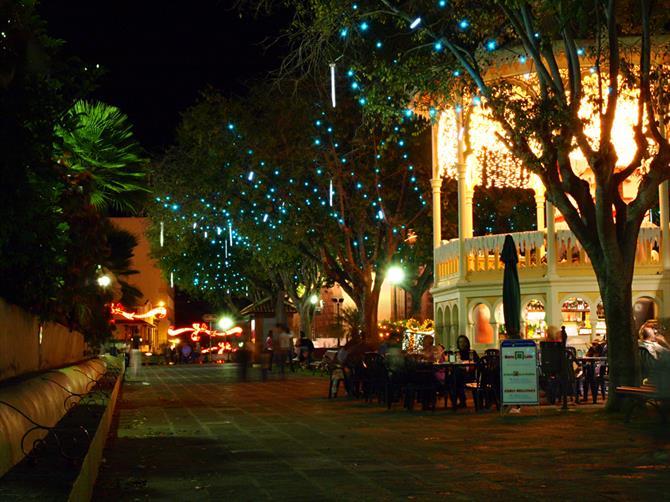 Most towns on Tenerife put up some sparkly lights during Christmas and New Year. For festive displays that will blow you away, head to the bigger traditional towns and cities.
After dark there's a buzzing Christmas atmosphere in places like Puerto de la Cruz, La Orotava, La Laguna and Santa Cruz where, as well as a wonderland of lights, there are full Xmas programmes that include live bands and even carol singers.
Nativity scenes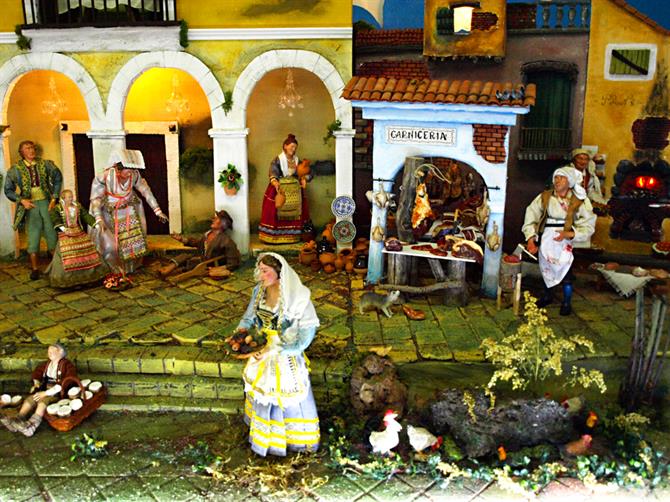 Going on a Belén search is one of my favourite activities over the holiday season. These elaborately detailed nativity scenes are found all across Tenerife and range from quite simple displays in shop windows to mini towns with working parts. In some locations there are belén routes to follow.
Town halls are often a good place to find them; however, they can turn up anywhere – from people's homes to courtyards in colonial mansions. Although most have a 'birth of Jesus' theme there are variations, including Guanche (Tenerife's original inhabitants) ones and others based around life in a Canarian town.
Christmas Eve parties on Tenerife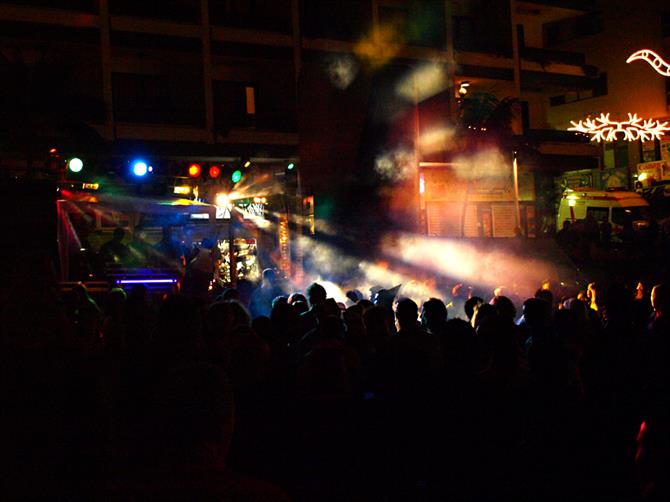 Canarios celebrate Christmas Eve at home with the family. Subsequently some restaurants and hotel dining rooms close early on Christmas Eve. It's less of a problem in Tenerife's main southern resorts like Playa de las Américas and Costa Adeje which exist purely for tourism, but if you're in Puerto de la Cruz, it's wise to eat early.
Similarly, where there are special Christmas Eve parties in most bars in Tenerife's southern resorts, Christmas Eve in northern areas can be a tranquil affair where the only crowds are at the Misa de Gallo (Midnight Mass). For a Christmas Eve knees up the best bet is to find a British bar.
White Christmas on Tenerife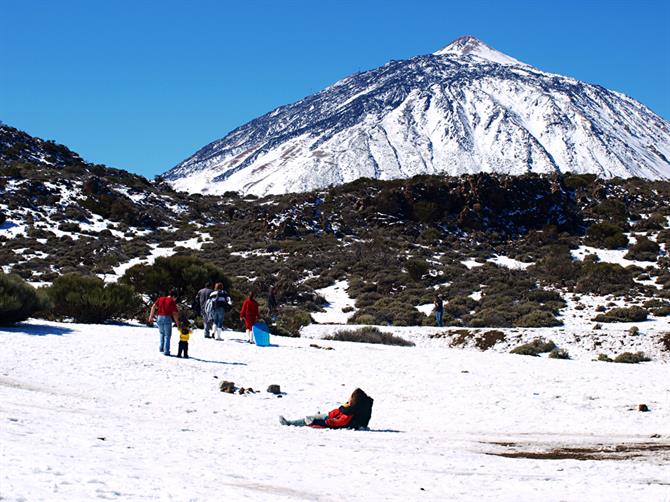 Spain's highest mountain, Mount Teide often dons a white coat in the winter months. The locals love it when it snows on Mount Teide and head up to the volcano in their droves to sled, build snowmen and generally frolic in the snow.
One of the most bizarre images you're likely to see is a snowman on the bonnet of a car parked next to a beach full of swimwear clad sunbathers. It's a rare sight though as, for obvious reasons, the life of a snowman is a short one when it reaches Tenerife's warm coast.
Christmas turkey dinner on Tenerife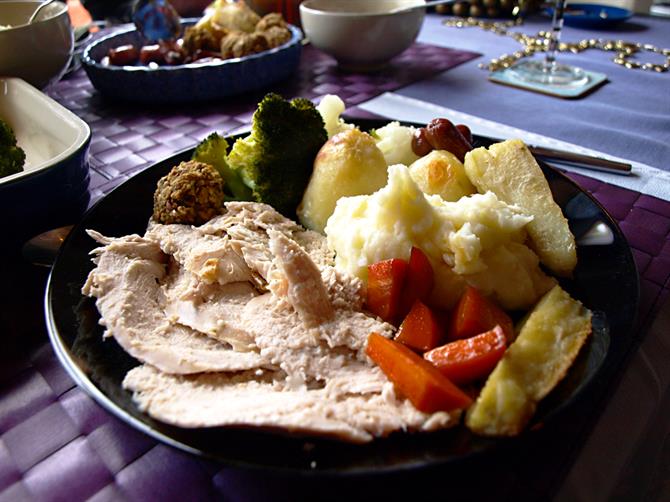 There's no need to miss out on a traditional Christmas turkey dinner on Tenerife. In resorts aimed at British visitors there are plenty of bars and restaurants offering special Christmas dinners, usually with entertainment attached. It's wise to book in advance as they're popular affairs.
There's no reason not to have a roast turkey fix even if self catering. Some supermarkets, like Al Campo, stock fresh turkeys. Chipolatas aren't so easy to find though.
A Christmas treat
You know when Christmas is near on Tenerife as whole aisles devoted to displays of turrón suddenly appear in supermarkets. Turrón is said to originally come from Jijona though some attribute these cakes made from almonds, honey and egg to the Ancient Greeks.
Whatever the culinary roots, it's a tasty Spanish Christmas treat. There now seems to be a zillion different flavours to choose from. The most traditional version, yema tostada, goes very nicely with a cup of coffee.
Take in a show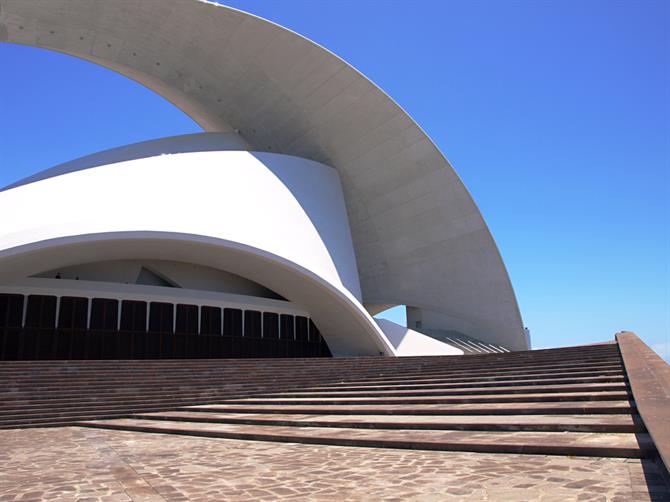 Every Christmas and New Year the Tenerife Auditorium in Santa Cruz acts as a venue for a top international musical. In 2012 it was The Sound of Music, for 2013 it's vive la France with Les Misérables between 30 December and 5 January.
Tenerife's capital also holds one of the most emotive festive events on Christmas Day night when it's traditional for the Tenerife Symphony Orchestra to stage a free concert beside the port.
New Year's Eve on Tenerife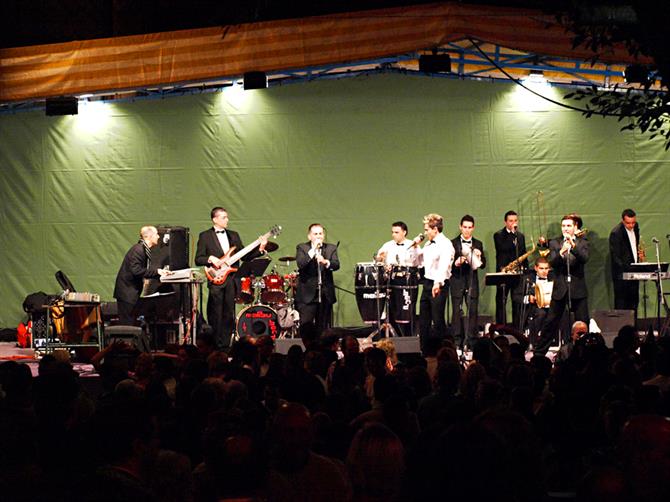 Nearly every bar and club on Tenerife will throw a New Year's Eve party. For a truly memorable Tenerife New Year's Eve take to the streets where in most towns you're likely to find an all night fiesta with lively Latino bands. Bring cava, 12 grapes (to be eaten at midnight) and wear red underwear.
For reasons that should be clear I'm not sure how many revellers actually observe the last tradition. It's also the done thing to dress up to the nines. Local men turn up in dinner jackets whilst the chicas parade in glitzy evening dresses. If you're Scottish, wear your kilt, it goes down well. Or, more likely, up well. People always like to check if what's underneath is a myth or not.
Los Reyes Magos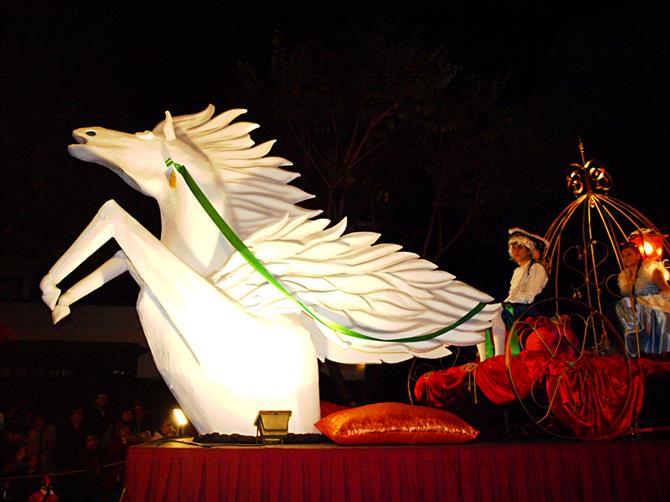 The festive season lasts a lot longer in Tenerife than it does in Britain with children not receiving their presents until after the arrival of los Reyes Magos (the three kings). The three kings – Melchor, Gaspar and Baltasar – arrive on the evening of 5 January, often by camel. It doesn't matter where anyone is staying on Tenerife, there will be a cabalgata (parade) to welcome los Reyes Magos somewhere close by.
Once the children have seen the gift-bearing kings arrive safely they can head for Z land happy in the knowledge that there will be presents galore when they wake up on 6 January.
Tenerife Beach on Christmas Day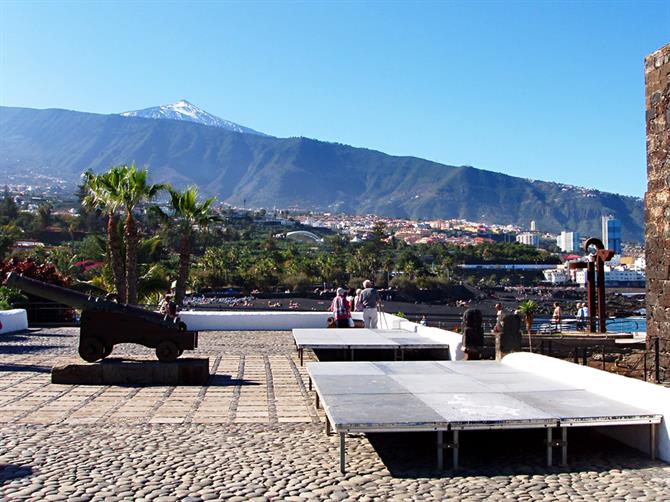 It's got to be done. There is something quite surreal about sunbathing on Christmas Day, especially if you've got a snowy Mount Teide as a backdrop.