The promenade that spans almost ten kilometres of Tenerife's southern resorts, from the fishing village of La Caleta to the foot of Mount Guaza, is known amongst the English speaking community on Tenerife as the geranium walk. The truth is that geraniums might be a bit thin on the ground along the route, but there are plenty more interesting things to see and walking it provides an insight into the diverse character of Tenerife's most popular resorts.
The fishing village of La Caleta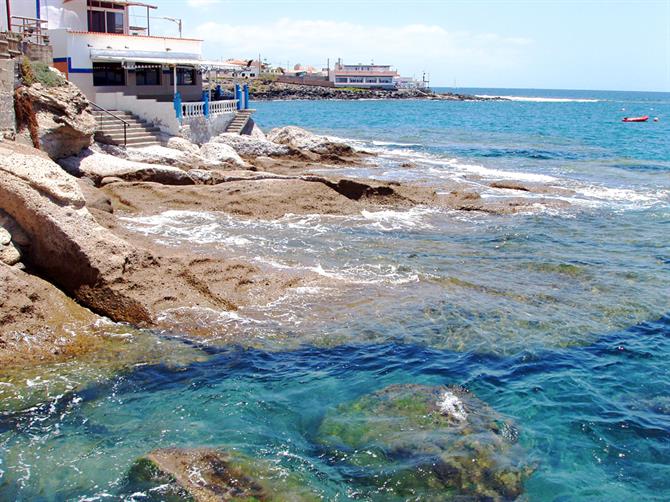 Once a sleepy fishing village, La Caleta is going through somewhat of a transition as luxury hotels spring up around it. For now, it still maintains an authentic fishing village vibe and is the setting for fiestas, including caballeros (horsemen) riding their steeds into the sea at adjacent Playa Enramada in January. La Caleta is a good place to trying a selection of restaurants that bridge the gap between the old and the new; from traditional Canarian fish and seafood tascas to stylish establishments with contemporary menus.
Playa del Duque
When people talk about 'upmarket' Costa Adeje, this is the bit they're usually referring to. Playa del Duque consists of an area of super swish luxury hotels the size of small towns and futuristic shopping centres selling designer clothes with price tags to make you gasp - unless you're loaded. The beach has an attractive mix of Caribbean casualness and South of France chic that gives it an appearance that is different from any other playa on Tenerife. The strip of white sand shelving into turquoise seas might not be the best beach on the island (the sand is too coarse) but it is the most stylish. A rock formation with a mini, mysterious castle (rumours abound about who owns it) acts as a natural curtain between Playa del Duque and the rest of the south coast resorts, adding a further air of exclusivity.
Puerto Colón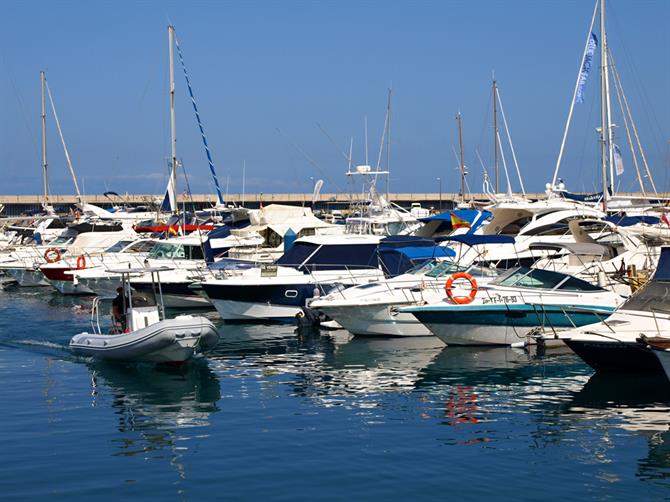 Fañabe, the stretch of coast between Playa del Duque and Puerto Colón, is pretty much what you would expect of any sunny beach resort destination; lots of hotels and restaurants lining a long beach that is a bit two-tone thanks to a mix of natural black and imported gold sand. Puerto Colón itself has multiple personalities. It's a marina with sleek, expensive yachts and is the best place in the area to arrange whale and dolphin watching trips or diving with a difference using a BOB (breathing observation bubble). The bars at the back of the marina generally cater for holidaymakers looking for British breakfasts and cheap lager whilst a delightfully kitsch lighthouse on one headland lights up Faro Chill Art. It's one of the coolest bars on Tenerife that, ironically given its holiday resort location, is more popular with Canarians than it is with holidaymakers.
San Eugenio to Playa de las Américas
Another section of the coastal walk that whilst nice for a stroll, is quite unremarkable. There are loads of bars and restaurants, it's palm tree lined and there are three different beaches but it doesn't really have any qualities that make it stand out. The stretch is bookended by the Las Rocas restaurant jutting out over the sea, an ideal setting for a romantic sunset dinner, and the Monkey Beach Club whose summer Sunday night open air parties attract clubbers from all over the island.
Playa de las Américas
I'm going to share something with you that might have you thinking 'get out of here.' The stretch of coast that runs along Tenerife's most famous (or infamous depending on your point of view) resort, Playa de las Américas, is the most unspoilt section of the whole route. After the cluster of pubs and clubs of Veronicas, Tenerife's holiday clubbing Nirvana, the path veers away from the neon lights to skirt quite a rocky coastline which is popular with surfers. A wooden walkway is lined with huge, modern sculptures and in place of manicured beaches you get a voguish beach club with sea pools. Just before the path reaches Los Cristianos there is the best beach along this coast, Playa el Camisón, in front of the retro bubblegum colours of the 5 star Sir Anthony Hotel. Trust me, Las Américas isn't necessarily the place you might have heard it is.
Los Cristianos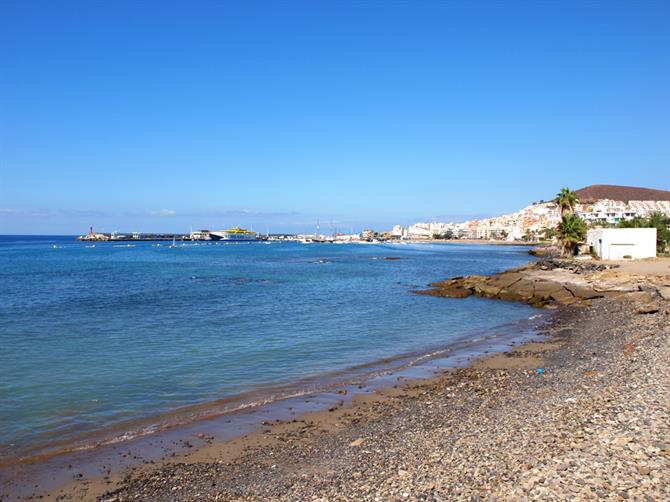 The coastal path culminates at Los Cristianos, another resort that has sprouted up from fishing community roots. The approach to the main town skirts the wide golden sands of Playa las Vistas, considered by some to be the best beach on Tenerife. I'm not one of them, but there's no denying it's credentials as an impressive looking beach. Los Cristianos' marine inspired personality becomes more obvious as you reach the harbour where pleasure cruises mix with fishing boats and ferries to La Gomera and El Hierro. Here, as well as bars and cafés aimed at tourists, there are little harbour-side stalls selling wine and sardines. As the promenade nears the end of the road, sun loungers on the town's long beach become more scarce as the coastline becomes rockier and sunbathers are replaced by schoolchildren learning sailing skills and local fishermen casting their lines from the shore.
Eventually, ten kilometres after leaving La Caleta, the path ends at the foot of Mount Guaza, a blockade of cliffs at the southernmost point of Tenerife. Except, it doesn't. A narrow trail leads up the side of the volcanic cone to a flat plateau before continuing either upwards to the summit or across the arid plains to continue along the coast.
It's worth the climb for the views and to trace your journey back along the south coast. On the other hand, by this point a drink is deserved and if there's one thing that this route isn't lacking it's a bar in which to award yourself an amber coloured reward.