Steeped in tradition and seemingly lost in a far-off time, the Alpujarras area of deepest Andalucía makes for a relaxing holiday. Take right now for example. An autumn colour palette and a daily breathtaking sunrise and sunset. Fresh mountain air and the sheer pleasure of truly getting away from it all, sometimes all a busy mind needs to recover and regain energy for the 'real world' back at home, wherever that may be.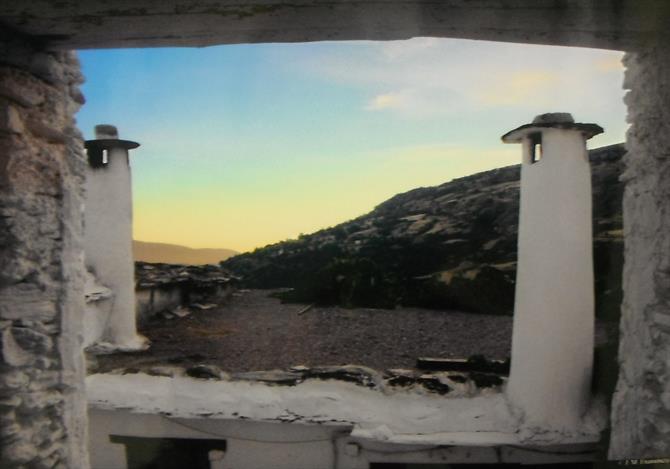 Getting to know the area
But, finding out about the local traditions and history can sometimes prove difficult. Even the most well known guidebooks will skim across the history of this special place, and unless you are able to converse with the locals you might be left wondering if there's more to local history than just when the Moors passed through.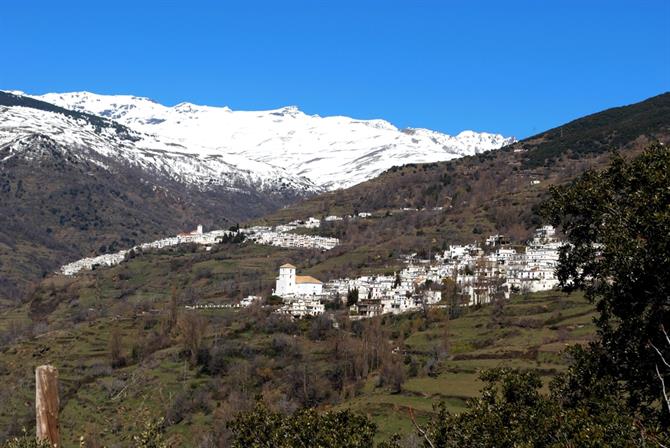 Learning the lingo
Which brings us to another problem! Your Spanish might be fluent, but unless you can truly lisp like a local, forget about any understanding of anything more complicated than the Menu del Día! Understanding and being understood might be slightly trying in most of this region, in the remote areas of the Alpujarra it's almost a different language altogether, so practice your game of holiday charades, most importantly your best smile - guaranteed to get you everywhere!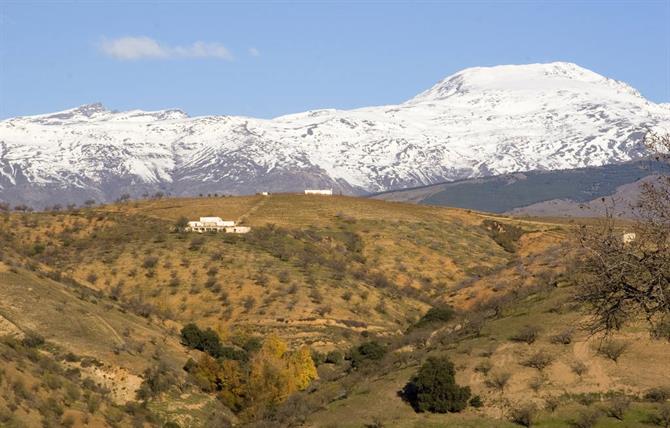 Lifestyle and history
But there is a working history to be found, based on survival of this sometimes unforgiving landscape, and it's based on the ancient farming traditions - a way of life designed around the tried and trusted fact of using what you have at hand and hard work. Your first glimpse of these steeply rising hillsides will leave you wondering how anyone can possibly farm them, your second, closer inspection, will reveal every single inch of vertigo-inducing land is planted and harvested to it's best potential.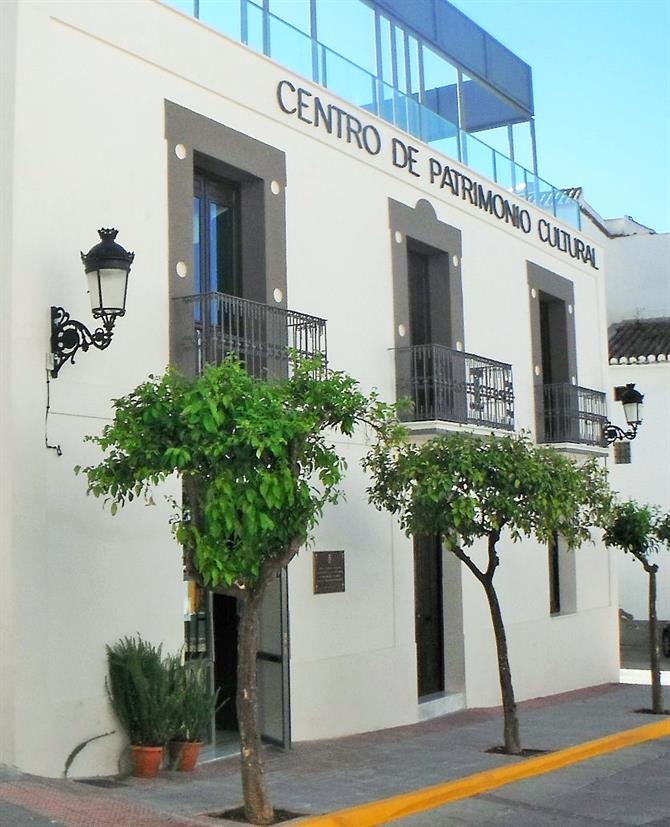 Folklore museum
A local largish village, Ugijar, recently opened a new Centro de Patrimonio, or folklore museum, so we went over there to take a look. It has been recently constructed and opened up to the public to go a little way to explain the history and traditions of the area with exhibitions and information - what did we find inside?
A very modern and FREE exhibition, at odds with the ancient traditions on display inside, an architectural ploy, which oddly, works well. Inside the large chrome and glass, well lit entrance hall, there's an information desk with leaflets, toilets and a lift to the upper floor, and therefore suitable for disabled access.
Local art
The large hall on your immediate right consists of an exhibition of sketches, line drawings and photographs by local artists. I was particularly impressed by the work of José María Onamoneta and Cayetano Aníbal. There are story boards in both Spanish and slightly ropey English depicting the local landscape of the Alpujarra, both Natural and Urban.
Back to the the entrance hall and climb the glass and marble stairway to the first floor.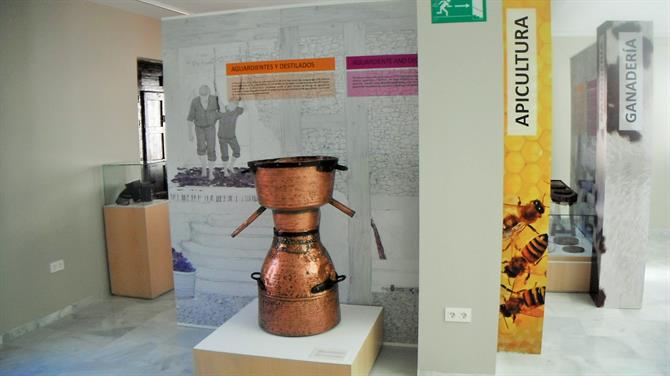 Land work
To the left, the exhibitions will take you through a local tour of:
Apiculture (honey)
Viticulture (wine)
Agriculture (farming)
There are models to explain the methods and workings of the different industries. Beehives (Colmenas) pieces of old hollowed out bark, and various items and equipment. Machines to see the methods of distilling and pressing grapes - most of these are still used today within those rural hillside villages you will have passed on the way here. There's an array of wooden implements and farming tools, also still seen flung across the shoulders of farmers these days.
Fabric of the area
Wandering over to the right of the stairwell, we explored the textile industry of the Alpujarras. Familiar loomed rugs and blankets in bright and clashing colours, Also, taking us back to the Moorish times, the story of silk, laid out before us like a roll of the very same luxurious fabric. A plaque tells us that the famous geographer Yabal Sulayr said that the Alpujarra was "uno de países de Dios más productores de Seda!" Actually, he probably said Allah, but we won't argue! Silk was big business in years gone by. You'll still come across descendants of the same Mulberry trees in the local surrounding villages today.
Around town
Ugijar itself is more of a small market town or a large village, well stocked with bars and restaurants, and local shops where you'll cover all your needs for a self catering holiday in the Alpujarras. It's also said to be a dwelling place of strong men! Indeed, based on that fact, Christopher Columbus came here to hire recruits for some ship building. Proof of their infamous strength can be seen today in a model of the Santa María in the main square opposite the church.
Slip behind that same church and find the bar/restaurant Pepe Aguado, where you can choose some tasty tapas, the best, and very cheap, Menu del Dia for miles, or a good bottle of something from their excellent wine selection. Busiest and standing room only on market days, which are the 4th and 20th of each month.