One of the main and most enjoyable aspects of taking a holiday, especially in these austere times, is being able to actually afford it! Valencia, Spain's 3rd largest city, has a multitude of things that you can see and do here whilst still having a good time but watching the pennies!
We took a stroll around the city and came up with four brilliant things to do on a holiday in Valencia, that are completely free.
1. The city of Arts and Sciences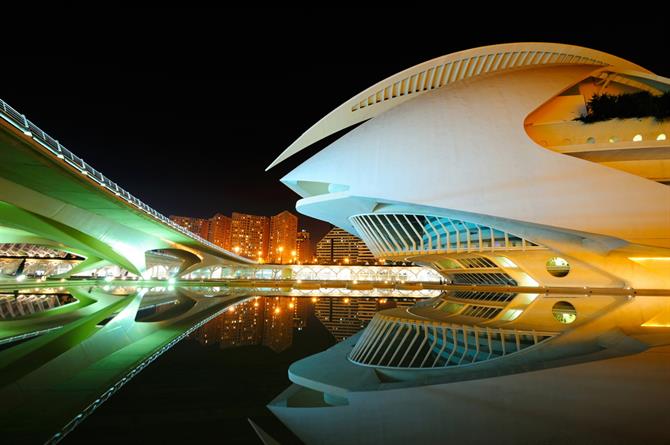 The City of Arts and Sciences is a group of futuristic buildings, designed by local architects Santiago Calatrava and Félix Candela, and construction began on the first phase in 1996. It is an ongoing project and contains several themed areas and buildings, some of which are free and some do charge admission.
Therefore it's entirely the choice of the traveller as to what to choose when here but the amazing location is free for all and a great place to stroll around, take photos and wonder at these amazing buildings.
It is located in the old dried-up river bed of the Turia, near the port, and is adjacent to the El Saler shopping centre (Centro commercial) which is packed with all the famous names and top brands for shopping in this international city. If you do have a bit of cash to spend then you are also well catered for here.
The city of arts contains 6 distinct zones or buildings and they are: L'Hemispheric, which was designed to look like a giant human eye. Inside can be found a 3D cinema with daily showings of amazing 3d films, with multi lingual commentary. There is of course a charge to see the film.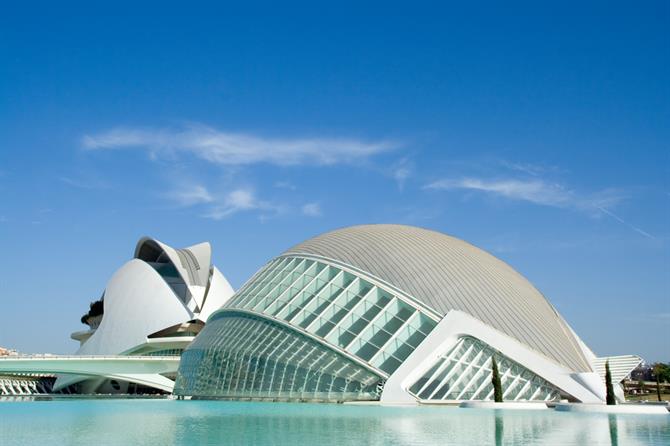 Then we find the El Museu de les Ciències Príncipe Felipe which is the Prince Phillip Science museum. The entrance to the lower part of the building is free, although there are charges for some exhibitions.
Then there is L'Umbracle which is completely free and is a landscaped walk of plants native to the area and various artistic and thought provoking sculptures. Then there is the L'Oceanogràfic which is basically a small version of Sea World, so expect to pay to visit, but it is well worth it.
El Palau de les Arts Reina Sofia is the next part, which is basically an opera house and theatre, and finally we see the L'Àgora which is covered exhibition space and sports arena, so an enjoyable, stimulating and very interesting day can be had for free, with options to pay extra to see more. It's your holiday and it's your choice!
2. The old Turia River Bed gardens
The mighty River Turia used to run through the centre of Valencia, but after a disastrous flood which engulfed the city in 1957, the river was diverted, and eventually in its place saw the creation of the largest urban garden or park in Europe.
This truly is the jewel in the crown for Valencia and is around 9km of gardens, parks and leisure facilities, flanked by ancient bridges and old defensive walls and is truly the green lung of this exciting Mediterranean city.
The river bed is completely free and accessible for everyone. Being an old river, it is of course completely flat, so walking, cycling or anything leisure related is easy and fun, and many a day can be whiled away in luxurious, interesting and cultured surroundings. Bike hire is also an option that many holiday makers who head for Valencia opt for, and the bikes can be hired at a reasonable costs from many locations
You can find all manner of things in the river bed including a playground that is shaped like Gulliver from the famous book and movies, various shaded park areas with people practising tai chi, reading, or just talking with friends in the cool shaded areas. A great way to spend a day without spending any money!
3. Barrio Del Carmen.
The area of Carmen is a hip, trendy and bohemian central area of Valencia that, along with nearby Ruzafa, is the hub of the Valencia arts scene and is packed with galleries, quirky shops and studios, bars and restaurants.
The area has many very old buildings and it's a wonderful way to spend the morning strolling around and taking the real Valencian Culture.
If walking around this old part of Valencia and not spending any money is not your scene, then come back in the evening to explore this cool and hip area, which guarantees the unusual, the bizarre and the left-field at the turn of each corner.
There are lots of places to stay in the city for all budgets and tastes, such as hotels, Bed and Breakfasts and apartments for rent in central Valencia too.
4. Malva-Rosa Beach.
Many visitors to Valencia actually don't realise the city has any beaches at all, although in fairness they have never been very well promoted, but each summer hoards of locals "in the know" enjoy some great days at the beach.
The wide and long sandy heaven of Malva-Rosa beach (Malvarrosa in Spanish) is somewhere that really can't be missed for those planning a holiday or a city break in Valencia and here's why!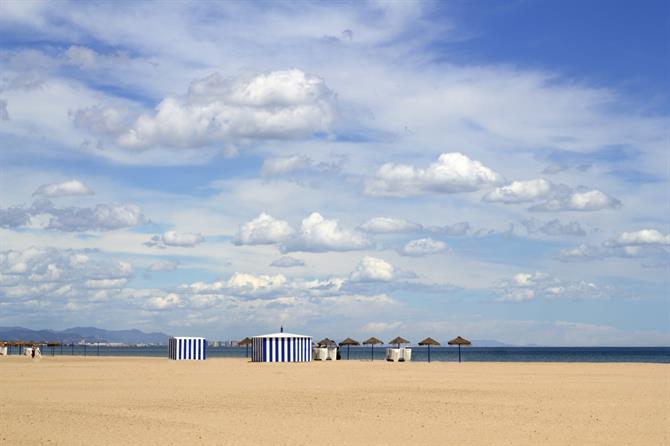 The beach got it's name from the Rose gardens that used to exist here many years ago. The beach can be reached by public transport from the city centre, and the tram line 5 (station Neptu) which can be caught from the Metro stop in the centre of Valencia known as Colon.
The beach has never seen much in the way of development or over building and remains largely clutter-free, clean, safe, and in August, very busy. The beach only has basic facilities and amenities that belie it's true size, although towards the central part of the strip, and also an area towards the port and past the "Las Arenas" hotel, there are a few beach side bars, cafes and restaurants although expect to pay a premium for the location.
The beach is split into 3 main areas, namely Malvarrosa, Las Arenas and Patagona beaches.
The biggest night of the year on Valencia's beaches must be the the fiesta of San Juan which falls on the summer solstice in June and sees a range of activities and shows, along with fireworks, an open air cinema and a traditional midnight dip!
Taking a well earned break in the city of Valencia does not mean that a lot of money has to be spent to have a great time, and with the international airport a stones throw from the city, cheap flights are available from many major and regional UK airports.
There is a lot more to do here than just these 4 examples, but they should keep any visitor busy for a while, and maybe you will discover some more free things to do in Valencia during your stay.