This amazing town is just waiting to be discovered, although it was founded a very long time ago by the Iberians and was rather comically known as "Arse", which I still can't stop laughing about! Later the Romans came along with a more sensible name and called it "Saguntum" which is far more acceptable to the humour of a travel writer, although I don't think they had that in mind back then!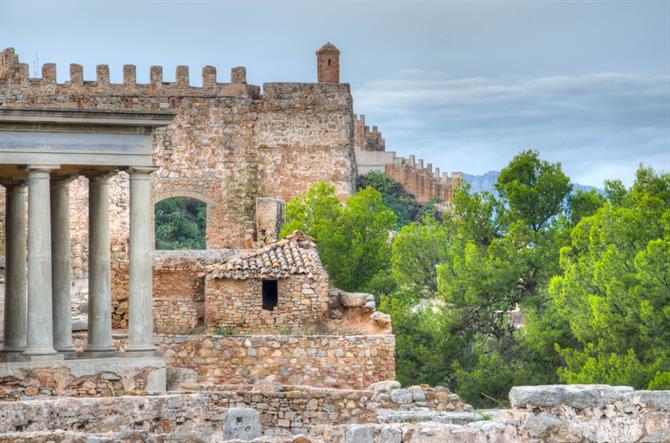 The town has been a very important port for centuries and the remains of the maritime activity can be easily found across the town, in fact if you enjoy walking around ruined castles, forts and suchlike, you really need to visit Sagunto as there is a dearth of History literally at your feet.
Sagunto is best described in two parts as the town is literally in two parts itself, Sagunto and Sagunto Playa, so let's look at what the town has to offer and then afterwards, we can all go to the beach!
The ancient town of Sagunto
The town is easily reached from the AP7 motorway, via the A23 or the N234 and parking in the town didn't seem to be a problem, although if a fiesta is on, it probably would be an issue. Upon finding the main town, we set out on foot, after a lovely cafe con leche at a local bar, and went to see the 1st century AD Roman theatre, built into the mountain side and big enough to seat 6000 people!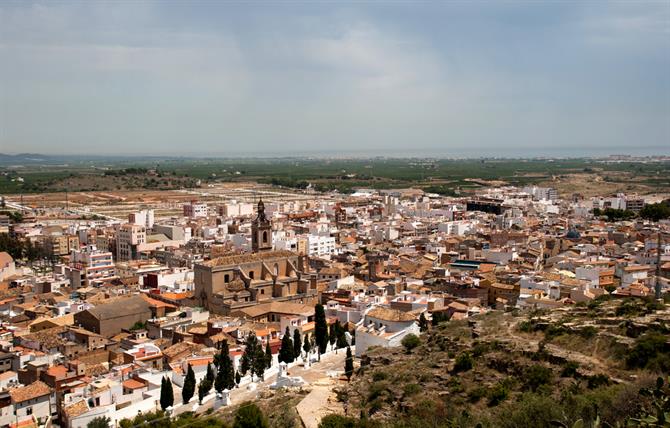 Even in its semi-ruined state, the acoustics here are amazing, although I certainly got a few funny looks from the Spanish tourists who had probably never heard of someone called Billy, let alone what he had that was 10 feet long. Still, I guess you can't please them all.
After my impromptu theatre performance, perhaps the first of its kind in Spain, and after a sharp dressing-down from the wife, I sheepishly headed back into town, on a promise of good behaviour, and looked for more to see and do and evidence from the past was only to clear to see.
We wanted to go and see the Moorish castle (see top photo), which has a lot of Roman remains too, but time was not on our side, so we headed into the Main town square and looked for the Jewish quarter. We found quaint, narrow streets, interesting hidden courtyards, connected by unusual pointed arches.
Back in the main square, there are several pieces of Roman architecture, mingled with imposing grand homes, bars and shops and the very impressive Gothic style church of Santa Maria.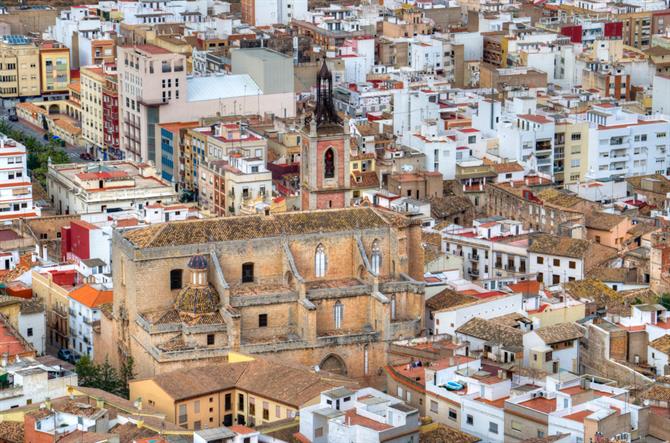 Staying with the theme of Architecture from days gone, Sagunto also has the Church of Salvador (The saviour), the remains of a 2nd century circus next to the river, the remains of a grand Roman bridge, and also the remains of the Roman temple of Diana.
All in all, if you enjoy traditional Spanish life, and also a bit of history and culture thrown in, then a break in Sagunto is a worthwhile venture. After all that walking, we decided to hop back into the car and head for the beach area.
Sagunto playa.
The beach area is easily reached from the town along a dead straight Roman road, and as you approach the area and see the various apartment blocks, you realise that the beach area is classed almost as a separate town in itself.
Parking was not an issue and we found loads of shops, bars and cafes, although for a good meal, it's best to avoid some of the beach front restaurants which we found pricey and lacking in quality, although I am sure there are some exceptions to the rule.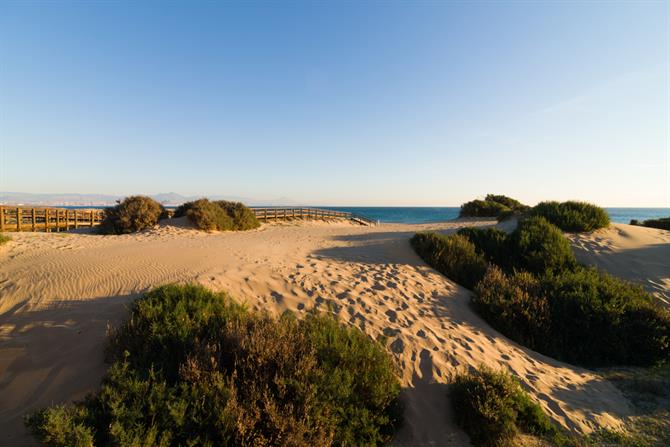 The beach itself is bordered by a long promenade, although be very careful crossing the road as it can get quite busy. The beach is next to the famous port, also exhibiting various Roman remains, and the 13km of soft golden sand mean that it is never packed, apart from in August.
The beach area is not over developed and apart from the aforementioned cafes and shops, there's in all honesty not much else to report apart from a very pleasing time to be had by all and a recommended place to visit for sure.