Valencia is full of surprises and here is yet another one that the canny locals try and keep for themselves, which probably explains why the area has not been ruined by over development.
Just north of the city, there exists a purpose built holiday village next to the sea, with all the facilities you could ever want and much more besides, so I took a trip down there with my camera and here is what I found.
Why is it known as Little Venice? I'll come to that in a minute, but first let's set the scene, and find out what are where this place is. The resort is easily reached by the dual carriageway V-21, or by Metro tube train to Rafelbunyol and then getting a bus or taxi from the station to the beach area.
If you drive, then from Alboraya nearby, head out to the large flat areas of what they call "La huerta", which is translated at the vegetable garden of Valencia. Large flat and wide plans under endless skies, and right slap bang in the middle of the chufa nut production area, the tiny little tiger nuts that go to make Valencias famous Horchata drink.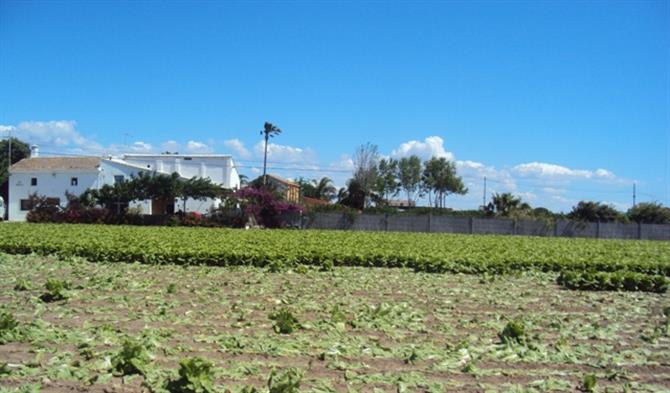 The twisty and windy roads snake through the fields and past rows of local produce such as cabbages, chufa nuts, rice and various citrus fruits, as well as some commercial plant growers.
If you are lucky, you can spot obscure and dusty bars, with wrinkled old men in berets sat outside drinking sherry at 9am! Many of these offer meals too, using only ingredients picked from the fields around, and locally caught fish, all mixed together with a very warm welcome, although don't expect to be served in English.
The skies around here go on for ever and can be baking hot during the summer months and even in spring time, as you can see, clear blue skies without a cloud in sight!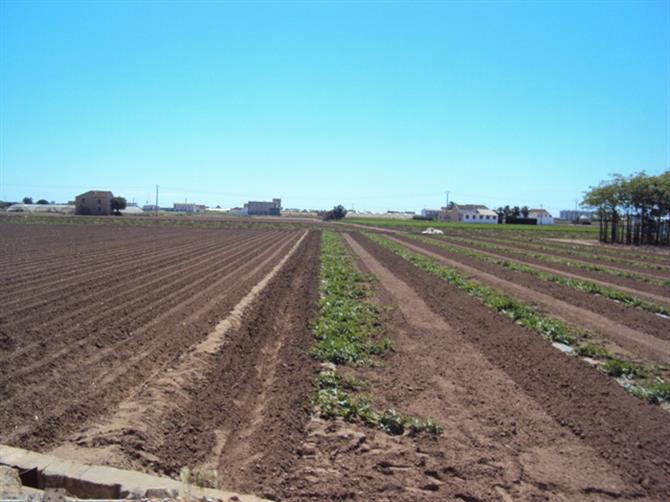 Driving now towards the sea, we pass over a dual carriageway which links Barcelona with Valencia, and come down to the main central point of the resort, seeing a large building complex to our left and the Centro commercial shopping area to our right.
There is ample free parking in the shopping centre, plus additional parking in the complex if you are renting a property in port Saplaya itself.
The imposing building that dominates the area is home to several holiday apartments and villas, and can be accessed through an archway between a couple of shops, which leads directly into a piazza with shops, bars and restaurants and the similarities to Venice immediately become clear.
Then you simply walk down some steps and you are the start of the harbour area of what is known as Little Venice, which was created from a redundant sea port, where they used to send the local produce around Spain and further afield.
It's picturesque and quiet too, and most properties here have their own balconies too, to just sit, watch, relax and enjoy yourself.
There are various inlets around the marina area, and it's a great place if you a boat aficionado too, with plenty of sailing opportunities and various port, storage, chandelry and berthing facilities available at the port centre office at the car park near to the beach.
The sea facing area also has a communal pool and play area for children, and although the resort is very Spanish, you do occasionally hear a British voice, or even Dutch or German too, and I hear occasionally French people enjoy coming here, so it's quite a European feeling when you are here.
When walking back towards the sea, you then arrive at the seafront promenade where you will find the beach of course, and also a strip of shops, bars and restaurants to serve your needs and fill your belly!
At the time of writing there are Spanish and Chinese places to eat, a Turkish kebab shop, various bars and cafes and if you really must, there is a MacDonald's over the road too. There are plenty of rentals available in the complex, for example, this one.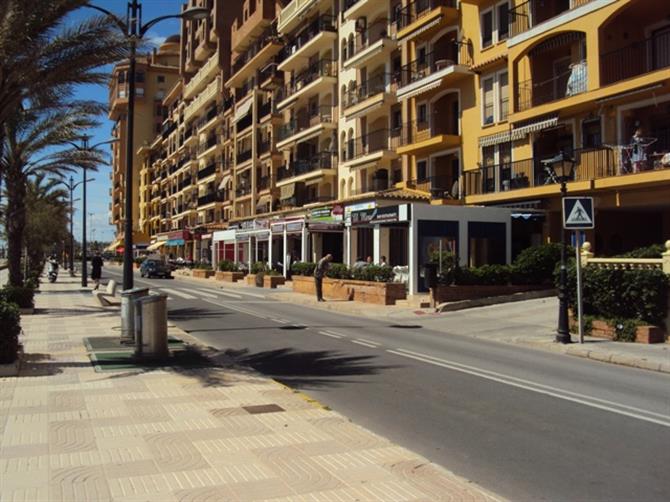 The beach is opposite the building above, you can't miss it, just look for the large expanse of blue wet stuff opposite.
The shopping centre and services on offer
On any self catering holiday, especially in somewhere like this which is tucked away on it's own, then you need the facilities to go with the break, so you can fully relax and enjoy everything there is to do and see here. The start of the shopping centre is just to the left of this photo.
Beyond the ample car parking, you will see a McDonalds on the corner, and then the entrance to the Alcampo supermarket, go inside there and you will immediately see the toilets, the entrance to the supermarket, and a small amount of bars, and some completely random shops ranging from a pet shop, to a mobile phone supplier.
Out the back of the supermarket building, you will also find a branch of Leroy Merlin, Spain's equivalent of Wickes DIY, a fast fit car repair workshop, a bit like Halfords, and a few other stores too.
Finally the beach!
The beach at the port is about 1km long, fairly wide and safe too. There are beach showers for public use too, although I did not see any red cross lifeguard present, and with strong currents, swimming in the sea is best approached with caution and common sense, especially with children.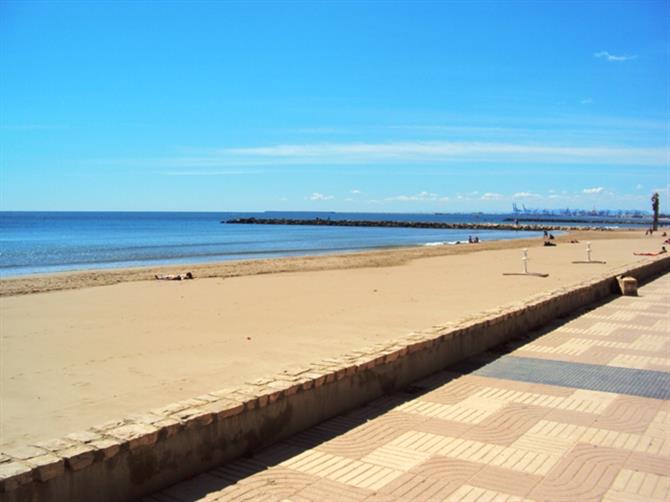 Above all, a break in Valencia's Port Saplaya is relaxing, interesting, fun and very accessible too, being only about 20 minutes across town from the airport, and with good transport links, perfectly placed to explore other parts of the city and the area whilst on holiday. See you here soon!