Valencia's mouthwatering cuisine from regional produce along with its quality wines have attracted gourmets for decades but now connoisseurs have another excuse to fly over – to sample the array of craft ales making a name for themselves across the region.
Until recently real ale lovers looking for a beer with a bit of a bite have either had to sample cold Spanish lagers or pay over the odds for bottled exports but now microbreweries are popping up while craft ale houses are the cool places to hang out with friends.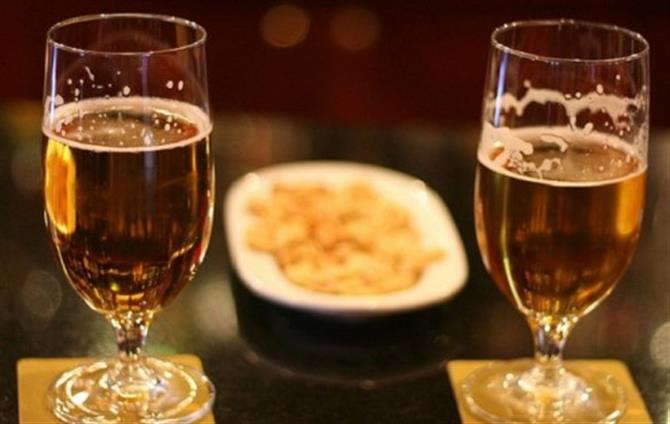 Some ales from the Valencia region use unusual local ingredients such as tiger nuts – which you'll also find in the non-alcoholic horchata drink – and fruits. They're innovative brews to create a very more-ish ale.
It has become a bit of a fad in the beach city with several bars dedicated to the art of real draught ales being set up. Some will offer cuisine alongside the beers while others are strictly about the drink.
You'll find a handful of bars in and around the historic heart of Valencia so you could set up a mini pub crawl to sample a variety of craft ales during or after your sightseeing tour.
Spain-Holiday has been out to sample a few of the fine drinks on offer.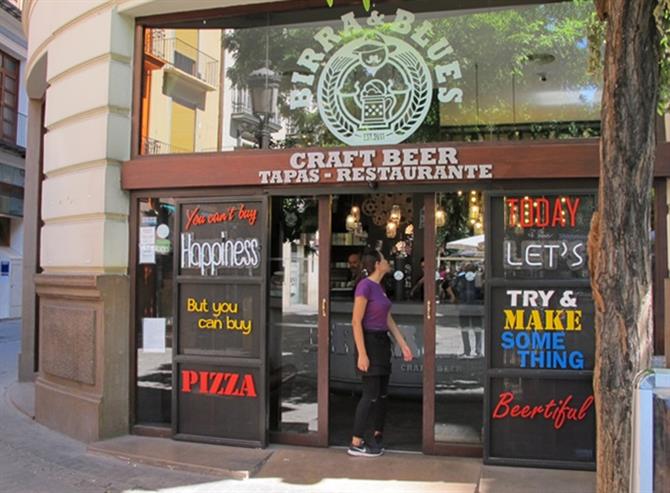 Raising a glass to historic Valencia
It's not surprising that Birra & Blues is one of the most popular venues with a choice of 10 ales brewed in Alboraya, just outside the city, which is also where the tiger nuts for horchata are farmed.
Birra & Blues has been producing artisan beers - using just natural ingredients - since 2011, many of which have won international awards.
The bar itself is opposite the central market with plenty of seating outside so you can watch the world go by as you try a couple of these fine products.
'Today, let's try and make something Beertiful' is a welcoming sign as you enter the bar and a fine philosophy for a venue selling fine ales.
The waiters know their products and can tell you about each one, its flavour, strength and give you a free sample to try.
From lighter blonde beers, IPAs, brown ales and malty beers, there's a flavour for everyone.
La Rubia is a light, blonde ale so ideal for lunchtime to accompany a fresh, Mediterranean meal. It has a sweet aroma and is made with two types of hops for a flavoursome drink.
For spicier dishes or cheeses, the Doble Malta, which won bronze in the Dublin Craft Beer Cup in 2013, is a Belgian malty beer with a lovely aftertaste.
Amber Ale includes pineapple roasted in a wood oven, along with barley malt and English hops; the Red Wheat includes mango; while the Black Blues Abbey has a vanilla touch.
You can also order tapas or a full meal if these beers tempt you to stay a while.
Birra & Blues, Avenida de Maria Cristiana 12, Valencia. Open every day from 11am to 1am and until 2am on Friday and Saturday.
A short stroll from the market is Tyris on Tap, which is in a slightly quieter spot with an outside terrace.
After travelling Europe - and find culture at the bottom of a pint glass - the owners wondered why Valencia did not have a craft beer.
Using four natural ingredients - hops, malt, water and yeast - they have now brewed more than 300,000 litres of beer which is sold in more than 120 outlets.
Along with great beers, Tyris has conjured up intriguing names and artistic labels such as Diablos Joe (diablos means devils) which has exotic fruity flavours; Smoky Porter with a coffee/chocolate taste; and Vipa – Valencia Indian Pale Ale - with a citrus taste.
You can make a booking on the website to visit the brewery in Riba-Roja del Turia on Saturdays between 11.30am to 2pm.
The bar, Tyris on Tap, is at Calle Taula de Canvis 6, Valencia, which is open in the evenings from 7pm to 1am.
Bottle it at Valencia central market
If you want to take a few bottles home with you, there is a stall in the central market selling hundreds of different beers from around the world, including those from Valencia and other parts of Spain.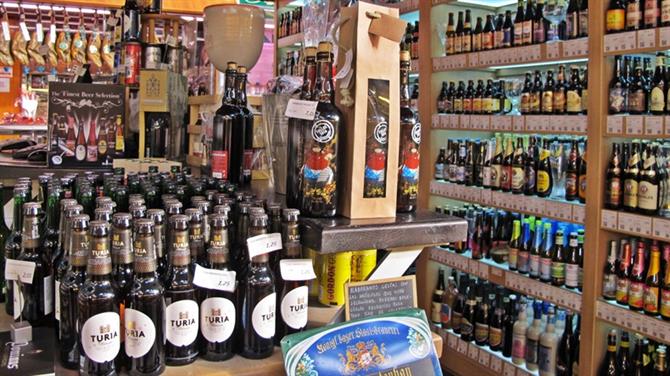 Mercado Central, Plaça de la Ciutat de Bruges, Valencia, is open Monday to Saturday from 7am to 3pm and Sunday from 8am to 2.30pm.
Away from the tourist areas, in the trendy Ruzafa neighbourhood is Olhops Craft Beer House with 10 draught beers which are always changing.
The list is chalked on a blackboard by the bar with information about each ale, where it comes from and its strength. You'll find beers from around the world including the UK, Canada and the USA.
The bar is decorated in a cool grey with seating inside or out.
Alternatively pull up a stool at the bar to watch the different ales being poured and savoured. At the far end of the bar is a shelf crammed with different bottled beers along with more seating.
When we were there, the local ales included Tyris - which has a gorgeous after-taste - and Zeta, the dream-child of Carlos and Manuel from their time as the University Polytechnic of Valencia, with great music rocking away in the background.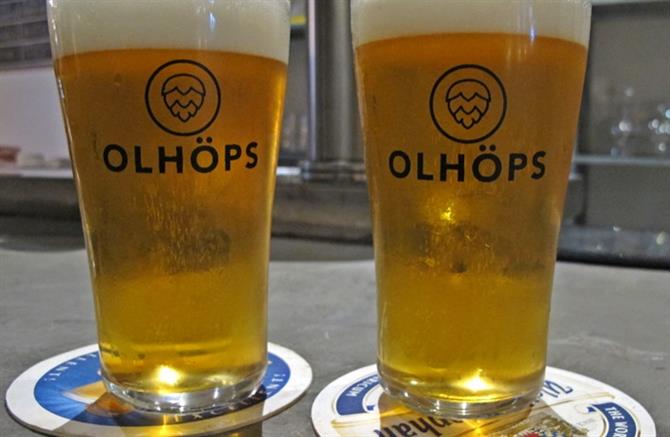 Olhops also has an online shop with many brands to choose from including La Socarrada brewed by two friends Rafael Suner and Sergio Iborra in nearby Xativa, who wanted to create a gourmet ale representing the Valencian character.
It includes rosemary which is a clever play on the local expression 'mel de romer' (rosemary honey) which is said when something is amazing.
The name of the beer, Socarrada (meaning charred) is the name given to people from Xativa, the 'socarrats', because Felipe V burned the city in 1707.
Olhops, Calle Sueca 21, Valencia, is open daily from 6.30pm to 1.30am.
Cheers to nutty Valencian beers
Another lovely beer to look out for in Valencia is Antara, which is made from 100 per cent organic tiger nuts along with cereals and hop flowers.
This is brewed following a recipe written about by Theophrastus in 400BC in Ancient Egypt. It's a full-bodied, blonde beer with the nuts adding a sweet touch as well as being crammed with vitamins and minerals!
Valencia is an exciting city for gastronomy – it is the birthplace of the paella after all – and is now adding beers with beautiful stories to its culinary delights.
Some restaurants are also creating special tasting menus with different beers to accompany each dish instead of wine, which shows how far ale has come up in the culinary world.