Let's get one thing straight right from the start. Paella is NOT pronounced "poi-eller!" it is pronounced "pay-eya" and you don't have to be a pretentious sort to say it like that, it's just the correct and proper way and if you are looking to order this in Spain, saying it in Spanish often gets you a better portion! (Try it, it works!)
2013 has been designated International Year of the Paella, an initiative brought about by Spanish TV's Paco Alonso, author of the Paella "bible" known across the world as "La Paella Valenciana".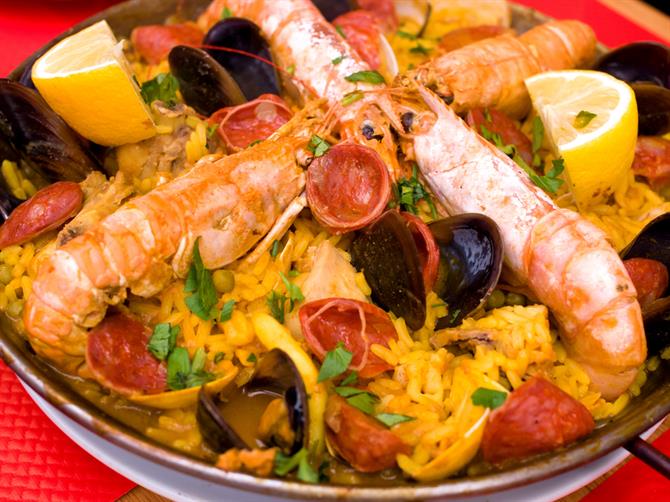 Many of you reading this would have this traditional dish on holiday,however I'm sorry to break the bad news to you, but you have probably had a poor imitation, cooked and served solely for holidaymakers.
In addition, if you are eating, or have eaten Paella in the UK or Ireland, unless the cook himself is from Valencia, and has a personal passion for the meal, then you need to come to Valencia on holiday and try it for yourself!
What is the real Paella?
The Paella is a national institution, more so in it's birthplace, Valencia, and the wetland areas of Albufera is where you will find the most authentic version, cooked, so they say, with water either from the Albufera lakes, or straight from the River Turia, in a very large pan, always al fresco, and over a large wood fire. The cooking dish itself comes in many sizes, although legend dictates the larger the size, the better the meal.
People across the world argue, although in a nice way (!), about what constitutes the real dish, so this is my take on it, based on speaking to Spanish friends over the years. Much of the traditional ingredients in a Paella came about because this is what the poor farmers who tended the rice crops, found swimming amongst the rice, and they came in from the various water channels than spread out from the sea and are used to irrigate the crops.
Here is our take on it, although an expert should be consulted for the definitive and officially licensed "DOP" version.
A REAL Valencian Paella should contain a mixture of:
Short grain rice, the most important part, preferably marked "DOP Arroz de Valencia."
Water from the Turia River (although bottled water will suffice!)
Some form of Meat: which can be Chicken, Pork, Rabbit, Snails (seriously), Beef, duck or for the ultimate authenticity, and this is gross, water rats! I doubt they are available in Tesco's, although you never know. (Look in the ready meals section?!)
Seafood or shellfish in varied amounts: Choose from crayfish, lobster, prawns, mussels, clams or cockles.
Olive oil, the best quality you can afford.
Tomato (sometimes), and onion (sometimes)
Saffron, salt and any other herbs you may like such as pimenton.
Garrafon beans, ferradura beans or tabella beans
Stock (Known as Caldo) and you can use fish stock or chicken.
OPTIONAL: Garlic, peppers, black pudding, chorizo sausage
There are many recipes and ways to cook paella on-line and on youtube so I will refrain from making this article a cookery lesson! Bear in mind also the above ingredients are a selection and for the real and true taste of Valencia, you would be best to look for holiday accommodation around the Valencia area for your next holiday in Spain and then head for the Albufera area.
What variations are there?
Each area of Valencia has its own version, but it's all good stuff and as far removed from what is served in holiday resorts. There are vegetarian versions, although rare, versions with only seafood and also only meat and there is Arroz negro, which is a paella style dish, but coloured black, with squid ink. There are also versions cooked in the oven, often without seafood, and known as Arroz al horno.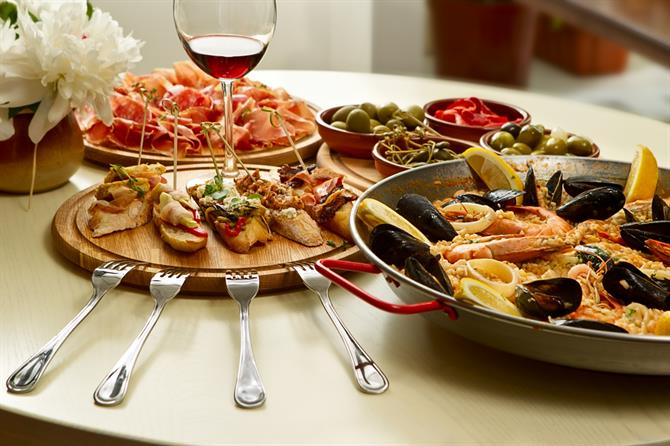 There are variations on a theme in inland Valencia too, one being "Arroz amb Bledes" in the Camp de Turia area which is a rice dish very similar to Paella but cooked with potato, leeks, garlic, tomato and "Bledes" which is a Catalan word and related to the Mediterranean vegetable called "chard" in English.
This came about as the inland areas many years ago, could not get the fresh fish without a 2 day journey, so vegetables were substituted instead, but it's a very traditional and tasty dish.
Oven baked rice from Torrent: "Rossejat"
And in a Spain Holiday exclusive, I present Arros al forn al Torrent, known as "Rossejat", cooked by my good friends Gloria and Paco, and the recipe is only found in the town of Torrent, just south of Valencia city. It contains rice, roast beef, roast rabbit, small chunks of pork ribs, roast pork, lentils, chick peas, 2 different types of black pudding and 2 different types of Sausage, one sweet and one savoury.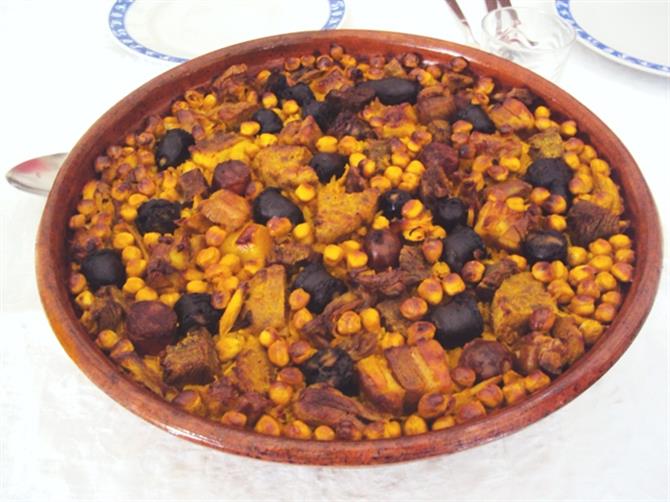 It was delicious!
How to eat Paella
The dish is mainly a communal one and is often the staple family meal on a Sunday, in fact it could be the Valencian version of a Sunday roast dinner! Almost always cooked outside and over a wood fire, it is left to stand after some time and covered with tin foil. The bottom of the inside of the pan is supposed to slightly burnt, and this is known as the soccorat, highly prized amongst aficionados for its crunchiness and intense flavour.
Some locals also say that paella must only be served in the daytime and as soon as the sun goes down, that is it, no more for you! This could be because the main meal of the day ("La comida") is at lunch time, and going to bed on a full stomach of rice is probably not a good idea.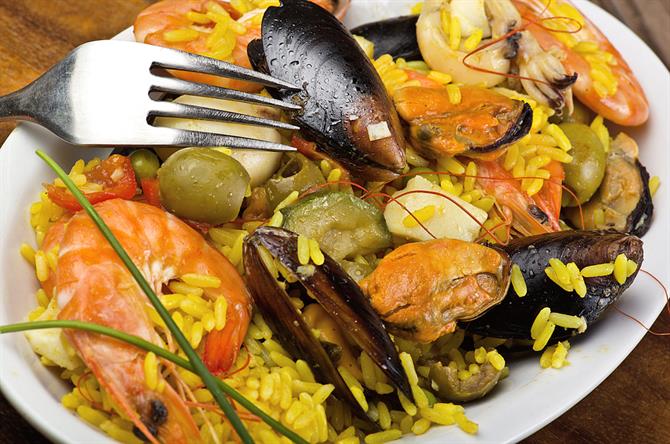 Instead of just digging in and picking the best bits of meat out, it is supposed to served as per slices of cake, so you cut a triangular shape from the large dish and that is your ration! Many town halls serve a traditional paella once or twice in the year, for free, as a gift to the locals and a good way to built a community spirit amongst townsfolk, although I don't know who gets to do the washing up!
Lastly, what is my opinion on Paella?
I can't stand it! However as I have hopefully pointed out, there are variations you can try, and you can even experiment yourself at home, to at least attempt to recreate that authentic Valencia Flavour!