Unless you live on the moon, or are lucky enough to have accumulated some wealth during your time on this planet at least, it's not escaped most people's attention that we are in perhaps the sixth year of a recession in Europe.
This has been painfully evident in Spain of late, with drastic cuts and austerity measures par for the course, but the beaches of Spain are still packed each summer, not just with foreign visitors like you or I, but the Spanish themselves too.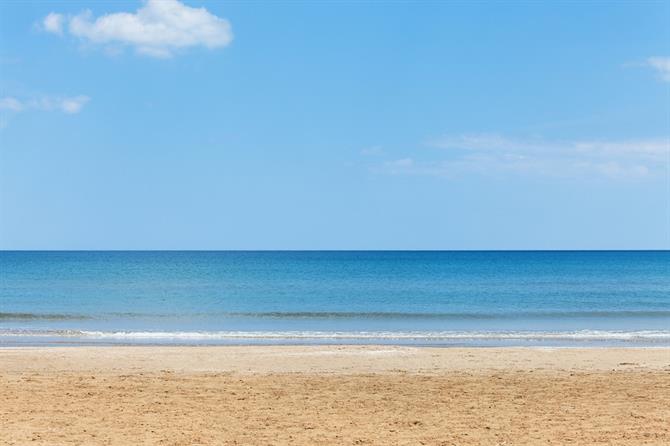 So it would seem having a good time in Spain, whether you live here full time or are coming here on vacation , does not necessarily mean that you have to spend a lot of money to enjoy yourself, and this is a view borne out by the Spanish themselves too. Visit any beach in Spain, especially during August, and you will see scores of happy Spanish families enjoying themselves on the beach, but when you spot them, check out the supplies they bring with them.
Whereas many Brits holidaying will either go back to the hotel for lunch, or locate a beach bar, the Spanish go to the beach well prepared, and it's a method that our family have adopted too.
The typical Spaniards on the beach will have with them: A windbreak or two, a couple of parasols stuck into the sand, folding chairs, collapsible tables, Tupperware boxes of various sizes, packed with freshly made tuna and pasta salad or paella made the day before, and usually the cheapest beer that is on sale in Mercadona.
They manage to prepare and eat a feast, all prepared using the cheapest ingredients, for a family of 10, for probably no more than 20 euros.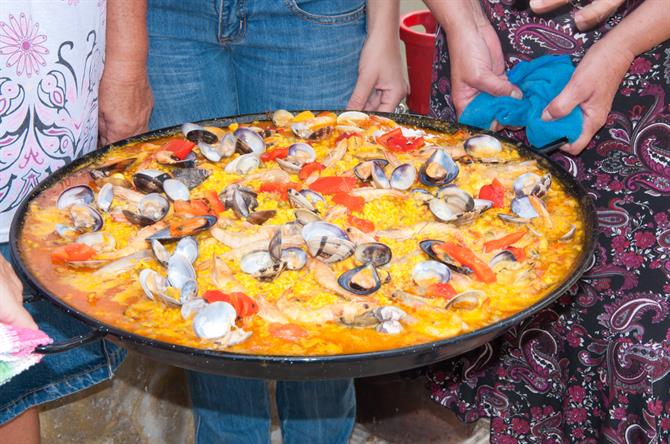 Compare that to someone who goes to the beach bars for lunch, and if you have a family with you, the final bill could be looking at 100 euros for lunch, and that's just for one day!
So as long as you purchase low cost flights to get here, and then maybe hire a cheap car, and then invest in some low cost holiday accommodation, you should be quids in, just bring a bit of spending money and watch for any deals being offered locally.
So now you have your budget in mind, let's not let a lack of finances stop you having a great time on the beach this year and if you plan to come to the Valencia area, here's my top five beaches for a low cost holiday this year.
1.Sagunto Playa
The ancient Roman town of Sagunto, only a few Kms north of Valencia city has a wonderful beach, which is an area in itself, separated from the main historic town. It is unspoilt, rarely crowded, and has basic but sufficient facilities for most families.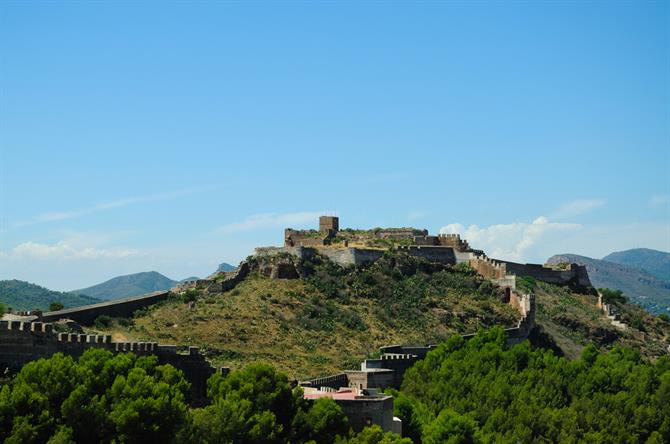 The beach itself is bordered by a long promenade and is next to the famous port, where you can see various Roman remains from it's time as an important port for the Roman empire. The beach has 13km of soft golden sand mean that it is never packed, apart from in August. It's well worth heading back into the town too, as there are loads of things to see including Roman ruins, the Jewish quarter and castles too
2. Port Saplaya
Port sapalya is a custom built holiday resort just north of Valencia city and set amongst the local fields of chufa nuts, the staple crop, and in main ingredient for the famous local drink Horchata.
It's a nice place to visit, and to stay too. There are plenty of shops nearby too and a supermarket, petrol station, a McDonald's, bars, restaurants and so on.
3. Malvarosa beach, valencia city
Malvarosa is a favourite haunt of the city dwellers here in Valencia and many visitors to the city don't even realise there is a beach nearby. It's situated near the port area, so head for the massive cranes dominating the skyline.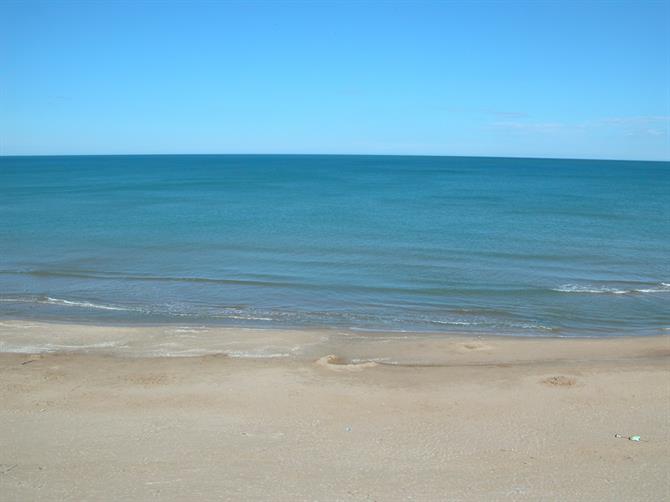 The beach is wide and spacious and undeveloped. It can be reached by tram on Line 5, heading for Neptu. There is plenty of parking just back from the beach although sunday is very busy and avoid the "stick men", illegal car parking attendants, who direct your car into parking paces, then charge you money not to run a key down it or let the tyres down.
4. El saler.
Another local family favourite, especially on Sundays is the beautiful El saler beach just south of valencia and next to the Albufera nature reserve. There is a good golf course nearby too, camping sites, and several traditional fishing and farming villages of interest.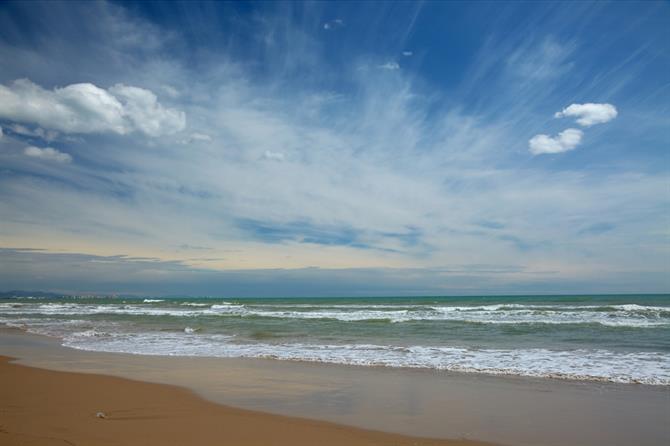 The beach is bordered by sand dunes and a nature reserve and as there are few facilities here, you would best preparing a packed lunch, just like the Spanish do, to enjoy time on this lovely unspoilt beach, a rare thing now in Spain.
5. Cullera.
One secret that the Spanish seem to keep to themselves is the wonderful beach side town of Cullera, a short drive south from Valencia on the fast AP7 toll motorway.
The resort is split into two parts, the main town itself and the "separate" town by the beach. Once again, it is a low cost holiday but with a bit more life, having seen development since the 1960's, as you can see from the image above, however this is a Spanish favoured resort and you won't find any British bars or fish n chip shops here, so an ideal place to learn some Spanish, and to sample the local cuisine, which once you have tested how fresh and flavourful it is, you will be sure to book again next year.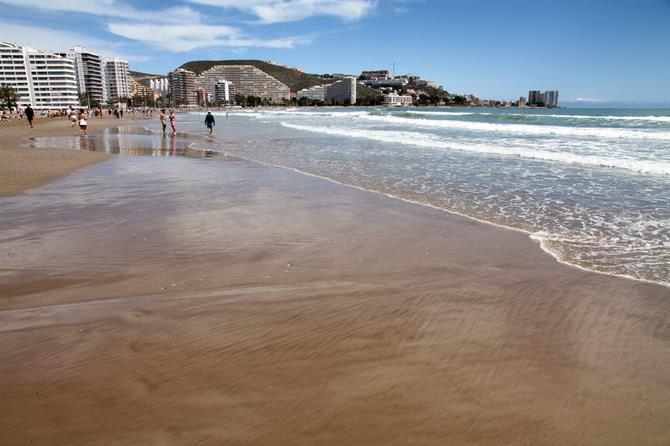 You don't have to be wealthy to afford a great Spanish holiday this year on a surprisingly low budget.
Whatever budget you have for your holiday this year, you can be sure that Spain-holiday.com has the right place for you, at the right price, so we'll hopefully see you soon here on the beach in Valencia.