If it's that time of year to book a holiday again and if you have just been laughed out of the travel agents, then why not see what great value you can get by booking with Spain holiday? You don't need to re mortgage the house to have the best time of your lives without throwing away all your cash.
Spain has always been a great value destination for British holidaymakers and with some of our great deals on budget but quality accommodation, you could be quids in this year, so why not jump in and see what's on offer!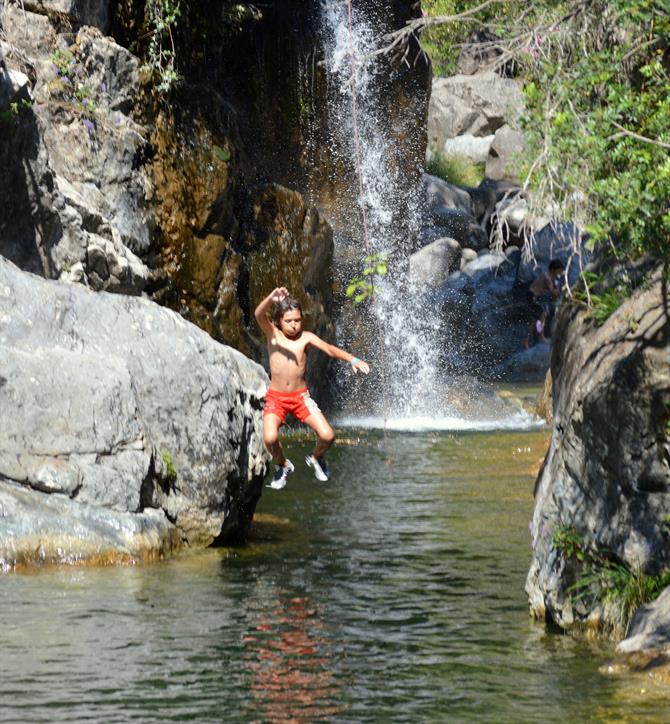 The city of Valencia is often overlooked by many tourists only ever familiar with holidays on rowdy resorts but to visit the area is a breath of fresh air, combining absolutely everything you could possibly want for a great holiday this year.
Getting to Valencia
Getting to Valencia is probably the easiest by plane, and regular flights leave from the following UK and Irish airports:
Bristol
Stanstead
Nottingham
Manchester
Dublin
Gatwick
Most flights are handled by either EasyJet, Ryanair or for flights from other mainland European destinations, and from within Spain, there are many more carriers who operate routes there, and with a bit of shopping around, and some flexibility with dates, you can bag yourself a real bargain!
If no flights are available, you can arrive at Alicante, but must then hire a car, and drive 2 hours north.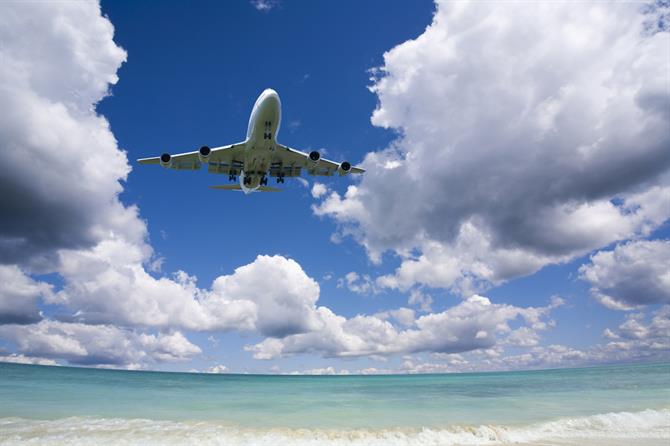 If, like my wife, the thought of getting on a plane scares the hell out of you, then allow more time and catch the Ferry from Plymouth to Santander and drive down, although the journey from the ferry port at Santander takes a good 7 to 8 hours.
What to do on the cheap when you get here.
So now you have sorted your holiday accommodation in Valencia, get ready for a great holiday for not much wonga!
There is plenty to do and see in the city and you would be best to take advantage of the cities Metro system, which combines trams that go through the streets, and also tube trains (below), getting you there quickly and safely, and it is so easy to use!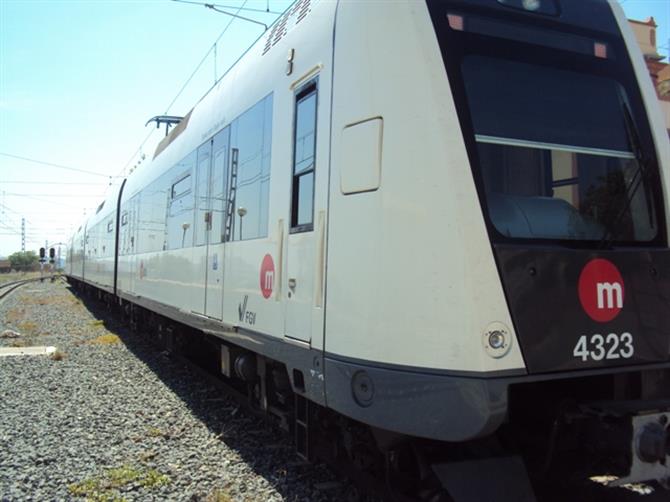 There is loads to do in this amazing city, so let's start with some sightseeing. Once in the centre of the city, why not head to the Plaza del Reina (nearest tube Xativa or Colon) where you can find all sorts of shops, bars, churches and gardens, all waiting for you to discover, without opening your wallet.
There is a double decker bus that offers guided tours around the city with an English commentary, or you can opt to see the city centre in style by riding in one of the horse drawn carriages that ply their trade to lucky tourists all year round.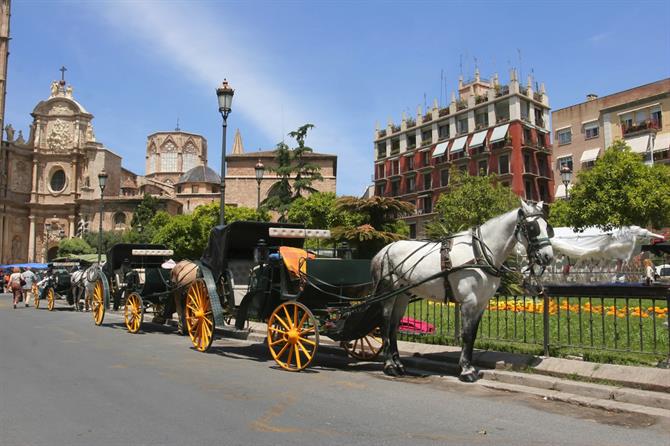 As you can see from the photo above, the plaza del Reina has some very interesting historic buildings to go and see and the cathedral nearby hosts what is supposed to be the real holy grail, although I will let you decide whether it is the real one or not!
Shopping on the cheap
Spain is certainly not as cheap as it used to be however if you are prudent and shrewd, you can get a lot more out of your holiday on very little money. Of course it goes without saying if you are on a strict budget, then do your sums and stick to the budget but always have something extra, just in case.
Look out for what the locals calls "Chinese shops" and they are everywhere in Spain, previously known as 100 peseta shops, they are all now run by local Chinese families and are a great place to get bargains, whether you need stuff for your holiday such as for the beach, or for inexpensive gifts to bring back home as present, you will find them there.
You should also visit the famous central market where you can find all manner of inexpensive and very high quality food items, perfect for staying in your centrally located self catering flat in Valencia.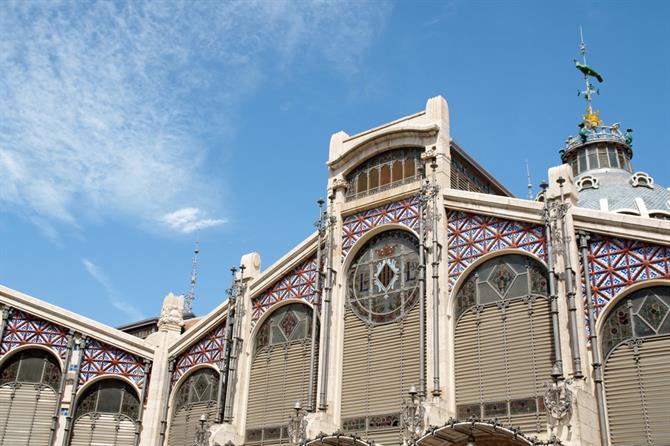 For those in the know, there is a sort of car boot sale next to the main Mastella football ground of Valencia football club and you can find some bargains there too, although nothing like a car boot sale back in the UK unfortunately as second hand goods are still treated with contempt and suspicion by many Spaniards!
If you visit during July or August you may find the centre of the city fairly quiet as many of the residents opt to head out of the city to escape the heat, but the flip side is that many stores hold their sales at this time, offering huge discounts on much of the type of stuff you see in the stores back home.
Look for signs in shop windows saying "Rebajas, or Rebaixes" which means "sales".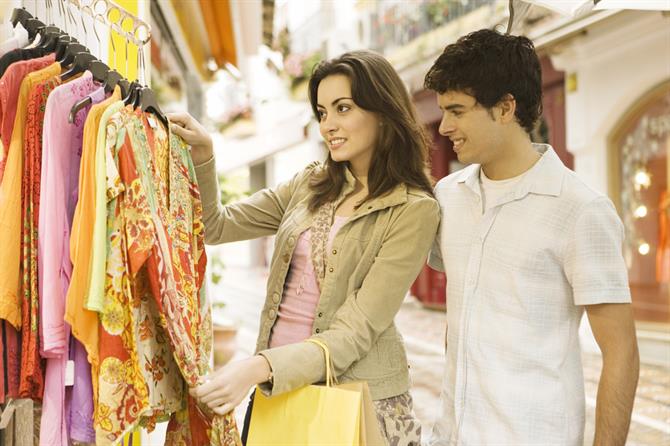 Self catering holidays bring all sorts of challenges too, especially when you are unfamiliar with local food, so supermarkets to look out for would be the German brands Aldi and Lidl, of which you can sometimes find products similar to the UK, and then there is MasYmas, Dia, consum and Mercadona, the latter being your best bet and they also sell English tea bags!
Other cheap stuff to do in Valencia
Of course is the budget is so tight then you want to stay away form the shops, then you can of course head for the beach and Valencia has loads of great beaches, which is something that has always been free and always will be!
The city has some amazing beaches, only a stones throw away and many are undeveloped and unspoilt, giving you the best of both worlds, but remember to bring a packed lunch, which is what the Spanish do.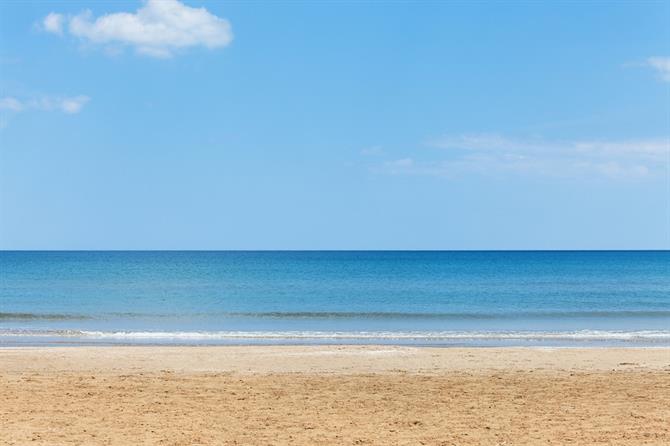 If you really want a value for money holiday this year, but don't want to end up in a seedy flat above a nightclub, in a lager lout resort, you don't have to, and you don't have to compromise on quality and getting the best value for money on holiday, and that place exists as Valencia, so come and see us!