Few tourists venture to this forgotten corner of eastern Andalusia. For locals, the Mediterranean region of Almería is one of the best kept secrets, as mass tourism hasn't taken root. You won't get here without a rental car!
There are about eight more-familiar and perhaps twice as many unknown coves and beaches along the beautiful coast of Villarícos. It is mostly insiders who know the bumpy dirt roads to the bays like the back of their hand. You definitely have to have some sort of spirit of adventure in order to reach these favourite hidden bays.
We checked out these sandy coves, and also tested the waters for swimming. These images are somewhat autumnal - in the summer, the colours are even more cheerful. These will give you an idea of how the beautiful mountains and sea harmonize.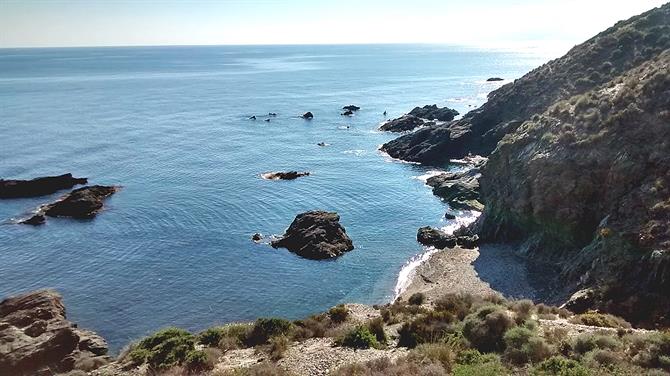 A favourite beach is crescent-shaped - you'll get here by walking through a magical stone gate. The beach can hardly be seen from the coastal road; it takes a little bit of climbing down to get there, but it's worth it to see this true paradise. But more on this below.
This is a list of the best beaches in this beautiful coastal region of Villarícos, where the ALP - 118 highway takes you along one of the best road trips in Spain. When you see a spot you like, just pull over to the side, head down and take a dip in the sea. Swimming season is from May to November.
Villarícos fishing village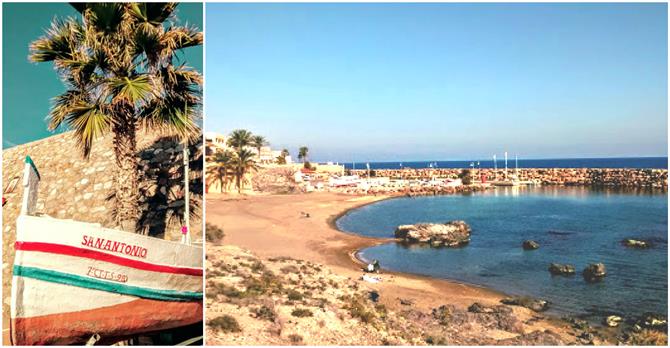 This small village is located just 15 minutes from Mojacar. It is a tranquil little spot by the sea with two marinas where you can moor a boat for a reasonable price. The village itself changes once a year in the summer to the focus of lovers of outdoor techno music. The Dream Beach Festival takes place on the beach and attracts thousands of people.
For the rest of the year, Villarícos is sleepy and very relaxing. On Sundays there is a popular street market for fruit and vegetables from the region here. At the entrance of the village there is an old coastal fort that houses a tourist information area. There you can get a map indicating the best beaches, which are located near the village.
By the southern marina the two beaches of Playazo de Villarícos and Playa Luis Siret are really nice. Playa Quitapellejos is long and wide and consists of clean river sand from Rio Almanzora (often without water). It is bordered by bamboo groves in the marshes just behind the beach. This gives you a gorgeous lonely natural beach feeling. In northern Villarícos, the beach called Cala de la Esperanza consists of coarse gravel and stones and is less nice.
Playas de Villarícos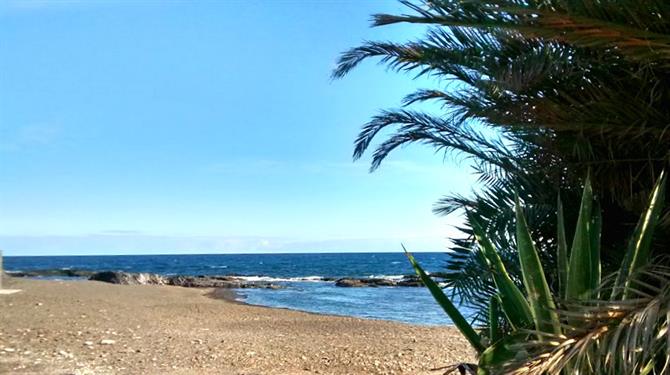 The 550 metre-long sandy beach of Playazo de Villarícos is a popular parking spot for long-term campers in the winter. In the summer people often bathe here. There is plenty of space to find a private corner as there are no caravans. The sand is dark but clean and there is a shower. The beach is also wheelchair accessible, because you can drive up close.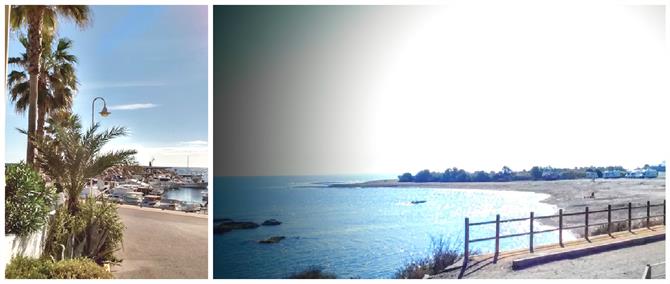 This smaller beach is called Playa Luis Siret (named after famous Belgian archaeologists of the area). It is slightly closer to the village and next to the marina. The sand and water are very clean and protected from the winds. High waves cannot build up here. It is a splendid place that is ideally reached by foot. Parking in the village of Villarícos with its narrow streets is more problematic than on the coastal road, where there is much more space. The best option is to park around the fort and walk a little.
Cala de las Conchas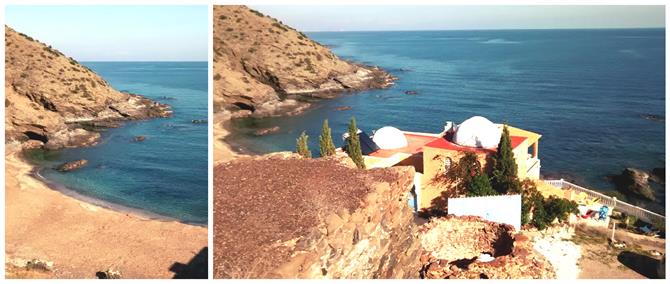 This fine small beach (cala) has the semicircular shape of a shell (concha) and lies below the coastal road. The beach is far enough away that you will not be disturbed by passing cars.
The clear blue sea is always wonderfully refreshing here, yet warm enough that you can swim until even the end of autumn. The beach is signposted and a small sandy road with plenty of room for parking leads you down. Set beside the bay is a small house with a dome, where rooms can be rented. La Concha is well protected from the winds on the slopes of Sierra Almagrera.
Length 100 metres, width 20 metres. Clean dark sand beach.
Playa El Calón
On this beach, which actually consists of three smaller parts of a beach, you can relax and spend a great bathing day off the road by the sea. In winter divers like to come here because the coast is in front of the El Calón settlement, which is full of small rocks, projections and underwater mountains.
In the village there is a nice little beach bar (beach café), which is open all year. Here paella is cooked and on Sundays there are delicious churros with chocolate.
There are showers, parking, a bus service and garbage cans. In the village they are a little proud to be cut off from the rest of the world. There is hardly any mobile reception! Many vacationers especially appreciate this peace, because they get away from looking at their smartphones and tablets.
Length 100 metres, width 20 metres. Clean dark sand beach.
Cala Cristal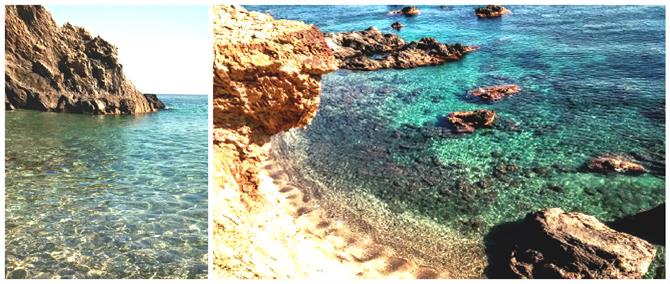 This cove with a sandy beach and rocky outcrops is something for adventurers and people who love the sea above and below the water surface. You can spend hours perched on steep and smooth rocks and watch the sea life, because in fact the beach's name speaks true - the Mediterranean Sea is crystal clear here.
Swimming and fishing are popular. Otherwise it is quite quiet and you can always find a place to sunbathe. You can also easily stop the car along the roadside and then run down to the bay. It only takes two minutes!
There are no services on the beach; it is completely natural. There is only a garbage can on the street - please throw your garbage in here or take it away to keep this beauty around.
Length 170 metres, width 15 metres. Clean dark sandy beach with pebbles.
Playa Peñón Cortado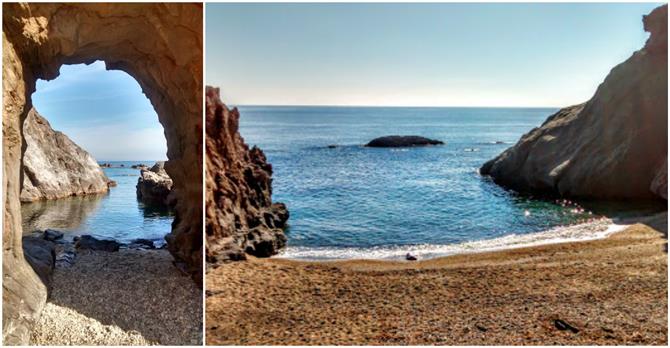 This is a beautiful beach but rather small, and it hasn't been taken over by mass tourism. For those who are interested in visiting, read on for the details.
The bay is tiny, but all the more beautiful. From the car park, which can only be reached via a short dirt path from the coastal road, you have to climb about three minutes through a dry stream downhill to the sea. You can tell that you're close because you will feel a light breeze from the water. So just follow your instincts!
Standing in front of the bay, you only see a few wild rock formations and stones where the creek flows into the sea, when it rains, or else it does not have water. When there is water it is wonderful to plunge into the crystal clear, swim a few metres and relax under the sun.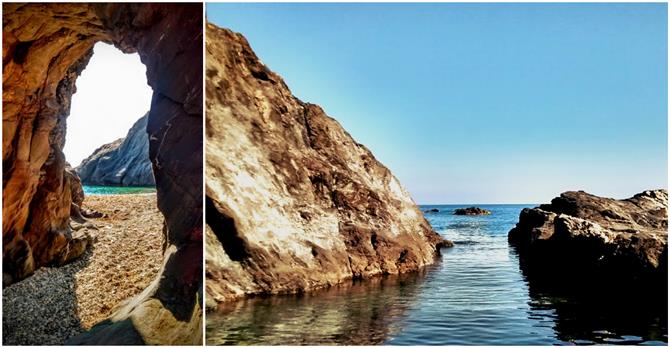 Then you walk through a high stone gate-like formation that looks like the entrance to a cathedral. Here is where the tiny beach opens up, hidden from the view from the street, framed by two high rocky walls and with fine pebbles. Swimming here is fine until November as the bay is always sunny and no cold winds sweep in here. It is particularly ideal for when the western (poniente) wind comes in.
Playa Peñón Cortado is only 110 metres long and 15 metres wide, depending on the conditions of the sea. The most beautiful moment is when the sea level is low.
There is are no services here. Garbage cans are located in the parking lot and there are no toilets! Plan accordingly.
Playa de Pozo del Esparto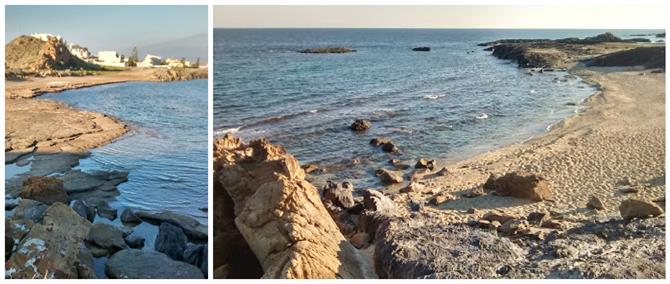 This beach belongs to the same holiday village as Pozo del Esparto. It is built right on the sea between the beach and the mountains. Fortunately many beautiful gardens have been created to beautify the place and make it not look quite as rebuilt. It is a grey sand beach and is the longest of all the natural beaches presented in this article.
You can easily reach this beach by car and always find parking. The village has a small beach restaurant, which is open all year round. Summertime is the most busy period.
Further south there is a dirt road up the cliff, which leads to more trails back down to hidden coves. Here you can also go up by car quite far, then leave it there and walk to the swimming holes.
Length 1200 metres, width 25 metres.
Cala Panizo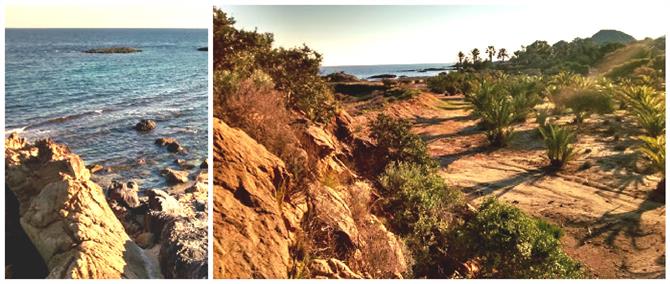 This natural beach is close to the settlement of El Portichuelo between Pozo del Esparto and Calon. There is a shower and toilets, but camping and dogs are not officially allowed on the beach.
The name is from Panizo - an Andalusian word for corn. We can derive that the sand is as golden as corn, which always brings splendid colours at sunset. The waters still have temperatures of over 20 degrees until late October.
There is a rich marine and plant life at Cala Panizo. The sea here is an excellent habitat for fish and shellfish such as crabs. Don't worry, they stay away from the beach.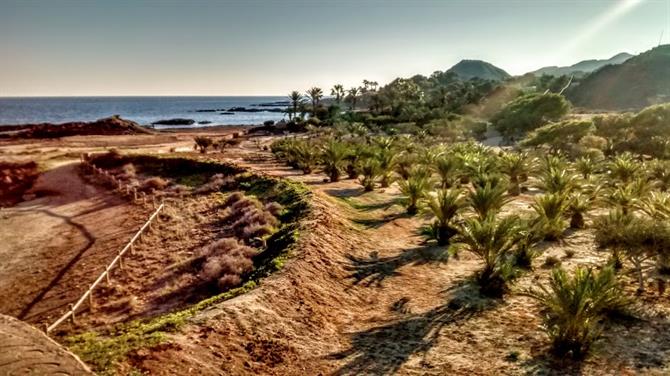 You can get very close to the beach by driving up and parking safely behind some rocks. Walk to the beach through a beautiful palm plantation.
Just minutes up the AL-7107 road we arrive at the built-up coast of San Juan de los Terreros, behind which the fantastic golden beaches of Mar de Pulpí lie. Here we have reached the border with Murcia, where Andalusia ends.
Length 750 metres, width 25 metres.