Last weekend, the global tourism industry converged on Madrid for the 34th edition of Fitur, the International Tourism Trade Fair. Spain-holiday.com was there to report.
The event brought together 9000 companies from 165 countries, with the singular objective to promote tourism in their region. With Spain forecast to recover it's third place spot in the world destination rankings, after the US and France, it seems all eyes were on the Spanish stands.
And Spain-holiday.com was lucky enough to be invited to participate, taking our place on the Malaga stand, as an accredited partner.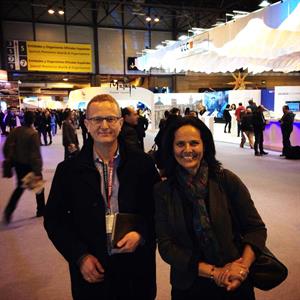 It was a tremendous opportunity for Spain-holiday.com and VacacionesEspaña.es to promote our 7300+ strong database of holiday rentals throughout Spain and to network with the different regional tourism departments; presenting our brand and concept. We were the only company of our kind with a presence at the show.
During the weekend, the show was open to the general public and it was our opportunity to promote Spanish holiday rentals to the thousands of visitors that attended. Our Spain-holiday.com representatives were kept hot on their toes throughout the weekend, handing out promotional information and chatting to visitors!