A survey carried out by the global travel research company PhoCusWright suggests that the main reason people choose a holiday rental over a hotel is the ability to 'cook meals as necessary'. This simple, but fundamental aspect of a holiday rental, is a huge benefit for so many travellers: families with small children, large groups of friends who want to share costs and experiences, and holidaymakers who are fussy eaters!
Some of us choose a holiday rental for it's kitchen, not out of necessity, but for pure pleasure. With food tourism at an all time high and Spain, one of the elite gastronomic destinations, it's no surprise the increase in holiday rental guests, looking for the crème de la crème of kitchen space, to try their hand out creating one of Spain's top dishes.
To get you in a culinary mood, the Spain-holiday team shortlisted five of the best holiday rentals kitchens on our portal. Whisks at the ready, here they are. A feast for your eyes!
Not for the faint hearted, Tarragona City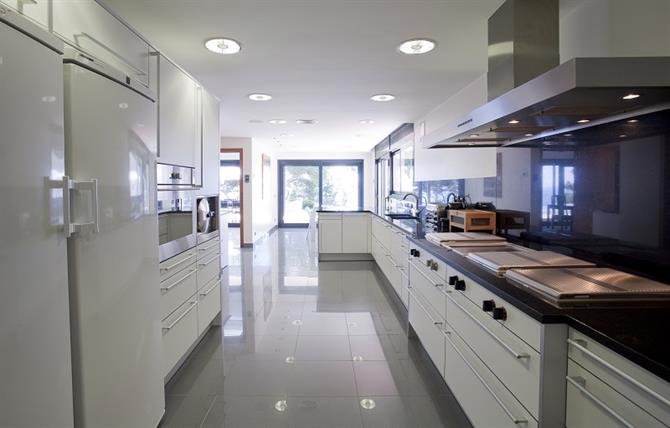 Warning: This kitchen is the ultimate in high technology and design. You might need a degree to work the oven! Seriously, the owner of this contemporary villa, set on the beautiful beach of La Mora, just outside Tarragona City in Catalonia, has spared no expense in creating the master chef's dream kitchen.
With a budget of 200,000 € the kitchen is fitted out with three, yes three ovens. One each, for fish, meat and vegetables. There is also a Japanese grill for Teppanyaki nights and a coffee system that will make waking up a pleasure. For guests who don't want to spend two weeks working out how to switch the oven on, there is a catering team, who do the kitchen justice.
Typical regional dishes: Cazuela de Romesco (Fish and shellfish stew), Calçots (a type of spring onion), grilled or with the Romesco sauce, Fideus Rossejats (Seafood noodle stew).
Spicing it up in Nerja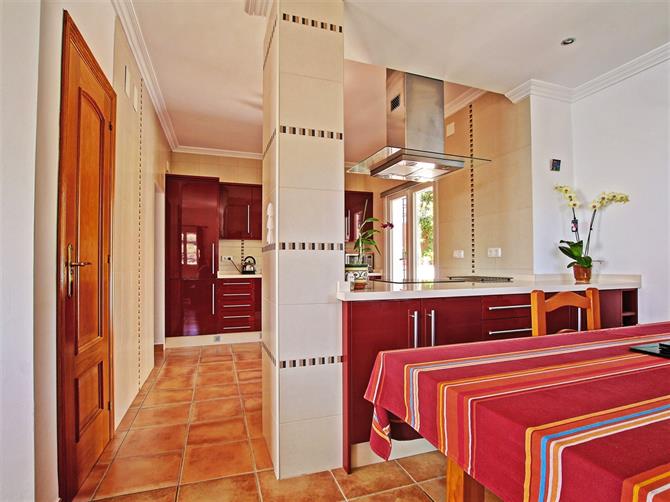 This Chilli red kitchen, sits high on a hill overlooking the sea and mountains of the Costa Tropical. It's not the biggest kitchen on our list, but it's hot and sassy, with plenty of room to make a cool Gazpacho. The kitchen leads directly onto the terrace and its beautiful outdoor dining area.
Typical regional dishes: Boquerones en escabeche (Fried anchovies served with a special dressing), Sopa de almendras (translates as Almond soup, but is a traditional Christmas dessert), La Berza de Nerja (pork and bean stew).
Provincial perfectness, Sitges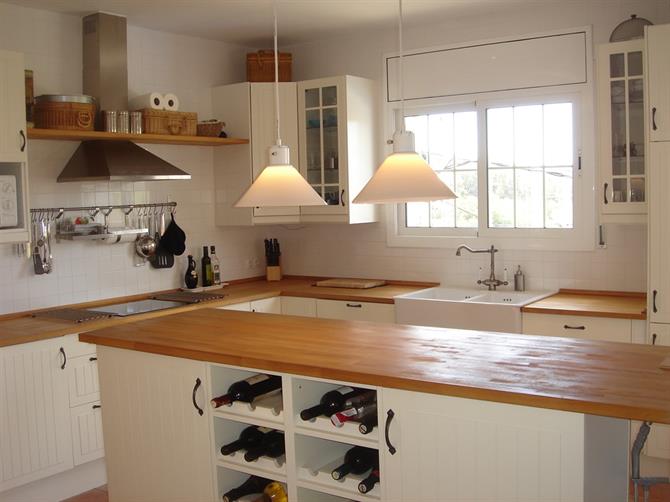 When we broke the news to the owner of this adorable holiday home in Sitges, that their kitchen had been voted as one of the best, he was extremely humble. "Our kitchen? But it's from IKEA." A kitchen doesn't have to be designer, to have style. The provincial style of this kitchen; the fact that every cooking utensil is to hand: as is the wine! Makes us love this kooky corner kitchen. It's perfect for cooking enthusiasts and amateurs, who want to experiment.
Typical regional dishes: Arròs a la Sitgetana (Sitges rice, a typical paella-style dish), El Xató (the speciality here is the delicious sauce, served over a bed of salad).
Vintage inspiration in Marbella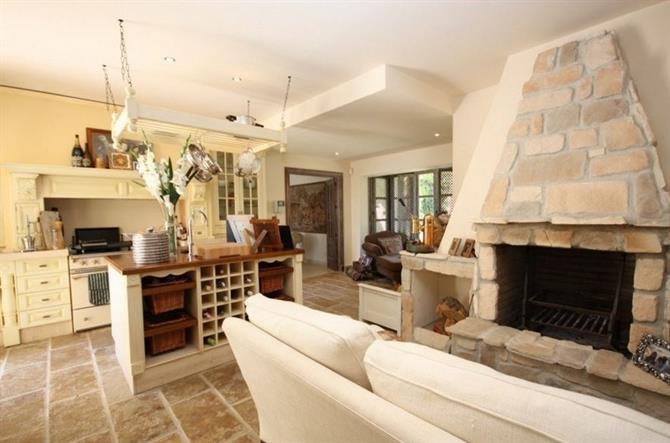 There's chic and there's classically chic, as is this sensational villa in Marbella. French-inspired Villa Louis, is as frivolous, as it is elegant, with its eclectic mix of vintage and modern decor. The vintage-style kitchen, designed by Clive Christian features a Lacanche oven and ceramic hob. Plus there's a cosy sitting corner with a sofa and hand-carved stone fireplace, for those who want to oversee, rather than get their hands covered in flour.
During the summer months, you don't need to steam up the kitchen, as there's an outdoor grill and barbecue area.
Typical regional dishes: Pescaito frito (A plate of fried mixed fish), Espetos de Sardinas (Sardines on the spit), Ajoblanco (a chilled soup made with almonds, bread, garlic and seasoning)
Cooking up a storm in Vic, Catalonia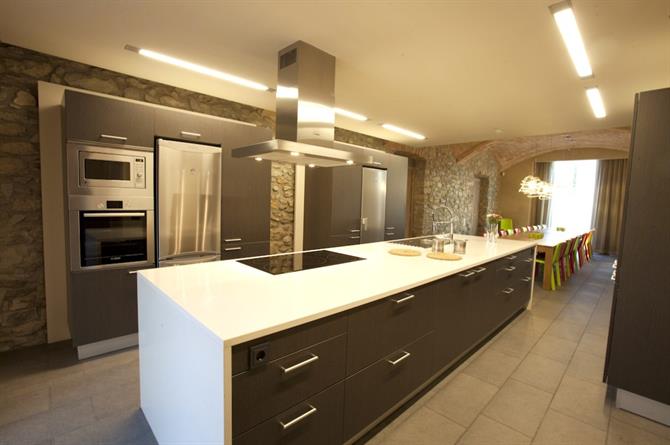 Everything about Casa Cané de Vic shouts contemporary luxury, not least the kitchen. The traditional Masia (country home), in the Barcelona countryside, has been renovated over the years, to incorporate a modern wing to the side of the original house. The design of the kitchen reflects this. Original stone walls are combined with state-of-the-art kitchen technology. Not only can you enjoy cooking in the spacious indoor kitchen, Casa Cané de Vic also has an outdoor kitchen and bbq area for summertime cooking fiestas.
Typical regional dishes: La butifarra amb seques (sausage and white bean stew), Albondigas (pork meatballs - pork is one of the main ingredients in the region's dishes).