The initiative was designed to allow users to more easily manage their inbox. Organising emails into categories, by their importance; with first-hand contacts arriving in the 'Primary' tab, social media messages in the 'Social' tab and low priority emails - newsletters, sponsored adverts, etc. - in the 'Promotions' tab.
So far, so good.
However, it has come to our attention at Spain-holiday.com that some homeowners have been receiving enquiries via SMS, which haven't then arrived in their Gmail inbox and have been rightly concerned they were a victim of phishing. If this has happened to you, don't panic; before you think about phishing, check your Promotions tab, you may find Spain-holiday.com emails are being delivered here, instead of into the Primary tab.
How to filter my Spain-holiday.com emails into the Primary tab
There are three ways to ensure you don't miss emails from Spain-holiday.com and importantly, don't miss out on your rental enquiries.
Drag and drop
Firstly, if you haven't been receiving emails from Spain-holiday.com, check your Promotions tab to see if they are there. Check for the following addresses: enquiries@spain-holiday.com, support@spain-holiday.com and noreply@spain-holiday.com. We use these emails to send you enquiries, billing notifications and important updates.
If the emails have arrived into the Promotions tab, the simplest way to ensure they start to arrive in the Primary tab is to drag and drop them there. Doing so, will display a yellow message box asking if you want to do the same for future messages from this address. Click yes and our emails will always be delivered to your Primary tab.

Right-click
Alternatively, you can right-click on the email and it will bring up a selection of options.
Choose: move to tab and select Primary. Again the yellow message box will be displayed asking if you wish future emails from this address to arrive in the Primary tab. Click yes. This option is only available in Google Chrome, Firefox, Internet Explorer and Safari.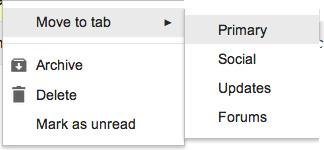 Search and filter
This option is a bit more complicated, but it means you can search back for previous emails and ensure they also get filtered into the Primary tab.
In the top search box you will see a small grey arrow to the right. Click on it and an advanced search box will pop up.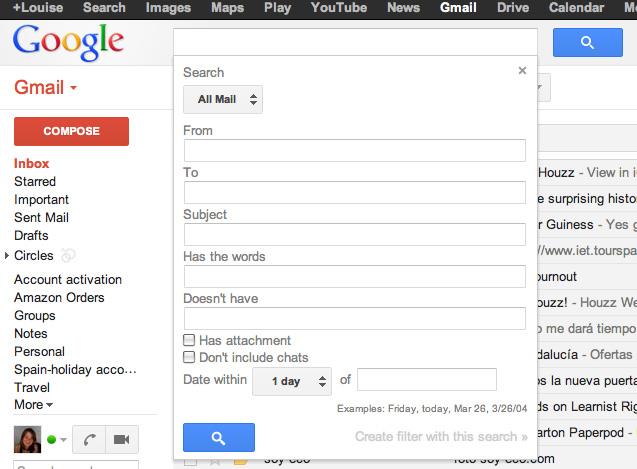 Type in the email address or contact that you want to search for and the time span you want to search them in. Press OK. All of the filtered emails from this address will be shown underneath. Above these filtered emails you will see a small grey box, click on this and tick the 'All' option, this will then select all of the filtered emails (see image below). To the right of this box, you will see a grey message box 'Move to inbox'. Click on this box to move all the emails into the Primary tab and future emails will also be delivered here.

Deactivating the tabs feature
Alternatively you can completely deactivate the tabs feature; this way all emails appear in one inbox. Click on the settings icon and click 'configure inbox'. Untick the Social and Promotions tabs to deactivate them. Now all emails will be delivered into the Primary inbox.
If you decide to keep the new tabs feature, it's a good idea to check your Promotions tab regularly, to make sure you are not missing any important emails messages or enquiries.