We have added an auto-renewal option to our Subscription Adverts. It is set default on new adverts and renewals. If required you can disable the option within your account. It is also possible to select auto-renewal for specific adverts.
How does it work?
You can select the adverts you wish to enable or disable to auto-renew (see image below).
One week before the advert expires, we will send out an e-mail notifying you that we are going to auto-renew the selected advert.
Four days later (three days before the advert expires), we will automatically renew it using the credit card registered to your account.
If the payment is successful, you will receive a payment confirmation email. If the payment fails, you will receive an e-mail notifying you of this. You can then log in and renew the advert manually or log in and enter new payment details.
We have chosen to set the auto-renewal warning to three days before expiry. We have done so to ensure that you have time to make a manual renewal in the case that the auto-renew fails and your advert is deactivated.
If you activate auto-renewal on an advert that has expired, we will take the payment the following morning. In this case, you will not receive the three day warning.
The auto-renewal setup can be found in your account overview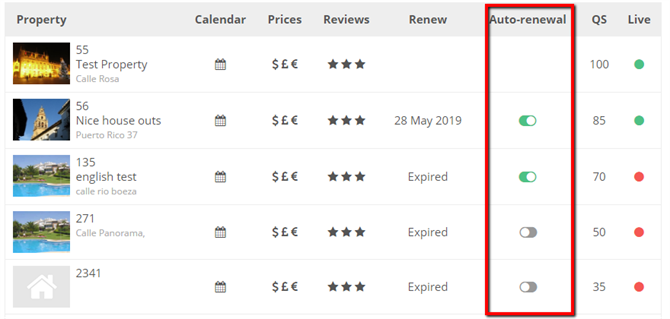 Payment cards
In order to use the auto-renewal, you must set up one or more payment cards (Visa, Mastercard, etc.) on your account. The option is currently only available for renewals with credit and debit cards,not for SEPA or bank transfer payments. These options may become available in the future.
If you mark one of the payment cards as "Primary", we will try to auto-renew with this card first. If auto-renewal with the Primary card fails for some reason, we will try with the other payment card(s) on your account.
The Payment cards section can be found in your profile (your name in the upper right corner), Billing > My cards.