Family tourism is one of the most important sectors in the Tourism Industry and Spain its principal European destination. It's estimated the sector represents around a third of the global market, that's around 115 million family holidays enjoyed each year.
In 2015 family travel expenditure looks to increase even further, as it's reported that the cost of holidays will be radically cut, thanks to low oil prices, global upturn and the UK Government's decision to discard air passenger duty for children under the age of 12.
For families planning and booking a holiday. Space, convenience, and good value are often top of the priority list. Essentially these are typical characteristics one would expect to find in a holiday rental and why they are the optimal choice of accommodation for family groups.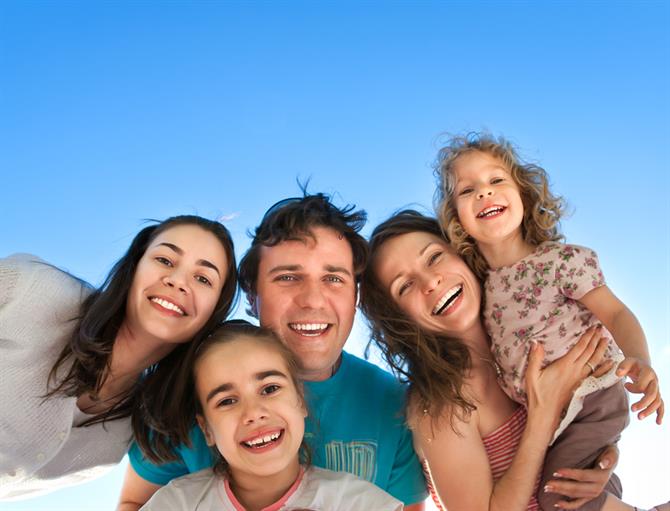 Let's look at some child-friendly facts:
Children can be fussy eaters: Booking a holiday rental allows parents to prepare food they know their children won't moan about.
Children like to make noise! In a hotel room they'll likely run you ragged. A holiday rental provides space for all the family; somewhere for the children to go 'loco' and a quiet corner for parents to relax.
Children love to play: It's true that many hotels offer a kid's club, but that only covers a couple of hours a day. A holiday rental, managed well, can offer 24hr fun and games.
Multi-generational holidays: Grandparents now play an active part in the lives of many children. It's estimated that 40% of families went on a multi-generational holiday last year. This has stimulated a host of initiatives from holiday operators, such as 'Grandparents go free' and senior discounts on holiday activities. Bear in mind that multi-generational holidays are about memories, convenience and value. If you can offer a rental that appeals to 6-66 year olds, you'll be on to a winner.
Kid-friendly success study
Most holiday rentals are well-equipped for family groups, however some owners excel in this area; understanding the high value in marketing their property as kid-friendly, and creating a holiday rental proposition specifically with kids in mind.
Holiday home owner Steve Sparrow and his wife went that little bit further. They set out to create a perfect holiday destination for families with children. We chatted to them about their holiday rental success story.
What made you decide to focus on family-friendly?
As parents we understand that travelling with kids can be challenging. You want to find first-rate accommodation that is set up for kids to have fun, and in which Mum and Dad can relax and enjoy their holiday. We wanted to create the perfect combination for children and adults.
In your opinion why are holiday rentals the ideal accommodation choice for family groups?
Although hotels offer kids clubs and activities, a private rental allows families to spend quality time together on holiday. Plus there's a lot more space in a holiday home, so the kids don't get under your feet. Another important feature is the kitchen. Parent's can prepare the meals they know their children will eat.
What makes your home more kid-centric than the next?
Our home is equipped with an ample selection of child-friendly accessories and toys. It features a two bunk bed children's bedroom. Kids love arriving and finding out they have their own special bedroom. We can also accommodate up to three babies at any booking. The villa has a lovely, safety enclosed garden, equipped with kids play gear and a furnished private terrace complete with a large BBQ for adult fun.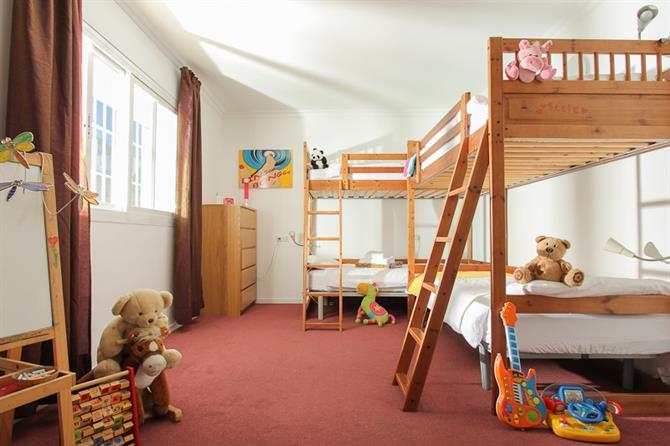 We also provide heaps of accessories: cots, highchairs, booster seats, potty, baby monitor, plastic cutlery, changing mat, bed guards, sterilizer, socket covers, babydan gate, baby bath, complete with bath toy and a non-slip bath mat.
This is all available in the rental. But we also offer a pre-arrival shopping service and if a family requests it, we can provide multiple cots and high chairs and a reliable babysitting service.
What little details have you provided, which go towards creating a fun and unique experience for families?
For family safety we installed: stair gates, a horse-shaped wooden gate for the garden, bed guards, plug covers, safety latches on kitchen drawers. I even have a wheelchair ramp that I had built for a family with a 5-year old child with cerebral palsy.
To ensure our little guests enjoy a comfortable stay, we furnished all the bedrooms with good quality beds and white crisp linen.
For playtime we include a selection of children's books, toys, U-rated kids DVDs , buckets and spades, ride-ons, trikes, swings and even a playhouse.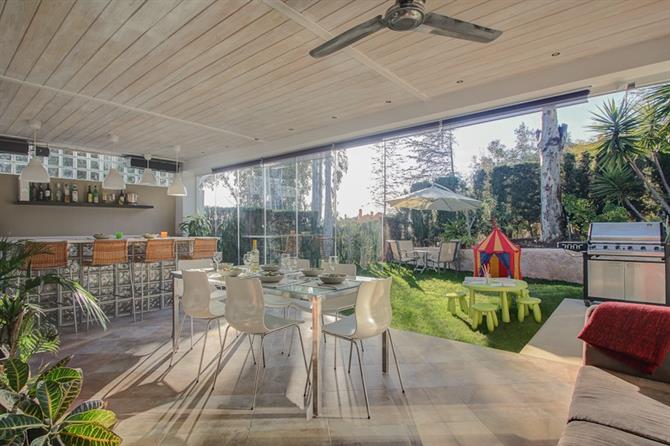 Something for the adults: We understand parents need a breather from time to time, so we installed a bar, which comes complete with sound system, disco lights and smoke machine. Glass curtains open up onto the garden from the bar area, perfect for a summer's bash. We also installed free Wifi and Apple TV.
What's the strangest request you've had from a family?
I was requested to accept shipping of a €200 cargo of nappies and other baby products. I think the family assumed that basic baby products are not available here in Spain!
What type of feedback do you receive from family guests?
We get lots and lots of feedback from parents who really appreciate the space we have provided. We are always on hand to help and provide anything they need, it's important to us to go the extra kilometre.
"Very child and baby friendly. Could just relax and enjoy it, knowing they were safe."
"House has bucket loads of toys etc for all ages."
"The owner couldn't have been more helpful - arranging a buggy and booster seat for us. The house itself has everything you can need for a holiday with kiddies - including toys and beach gear (towels, bucket/spade etc)."
"Our first holiday abroad with two kids in tow (2.5yrs / 4 mths) was an absolute joy. This property has everything you need to just relax and enjoy both time as a family, and as a couple."
Top 10 kid-friendly changes for your holiday rental
Safety is everything for parents. Stair and pool guards, plug covers and baby listening devices aren't expensive and are easy to store when not needed.
A box of goodies - fill a chest with toys for small children. I can guarantee you will keep both children and adults happy. You could also keep a selection of water inflatables.
Many parents pack bulky books and videos to keep their children entertained whilst on holiday. If you keep a selection in your holiday rental, you'll save them space in their suitcase for other necessities.
Make space for everyone - create kid zones and adult zones
Make a family activity guide. Recommend local activities that offer quality family time and fun. Also include information on family-friendly services, such as bike hire, water sports and local child-friendly restaurants.
Wifi and smart TV for the teenagers, and not so teenagers
Include a children's welcome pack on arrival - cookies, sweeties, the key to the toy chest, an activity guide with discount vouchers, colouring pad and pens, could be included
Collaborate with baby hire companies and services that offer the accessories you don't offer in-house i.e. car seats, safety guards, babysitting service
Half-term promotions: Family holidays are generally restricted to school holiday dates. It's unlikely you need to offer discounts during the high summer season, however, if you have problems securing bookings out of season, try promoting special half-term, plus Christmas and Easter rates for families.
Promote your holiday home green agenda: Sounds random, but a recent study showed that over 60% of 7-15 year olds expressed an interest for all things green
Going kid-friendly can add an extra dimension to your holiday rental. One that will attract a sector that represents a third of the global tourism industry and which, for little outlay, could significantly improve your holiday rental bookings and income.