The second Convención de Vivienda Vacacional (Holiday Home Convention), was held this year in Andalusia's capital city of Seville. The event was organised this year by Apartsur and Spain-Holiday.com returned to participate in the this event after a successful inaugural event held in Malaga in November 2014.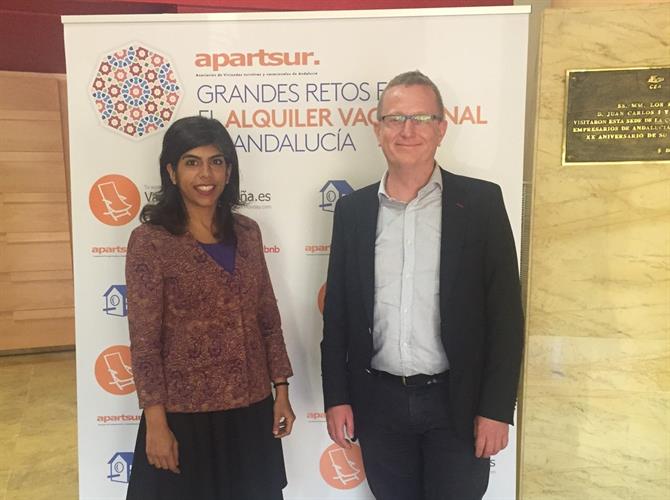 Communications and Public Relations Manager, Kaajal Mansukhani and COO Jannich Petersen, attended the event on behalf of Spain-Holiday.com and participated in the round table section of the convention which dealt with industry development and new technologies and also included representatives from other platforms. Spain-Holiday has found that the demand for renting a vacation home in 2016 has grown by 26% and that much of the activity in our sector is in line with the objectives of The Department of Tourism of the Junta de Andalucía for the coming years.
This year's events, which was attended by over 100 industry professionals, was especially significant for members of the holiday home rental industry, as the draft decree for the regulation of tourist use of housing in Andalusia is currently in the process of being revised. It also had the support of industry representatives such as Mari Carmen Arjona, General Director of Innovation and Quality in Tourism at the Ministry of Tourism and the President of ApartSur, Hilario Echevarria.
Afterwards, Paul Zubicaray, President of FEVITUR presented a study of the social and economic impacts of accommodation for tourist use. The study was conducted by the ESADE business school and its aims were to assist industry professionals in gaining an in depth understanding of what driving forces prompt people to choose the holiday home rental industry, a knowledge of the size of their particular market and also provide an analysis of both the social and economical impacts of this industry.
After the Coffee Break, this event continued with two round tables, one of them in which Spain-Holiday.com took part, and the other one was focused on the Legal Situation of the sector in Andalusia. The participants were Eliseo Martínez, from the law firm Abogados lus+ Aequitas; Bartolomé Torres Cardona, Chief for Touristic Services and Activities of the Junta de Andalucía; Pablo Zubicaray, President of FEVITUR and José Félix Riscos, representant in Andalucía for the CNMC (National Comission for the Markets and Competence). This last speaker made the audience give a round of applause because he clearly defended holiday rentals as part of the open market in the touristic sector in the region and therefore he did not agree with some of the less favourable points of the draft decree on holidays rentals for Andalucía.