The new law in Andalusia for the rental of holiday homes came into effect on 12th May 2016
Pre-registration has been available since 12th February and according to the Junta de Andalucia, to date, some 4,500 properties have already registered of the estimated 80,000 holiday rental properties in the region.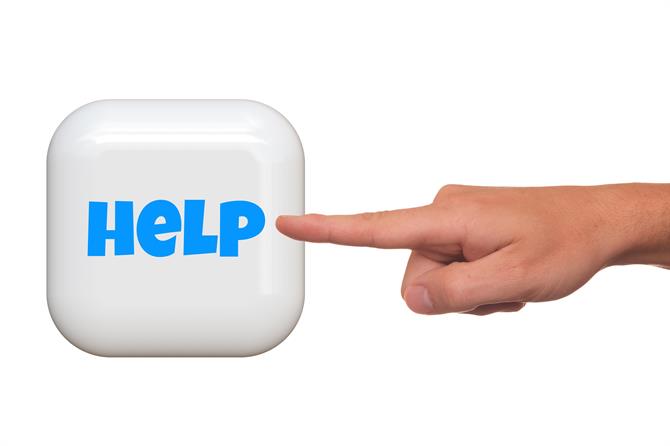 Spain-Holiday.com has been regularly updating our Owners and Rental Buzz readers with the latest news as it develops and becomes available since the Law was published in February 2016.
This is our third update on the Andalucia Tourism Registry law, the other two articles can be found here:
In this latest update, we will bring you news of:
Official Channels of Help & Support,

Success Stories

Further clarification on some of the requirements of the Law
Above all, we want you to feel reassured that the registration process is relatively straightforward and free, and that there is plenty of help available for questions or concerns you may still have.
Official channels of help & support
The Tourism Department

The Tourism Department of Malaga is offering daily informative meetings that are free for anyone to attend. There are 4 meetings daily, Monday to Friday, with a capacity of 20 people.
Spain-Holiday.com staff attended one of these meetings last week and found it to be very informative and useful. One of the key points we took away from the meeting is that it is essential that any problems you are experiencing with the registration process that you lodge them with the Tourism Department. As much as online forums can be helpful, unless these problems are lodged with the official channels, the Junta is unaware of the number of homeowners suffering the same problems which hopefully they will address.
So please do get in touch with the Tourism Department in your province and make use of the help and support they are offering.
Remember: You can register online if you have a "Certificado Digital". If you do not have a "certificado digital" then you can either fill out the form online and print it off and take it to the Tourism Department in your province.
Do not post or email the application. If you cannot attend the Tourism Office yourself in person, then you can authorise someone to present the paperwork on your behalf.
TIP: Take a photocopy of the paperwork with you, which will be stamped, dated and returned to you as proof of receipt of your registration application.
Associations
There are a few different non-profit associations and organisations that are formed by companies, platforms, managers and individuals engaged in tourist accommodation, or more specifically the holiday rental home sector. These organisations represents and promote the interests of their members, including national and international located in Andalusia members.
Spain-Holiday.com is a member of these organisations and recommends that you contact them to see how they can support you, not just regarding the new Law that has been introduced in Andalusia, but in general regarding your holiday home rental business.
AVVA – Asociacion de Viviendas Turisticas de Andalucia – covers Andalusia and its Headquarters are in Malaga and speak EXCELLENT ENGLISH
APARTSUR - Asociacion de Viviendas Turisticas y Vacacionales en Andalucia - also covers Andalusia and its HQ is in Seville.
FEVITUR - Federacion Espanola de Asociaciones de Viviendas y Apartamentos Turisticos - represents over 125,000 holiday rental properties throughout all of Spain.
Success Stories
Two Spain-Holiday.com Owners have kindly offered to share their experiences of the registration process.
Ali & Pat Meehan,
They filled out the paperwork online and printed it out and took it to the Tourism Department in Malaga in person at the beginning of May, before the Law came into effect on 12th May.
Ali tells me that she went first thing in the morning, without an appointment and there were no lengthy queues. She recommends that you take a photocopy of the paperwork with you which is returned to you stamped and dated, as proof of your registration application.
They received their registration number by post last week and say the process was simple and straightforward.
Ali told me that their rental property does not meet the requirements for fixed air conditioning units in the bedrooms and that they would probably wait out the 1 year time-frame to comply with this requisite in the hope that this stipulation will be relaxed. However, she told me that they were looking into "smart solutions" with gadgets that are attached to air conditioning units that turn off the air conditioning if a window is opened and have a timer feature which sounds a great idea and definitely something that sounds worth looking into.
Isabel & Pierre Ruebens
The Ruebens filled out their paperwork online using a Digital Certificate also in early May and said that the process was simple and they received their registration number 3 weeks later by email.
Due to the age of their property, they did not originally have a Licence of First Occupation but had actually gone through the process in obtaining one last year with the help of their lawyer and they said it took about 4 months to obtain it.
Regarding the Licence of 1st Occupation, an email sent from the Foreign Department in Nerja last week stated:
The first requirement is to have an Occupation Licence from the Town Hall Planning Department. Many properties do not have this licence. Also the Town Hall does not have enough staff or resources to give it. So for the moment, the Town Hall is waiting for the Junta de Andalucia to inform if they will accept another similar document. This could be a report from a private architect stating the details of the house.
Even if you don't comply with all the requirements, the Junta de Andalucia suggests that you register your property in the Malaga Tourist Department. Afterwards, you will be given enough time to present any missing document.

We suggest you contact your local Ayuntamiento (Town Hall) and Tourism Department, or maybe even the Foreign Department to find out if the information above from Nerja also applies in your area.
Further Clarifications
Registration of guests
The process for registering guests, as required by the Law, varies from town to town. It is recommended that you contact the Policia NACIONAL to find out the process in your town. Alternatively, the Policia LOCAL will be able to inform you of the specific procedure in your town.
However, here is some general information about the process.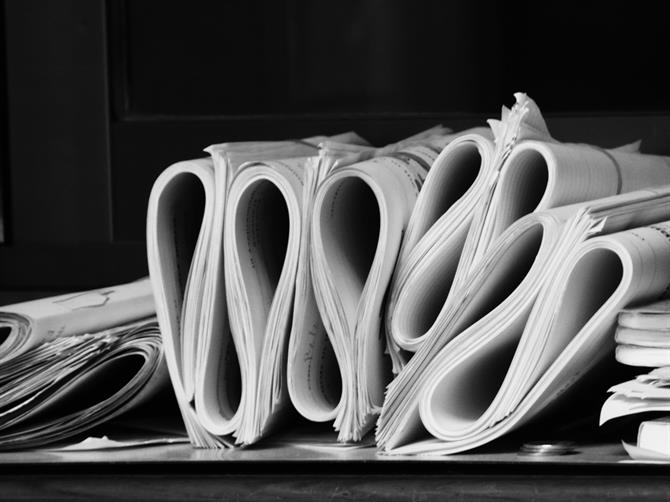 It is a legal requirement of ALL hostelry establishments that offer accommodation to take a registration upon arrival of all guests, to be submitted to the Police. This legal requirement includes private holiday home rentals.
The registration document must include:
Identification details of the traveller:

Passport or Spanish DNI number,

Passport or DNI date of issue

Full name

Sex

Date and country of birth

Rental property details – address & registration number

Date of arrival
The document must be filled out and signed by all guests aged 16+
All registration documents must be kept by the Owner (or Rental Agent) in date order, for a period of 3 years.
The registration documents must be presented to the Police within 24 hours of the arrival of the guests by the following methods:
Directly, in person, to the Police, in accordance to the specific procedure of the town where the rental property is located, or by post

By fax

Online
In order to present the documents via the online registration system, you must be registered. This method is the most efficient since you can record the details directly into the system. Contact the Policia Nacional for further information.
Below is a sample form for Guest Registration which can also be downloaded as a PDF here: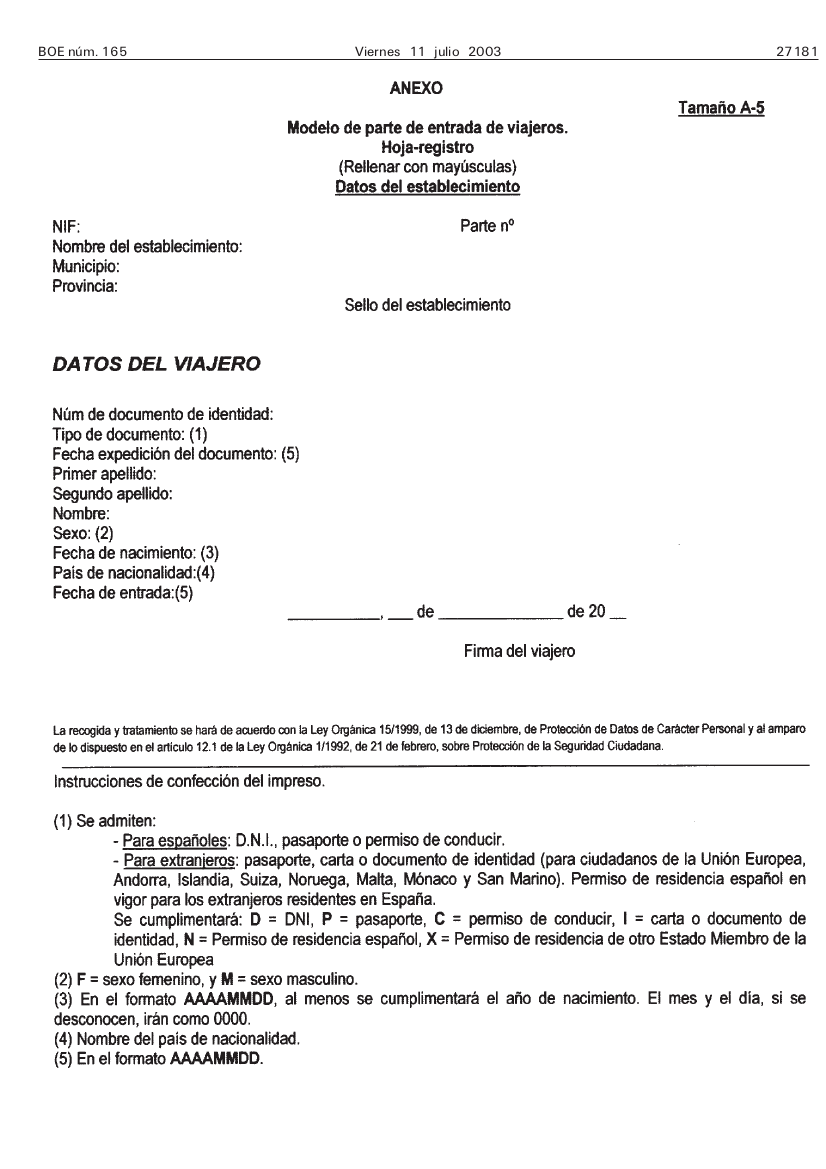 Please feel free to share your registration experiences in the comments section below and as always, our Support Team are available to offer you phone and email support.