Spain Holiday spends a tremendous amount of time and resources making Spain Holiday – search engine friendly. The ways people go about booking and making holiday enquiries has changed substantially over the years. The internet and more importantly people's ability to find what they are looking for on the internet is of central importance to any business.
With the peak booking period coming up quickly, we would like to take this opportunity to introduce you to a few key points that should be borne in mind when writing your property's description and a couple of other simple steps that will aid your property's visibility.
Search engine optimisation - SEO
The aim of any search on the internet is to match demand with supply. The fundamental principle behind SEO is making sure our 'supply' is highly visible and is regularly appearing in the top search results, for any given number of queries.
If you take a family looking for a family holiday in Spain, they are likely to go onto the internet and type in something along the lines of 'family holiday in Spain' into a search engine – Google for example – in record breaking speed, Google would give a series of results back.
Keywords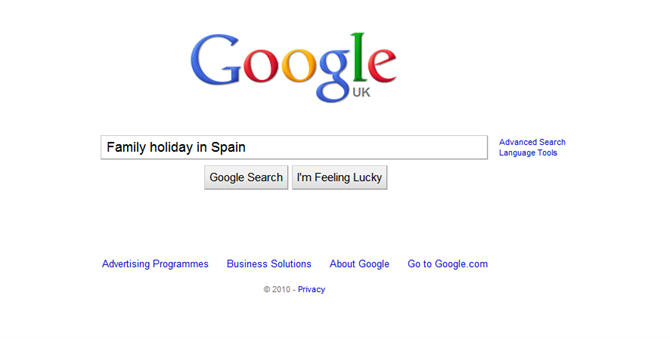 The words that were typed into the search engine ie 'Family holiday in Spain' are known as the keywords. The results displayed from the search will include a lot of websites with those keywords present, if those words are not in your description; it is unlikely that your property will come up in the results. It is important to anticipate what keywords people will be using when searching and which keywords are applicable to your property. If your property is a villa with a swimming pool, try and make sure that those words – 'Villa with a swimming pool' appear, at least once, in your description.
Place emphasis on your property's key attributes - using keywords
We suggest you pick about three or four keywords and try to repeat them throughout your advert. It is very important not go overboard with this. Remember, that ultimately a person is going to be reading your description and that person is going to be the one deciding whether or not to rent your property. First and foremost the description needs to be user friendly and aimed at people. The keywords you want to be focusing on are the type of property (apartment, villa etc), the area (location, town etc) and the facilities (pool, tennis courts etc)
Where to place your keywords
You can divide your property description into two sections; with the property title (max 40 characters) and the property description (max 180 characters). Try and incorporate keywords within both. For example, a good use of keywords on the property title would be 'Three bedroom villa with pool Estepona.' With 40 characters there is not a lot of scope to include too many keywords. Stick to the essentials and leave the main thrust for the property description. Use variations of the standard template, for example, you can select 'Jacuzzi' as a property feature, it is also a good idea to include related words in your description, such as 'whirlpool,' or 'Spa.'
The main title for your property is auto generated by Spain Holiday and we ensure that it is search engine friendly.
Incoming links
One of the biggest determinants in search engine rankings is the number of incoming links.
If you have a website, or know of someone with a good property related site, include a link going back into Spain-holiday.com. There are numerous ways this can be done, you can link back into your individual property page or the site in general. You an also embed our HD videos about your specific area. Feel free to contact us if you would like any additional information.
Prime booking season
Booking season is just round the corner. Now is the time to make sure that all your information is up-to-date and is as accurate and as appealing as possible.
Put yourself in the shoes of a potential holidaymaker. What information would you firstly be looking for and secondly what kinds of information would you like to find. Does it match what you have at the moment?