Forget holiday rental income calculators. They're far too generic to be able to give you an accurate indication of what you should be charging your guests.
If you want to set your holiday rental rates to attract a maximum number of bookings, you'll need to do your research. Factoring in details, such as your running costs, location, unique selling points and target market.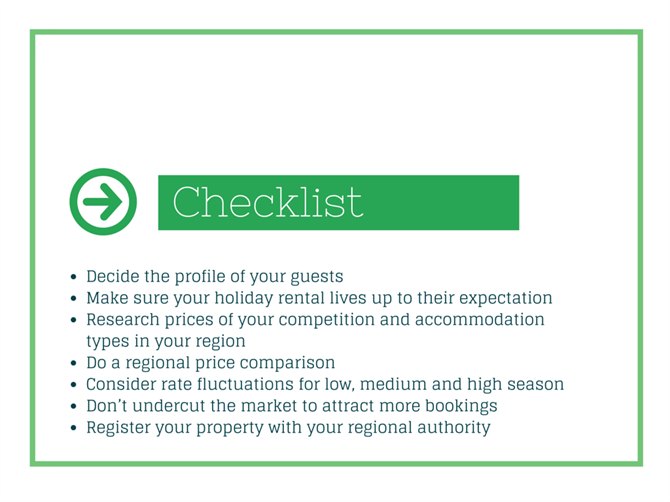 What are your costs?
First things first. You need to know the full extent of your outgoings. This will give you the bare minimum rate you can charge. Set up a financial document (I won't say spreadsheet, because I hate them), in which you can account for all your holiday rental expenditure. That would include:
Mortgage

Insurance

Electricity and water bills (you will need to apportion a higher rate for the summer months for expenses such as air conditioning usage, or your swimming pool pump being used daily)

Maintenance

Cleaning and laundry

You should also add a contingency budget into the mix for repairs to damaged items
Know your market
If you are entering into the market for the first time, you'll need to do some price competition research. Even for seasoned owners and agents, I recommend doing an annual review of rates in your region.
Check average prices for holiday rentals, hotels, bed and breakfast, even campsite rates. If you want to be thorough, follow up your local research, by comparing local rates to similar tourist destinations in other regions. See how your regional prices fare, compared to other destinations.
Never undercut the market: I strongly advise against undercutting competition. The holiday rentals sector already has a battle on its hands to prove it's a responsible accommodation sector. Owners and agents work hard to maintain a share of the market. I'm happy to report our share is rising every month. Now it's important we work together, not against each other.
Who do you want to attract?
When you set up your holiday rental consider the type of guests you aim to attract: families looking for budget holidays, mature couples looking for comfort and ease, or groups of friends looking for a base to explore your local region. Different profile guests will see value in paying slightly mo. r extra comfort, or slightly less to stay within a set budget.
Once you have decided on your guest profile. Make sure your holiday rental lives up to their expectations: furnishings, equipment, extras, amenities. If it's all there, you can set your rates with confidence.
Location, location, location
The location of your property; it's vicinity to local amenities and activities, will affect the rates you set for your holiday rental.
You'll need to be answer the following questions:
How popular is your local region for tourists?

Are there many holiday rental properties in your local area?

Are you well situated for beach, shops, activities, transport?

What is the profile of a typical tourist in your region?
If you advertise your holiday home as a beach rental and are 100 metres to the beach, then you can confidently charge 'beach side' rates. If your holiday rental is located 1 kilometre from the beach, but the resort is primarily a beach destination, you will need to charge slightly less than beach side properties. Unless of course you have selling points that make your holiday rental as attractive, in other ways.
What's around you that makes a holiday home convenient? Shops, bars, restaurants, activities, will add value to your proposition.
On the flip side, things around you that lessen the positive experience will affect the rates in a negative way: noise, traffic, ongoing construction, unattractive views, etc.
Quality counts
The more features your property is equipped with, the more appealing it will be to potential guests: WiFi, Satellite TV, a good selection of kitchen equipment and comfort extras, such as mattress toppers, extra towels, good quality toiletries, etc, will give your holiday rental a head start in the shortlist stakes.
The same goes for comfortable furnishings and a well-maintained property. If you regularly maintain your property, you'll have more appeal compared to one that needs a lick of paint, sofa change or dripping tap.
By all means upsell your property, but never oversell it, because it will backfire on reviews and future bookings.
Setting rates for the season
Depending on where your property is situated and the type of tourism the region offers, you will set your prices higher in peak season. High season for beach holiday destinations, will differ from high season for ski resorts, or city breaks for example. However, even for beach destinations, Christmas is considered a peak season, as are school half-term dates.
If you offer nightly or weekend rates, you will set these higher than a standard weekly rate.
If you have problems getting bookings out of your high season, you can try seasonal offers, such as 12 nights for the price of 10. You can read more here on how to maximise bookings out of season.
Apply for your holiday rental licence
In most regions you can now apply for your holiday rental licence with the regional tourist board. Registering your property shows you are committed to quality and excellence. You can feel confident when setting your prices, that you are offering accommodation that has been approved by Spanish tourist authorities.