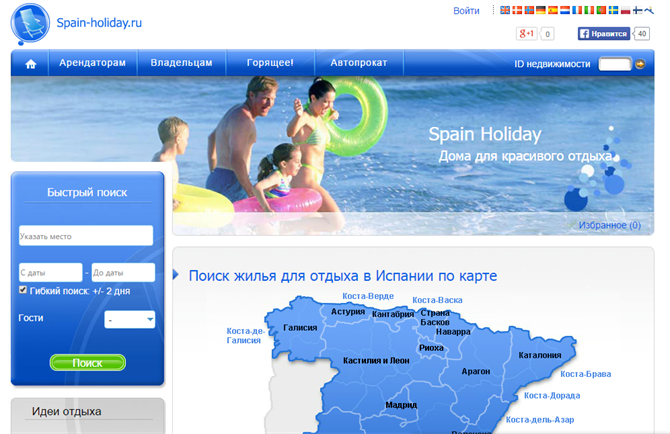 This week marks the launch of www.spain-holiday.ru our dedicated Russian language holiday rentals website.
This is the 13th language page for Spain-holiday.com and the third new launch this year; following the introduction of the Polish and Finnish language websites.
Spain-holiday flying the colours!
This is super news for holiday rental owners, as Spain-holiday now enters into some of the strongest growth tourism markets of the decade.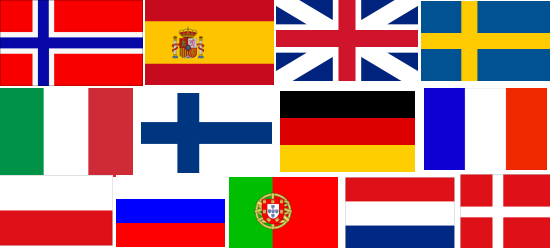 Thanks to the introduction of a more relaxed visa system this year. Plus a new multi-visa that allows Russian nationals to travel abroad several times a year; the country's 'new' middle-class population are becoming the travellers to watch out for.
In fact, the last two years has seen an influx of Russian tourists choosing Spain as their holiday destination (it's their sixth most popular global holiday destination). During the period of January to August 2014 over 1 million Russian visitors have travelled to Spain for a holiday, with the Russian tourist market as a whole set to grow 7.5% in the next three years to 2017.
Russian tourists also tend to spend well over the average during their holiday, a great asset for accommodation owners and the local economy. They travel predominantly with their family and tend to head to the beach for a relaxing break.
Their preferred destination is Catalonia, with 70% of visitors enjoying the beautiful coastlines of the Costa Brava and Costa Dorada and the cultural must-see city of Barcelona. Their second choice destination is the Valencian Community and in third place, the Balearic Islands.
As well as being beach lovers, Russian guests are also eager to immerse in the Spanish culture and arts scene, and indulge in shopping trips and Spanish cuisine.
Russian site manager Arina Milekhina comments, "In the first half of this year Spain was the fourth most popular tourist destination for Russian tourists. According to the World Tourism Organisation Russian tourists spent $53.3 billion abroad in 2013 during foreign holidays, making them the fourth highest-spending segment of the travel industry."
"These numbers are a real source for optimism, but one of the biggest influences in our decision to introduce our holiday rental services in Russia right now, is the decline in tour operator credibility. According to the Russian Public Opinion Research Centre, 51% of Russians no longer trust travel agencies, with 76% of Russian tourists choosing to organise their holidays directly. This factor alone makes it the ideal moment to launch the Russian version of Spain-holiday and to give you a chance to open the doors of your holiday homes to visitors from Russia."
All holiday rental properties listed on Spain-holiday.com will also be listed on
www.spain-holiday.ru
. Your property will appear in the search results in Russian, but if you want to add a further touch, you might consider translating your property description page. Although most Russian travellers tend to speak at least one second language.