Spain-Holiday.com has new owners from the 1st of April. The company's founder and sole owner until the end of March, Claus Sorensen, will be sharing ownership in equal conditions with Jan Dal Lehrmann, Kenneth Andersen and Jannich Friis Petersen.
Jan Dal Lehrmann, Kenneth Andersen and Jannich Friis Petersen have become the new co-owners of the holiday rental platform together with Claus Sorensen, founder and former sole owner, owning 25% shares each.
This ownership change will strengthen the activity of Spain-Holiday.com in the Spanish holiday rental industry thanks to the input and knowledge provided by the new co-owners: experience in digital businesses, unique know-how and strategic vision.
For Claus Sorensen this is a step "that will strengthen Spain-Holiday.com's ability to set a strategy for strong performance in the coming years. With the incorporation of Jan, Kenneth and Jannich to the company we will be able to strengthen our brand value and attribution in Spain and we'll have the opportunity to develop a more ambitious expansion plan".

Each one of the new owners provides an important professional value to the management of the company and share the same objective of achieving the long term goals planned for Spain-Holiday.com. The four of them add up many years of experience in managing online businesses in Europe, the knowledge of developing niche and new markets and the development of B2B-B2C strategies.



The new owners of Spain-Holiday.com

Jannich Friis Petersen is 45 years old and is the current CEO for Spain-Holiday.com and with this acquisition, he states that "I have defined even more my commitment and dedication to this company that now has even more potential to offer the best holiday homes in Spain for European travellers. We'll live exciting years in the holiday rental industry and Spain-Holiday.com will make a landmark".

Jan Dal Lehrmann is 50 years old and has, after successful exits of Bilbasen (Co-founder) and Benjamin Media (Investor and CEO) devoted the past 8 years of his life to investing in startups, helping them with everything from common sense, strategy, scaling and internationalization via an active non-executive role. Previous investments and exits include Bilbasen, Autobutler, Bazoom and Benjamin Media. For Jan, "the potential of Spain-Holiday.com attracted me since the first time I spoke to Claus and I am sure that we will take the company to the next level".

Kenneth Andersen is 47 years old and founder and owner of several online businesses, having a portfolio of more than 50 websites. Former Head of motors in eBay Classifieds Northern Europe and CEO of Bilbasen.dk, the leading motors vertical in Denmark. Has been working with building digital business since 1999, both as CEO and investor. Has been a member of the board in Spain-Holiday.com since 2017.

Claus Sorensen is the founder of Spain-Holiday.com and, until the end of March, its sole owner. Currently, he owns 25% of the company and since 2018 he has been developing other new projects in Denmark and Spain.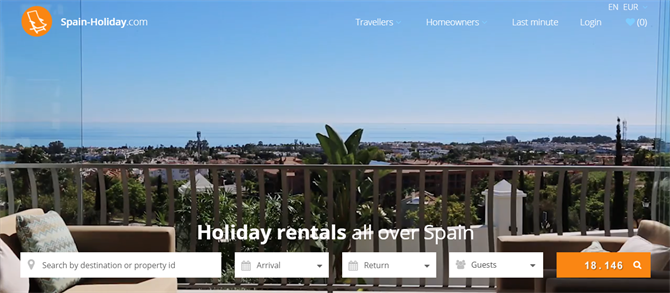 Spain-Holiday.com in the International News


This change will not affect the normal activity of Spain-Holiday.com, which has its headquarters in Malaga (Spain) since 2002 and has 35 employees. Now, the four owners of Spain-Holiday.com will focus on providing the platform user with a unique experience when renting out or booking a holiday home in Spain, consolidating its activity in the tourism industry and setting up future expansion plans.