Between July 19 and 21, more than two million Britons have gone on vacation at the Great Summer Getaway, because of the school break

Spain is #1 destination for British families according to ABTA
8.8 million international travellers visited Spain in June, according to INE
Barcelona tops the list of city breaks while the Costa del Sol and Costa Brava are the favourites for last-minute deals, according to Spain-Holiday.com data
Between 19-21 July, more than two million Britons went on a trip abroad, coinciding with the so-called Great Summer Getaway with which school holidays begin. As reported by the association of British travel agencies ABTA, Spain remains the number one destination for families.
Regarding city ​​breaks abroad, they are still popular for those seeking experiences with different cultures, cuisine and architecture. The most demanded cities for family groups in Europe are especially Amsterdam, Barcelona, ​​Budapest and Rome.
Between 19-21 July, hundreds of thousands of passengers left Heathrow and Gatwick airports heading on their summer holidays, with a further 160,000 travellers from Manchester, 150,000 from Stansted, 95,000 from Luton, 31,000 from East Midlands and more than 12,000 from Southend.
In June, Spain received 8.8 million international visitors, up 3.2% on the previous year.
The British continue to represent the biggest number of international tourists arriving in Spain, accounting for over 2 million visitors, although this figure has dropped by 5% since last year. However, it is the German (1.3 million) and French visitors (961,000), which have both increased by 8.3% and 8% consecutively, that have made up for the shortfall of British tourists.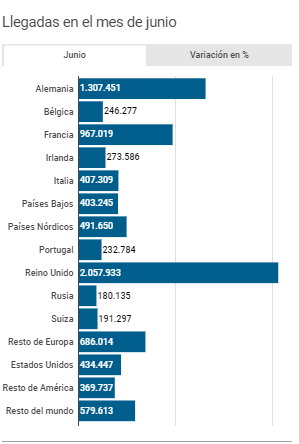 The top five most popular destinations in Spain for international visitors in June 2019, according to data from INE, were:
Mallorca (104,950)
Costa del Sol (93,858)
Tenerife (77,912)
Costa Blanca (77,092)
Lanzarote (57,965)

Overnight stays of residents rose 9.1% and those of non-residents 0.1%.
The average stay is 4.3 overnight stays per traveller.
Tourist apartments
In other news, overnight stays in non-hotel tourist accommodation (apartments, campsites, rural tourism accommodation and hostels) exceeded 12.7 million in June, 3.7% more than in the same month of 2018, according to data published by the National Statistics Institute (INE).
Overnight stays in tourist apartments decreased 1.2% in June. Those of Spanish holidaymakers increased by 3.5%, while those of international visitors decreased by 2.9%*
* It should be noted that the annual variation rates of overnight stays in tourist apartments show negative growth over the last months is due, mainly, to the fact that there are establishments of tourist apartments that are being reclassified, becoming considered tourist dwellings.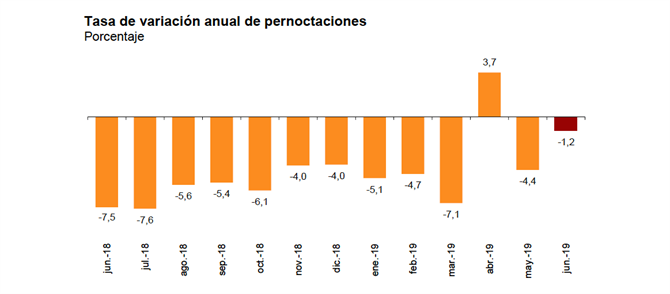 In June, 38.8% of the places offered by tourist apartments are occupied, 0.5% more than in the same month of 2018. The degree of occupancy by places at the weekend is 43.2%, with an increase of 3%.
Overnight stays of international travellers in tourist apartments represent 71.8% of the total.
The United Kingdom is the main issuing market, with more than 2 million overnight stays, followed by Germany with 550,515 overnight stays.