At Spain-holiday.com we are always looking for new and innovative ways to make a splash in the market and connect with our customers. This year we have been getting down with the locals, as our roving reporter Luise Wagner has been out and about to the local festivals and ferias on her Blue Hat Tour of Spain...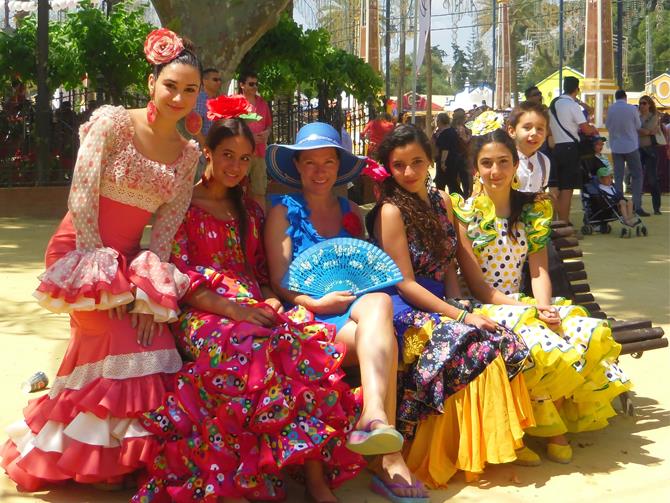 What's the Blue Hat Tour all about?
In May I set off to enjoy the colourful ambience of the Feria de Caballos in Jerez. If you have ever visited this amazing festival, you will know that the local Jerezanos really dress to impress for the occasion. I decided if I was going to fit in, I should do the same. After all, when in Jerez...
I thought it would also be a great place to get some coverage for Spain-holiday.com and what better way to do so than to incorporate the blue and white of our brand into my costume. I already had the blue dress, but to accessorise the outfit I headed off to a discount store and purchased my hat, jewellery, a rose, a blue deckchair - as our logo, and of course the quintessential Spanish fan abanico, to keep me going in the midday heat.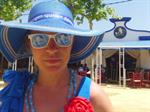 With my outfit organised, off I went to join the fun of the feria and I did cause quite a stir. Everybody wanted to jump into a photo opportunity with me and my crazy Spain-holiday.com glasses! Since then, the outfit has become my standard festival ensemble. My plan is to travel and explore Spain; and just like the gnome in the film Amelie, I will post a photo of me and my blue hat, planted amongst the local backdrop.
What towns and cities have you visited on your Blue Hat Tour?
So far I have visited Jerez de la Frontera, to attend the Jerez Horse Fair Feria del Caballo and the launch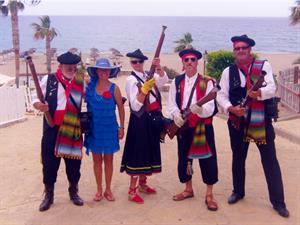 of Encanto, a gorgeous book created by a group of artists, to celebrate the beauty of this equestrian festival.
At the beginning of June I travelled to Mojacar, in the province of Almeria, to stop-off at the Moors and Christians Festival Festival de Moros y Cristianos. Here, I definitely caused a stir. There were quite a few tourists who didn't know if I came dressed as a Moor, a Christian or if I was just insane!
And last week I travelled down to Cartagena, Murcia - the oldest town on the Spanish coast, where I visited the National Museum of Underwater Archaeology, soon to be in the news, as it is the final site for the Spanish treasure galleon being returned to Spain from the US, after a 5 year-long legal battle.
You look like you are having great fun, what have been the highlights so far?
Dancing Sevillanas with the lovely locals in the Sandeman Caseta (marquee) at the Jerez Horse Fair in Jerez. My sevillanas definitely improved with each glass of Rebujito (cold Sherry with Lemonade) and of course chatting to locals and tourists about my wonderful Spain-holiday.com guise.
Where are you off to next?
On June 24th, I will be celebrating La Noche de San Juan in Aguamarga in the Cabo de Gata Natural Park. I will be partying on the beach at midnight with my Spain-holiday.com sunglasses on!
I also have plans to visit Barcelona and meet a local hero, Esteban. At 67, he is quite a character, famous for walking naked through the town, ignoring any rules and fines and petitioning for local nudist beaches. His own trousers are painted on! The plan is to go on a sightseeing tour with him - just me in my Spain-holiday.com disguise and Esteban in his... painted on pants!
Well they do say, all publicity is good publicity. Good luck Luise!
About Luise Wagner
Luise Wagner is a journalist, living between British Columbia and Almeria. She grew up in East Berlin in difficult times, behind the Iron Curtain. Her father was a writer and escaped to West Berlin when Luise was young, which didn't make life easy for her. She studied journalism, albeit against her will. Her real aspiration was to be an author.
From an early age Luise sought freedom from the restraints of her home city and as soon as the wall came down, Luise took the opportunity to leave and went to India, where she applied her Journalism and South Asian Science studies.
Aside from writing for Spain-holiday.com, Louise also writes for Die Welt, Berliner Morgenpost and Bayerischer Rundfunk, amongst other German media.
Luise on Luise: I am always curious, with a slightly deranged view on life. I love social interaction and am excited about life and people. I think I was meant to travel right from the start, now I live in a tiny village near the Costa de Almeria and the locals love their freedom, which is something very special to me, coming from where I have come from.