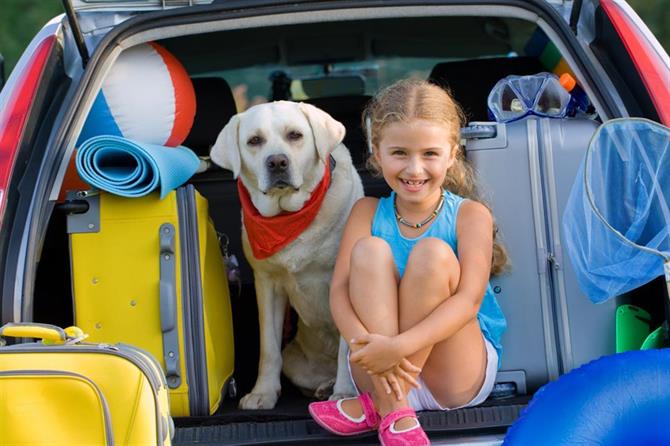 Guest scenario:
You've decided to opt for self-catering this year and are looking forward to spending two weeks in a holiday home that will provide all the essentials that will make your stay feel comfortable, just like a home-from-home. After all that's why you chose a holiday rental over a hotel. But when you arrive, you find that the little details you consider are household essentials, weren't essential to the owner.
We took the opportunity to ask renters what made a holiday rental into a holiday home-from-home. The little details that made a big difference to their holiday and what items were typically missing that made their stay less than homely.
Lounging around...
When your guests arrive and drop their bags on the living room floor after a tiring journey, some
welcome flowers on the table
should go a long way to reviving their spirits. And if you want to really surpass expectations, take note: one renter commented that
a prepared table of food with a jug of sangria
had once been left for them and they loved it! And a holiday home owner from Cornwall told us she serves a cream tea to each new guest, what a lovely touch!
We mentioned in our article, What a guest wants, what a guest likes, that wifi or internet connection is the third most requested item in a holiday rental, after a swimming pool and air conditioning. Holidaymakers want to share their holiday in real-time with friends and family, so having a form of internet connection in your home is vital.
Keep them occupied
For rainy days and not so rainy days, guests appreciate little indoor distractions to while away a few hours:
books, DVDs, a pack of cards and some games and colouring pencils
for the kids will keep them occupied and happy.
And whilst we talking about the little guests, it's essential to store a baby/toddler high chair and travel cot.
In the kitchen
It seems the number one pet hate for guests is not having
a decent frying pan or roasting tin
and rather than just one of each, a selection of sizes is more useful. To avoid them getting ruined after a few bookings, make sure you buy wooden, non-scratch cooking utensils.
Another renter mentioned that a good set of kitchen knives was important, as part of the enjoyment of renting a holiday home was trying their hand at cooking local dishes. With this in mind, it's also a good idea to leave a cookbook or guide to local cuisine.
We also received feedback that alongside essentials, such as tea bags, instant coffee and cooking oil, it would be great to see a starter pack of local ingredients, together with a local cookbook to get them started.
A Nespresso machine, decent coffee maker, a kettle and a teapot were all requested items in the kitchen, as were dishwasher tablets, extra bin liners and oven gloves.
And if you really want to impress your guests, a decent bottle of red, white and rose wine will get their holiday off to a genial start.
Bath and bathe
Guests generally expect to buy a few essentials that will make their stay feel more like home. But one of the items they definitely agree should be available in abundance is
toilet paper
. There should be at least one week's supply, based on the number of guests, plus more of course if the guests are staying longer.
The general consensus is that aside from bath, hand and face towels, beach towels should also be supplied. Remember: holidaymakers prefer to travel light, especially with the rising cost of hold luggage. So, if you don't want your guests to use your bath towels on the beach or by the swimming pool, it's a good idea to leave beach towels for their use.
A hair dryer is another cheap item that you should include. It's a pain for your guests to bring one, taking up the room of at least an extra pair of shoes! So if you supply one, it will save them a lot of hassle.
Sweet dreams
Sweet dreams are made from a good comfortable bed, preferably with
a mattress topper
. Or so most survey participants affirmed. A mattress topper can make all the difference between the well-needed rest they hoped for, or arriving back home feeling like they need another holiday!
Emergency provisions
Several renters mentioned they felt most comfortable in a house that was prepared for any situation. If the electricity should fail then it's a good idea to have more than just a few candles in the drawer.
Wind-up torches, radios and camping lights
are indispensable, better than battery-powered versions as they never run out.
Other items such as smoke alarms and a first-aid kit are all basic requirements in case of an emergency. Make sure they are easy to hand. On arrival let the guest know where they can find them, rather than have them fumble around in the dark should the lights go out.
Accessible home
We talked previously about
adapting your holiday rental for visitors with disabilities
and this is another aspect which was raised by a few of our participants. Arranging
disability transport
, to and from the airport, and helping guests to rent equipment like
wheelchairs and mobility scooters
are details that will get their holiday started off in the best way.
Also including a guide to the accessible facilities in your area, such as accessible beaches, restaurants, shopping areas and public toilets and details like the points where you can find pavements with drop curbs is all welcome information for your guests.
Keep it local

If you keep in mind that many of your guests will never have visited the local region before, it's handy to prepare a local guide, giving them an insiders view of where to visit, shop and eat out, plus interesting activities and festivals in the area.
A warm welcome
And finally, what renters thought made a holiday home-from-home was receiving a friendly, warm welcome on arrival. Whether from you personally, or from an agent or friend, first impressions count and a smile and some pleasantries are fundamental to ensuring they feel welcome and at home.
This article has been produced purely from feedback received from holiday renters. Use it to make the best of your holiday home and attract more guests looking for a holiday home-from-home.