Spain-holiday.com has a number of widgets designed to maximise the potential of your holiday rental on your own holiday home website. One of the most influential in attracting more bookings is the Guest Review widget.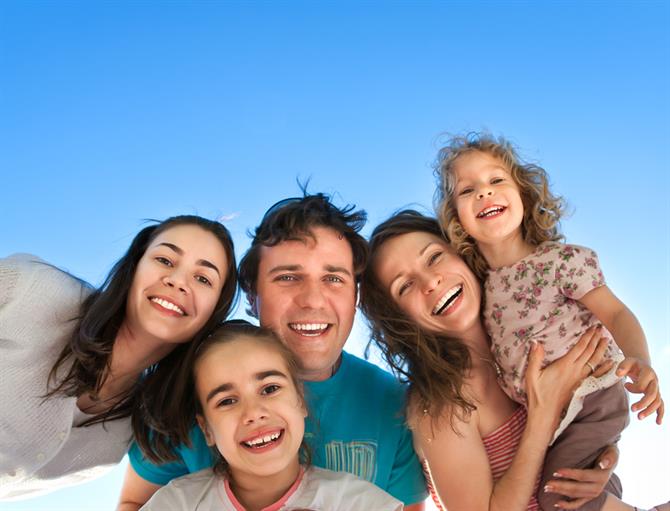 For most of us, booking a holiday is one of the biggest purchases we will make during the year, so it's essential that we study our options in-depth to choose the right holiday. Guest reviews are an essential part of the research and booking process. The more positive feedback you have, the more it enhances your credibility and ultimately converts into more bookings.
Fact: Research shows, over 80% of reviewers give positive feedback, so bite the bullet and ask for that review!
Guest reviews also contribute to where you rank in the organic search results, contributing to the visibility of your holiday rental across the search engines.
How to get more guest reviews
First and foremost, let's look at some tips and tricks to apply to your guest review strategy. How can you actually win more positive reviews?
Be outstanding: Your holiday rental should be worth remarking about, both through the websites reviews and on social media. You need to create such a compelling holiday experience, that your guests will want to write a great review about you.
Remember: no reviews means you are a bit of an unknown entity, so the more reviews you have the better. Even bad reviews can help you improve for the future
Don't be afraid to ask: You can leave hints in the accommodation itself. A little card to remind them to make a review when they get home, or a note in the Guest Book to say their comment would be much appreciated online.
Send them an email: After your guests have departed, log-in to your account, from which you can send an email asking for their feedback and a review. If they don't reply, you can send the email again, but we recommend that you first send a personal email to say thanks for choosing your holiday rental, you hope they enjoyed their stay and mention that you sent them a review email and would they mind using it to review your accommodation. Finish by saying you look forward to welcoming them to your home in the future.
Always reply to comments and reviews online: Whether in your own guest review system or on social media networks, always reply to guest comments and reviews, positive or negative. If you receive a negative comment, answer constructively and politely and always thank them for their feedback.
Ask your guests to share their experience: If there is a group of guests sharing your accommodation, it's a good idea to try to get contact details for more than one guest. Ask them each for a review, they can only say yes or no! And when you get a positive review from a guest, ask them to share their experience through their own social networks.
Don't be scared of negative reviews: they will help you improve your holiday rental for future bookings. Not everyone is going to be 100% happy with their stay, so you must accept this; be constructive, thank them for their suggestions and see it as a way to improve your business in the future.
Beware of fake reviews: Don't go there with fake reviews, they can damage your holiday rental business and your online reputation. All your guest reviews should be genuine, or somewhere down the line you will be found out. You need to manage your reputation, ensuring that you have 100% credibility, so do the work to generate real reviews, rather than deliberately making them up!
How to set up the review system in your Spain-holiday.com account
The review system is activated automatically in your account when your property goes live. As soon as you receive an enquiry, the system sends a review request to the enquirer or renter. This is sent out the day after the specified departure date. As soon as you receive your first review it will show within your property details page, unless...
If your first review has less than three stars it won't be displayed until you have three reviews or more. You can make inactive a specific review, or the whole review system.
If the enquirer or renter doesn't respond to the initial automatic review request, ask again...
It's simple to ask for a review: log-in to your account and click on the review icon in the main window panel. You will see a Send Review Invitation Mail section. Fill this in with the renters details and wait for that great review to arrive.
How to set-up the review widget for your own website
Once you have started receiving reviews on your Spain-holiday.com property page you can install the review widget on your own website, saving you time and effort in finding, installing and updating a separate review system. The widget will control the reviews and automatically update them on your website.
It's completely free and simple to install:
Step 1: Log-in to your account and click on the widgets link in the left hand navigation panel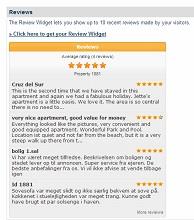 Step 2: Scroll down the page to the Reviews section. Here you will see an example of a ReviewWidget and above this a link to get your Review Widget. Click here.
Step 3: Now you will start to set-up your widget. Choose your colour scheme, language, number of reviews you want to display - we recommend between 5 and 10 and the number of words within the review you want to be displayed, before a users had to click to 'read more'.You can play around here with the title and colour scheme and review your design in the preview panel below.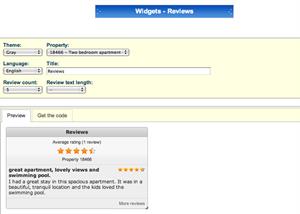 Step 4: Click into the 'Get the Code' tab, next to the preview section. Here you will see two options are provided.
The easy solution: For most of us we just want to embed the widget into our website. Copy the widget code and embed this into your own website admin system.
For the nerdy web expert: If you know a thing or two about websites and want to customise the review widget further, then copy the code from this option and adapt it as you need.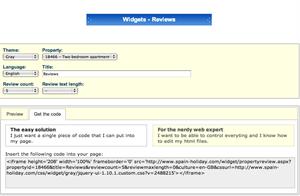 You are now ready to enjoy the benefits of our guest review widget. Use it to maximise your holiday rental potential and you can look forward to receiving positive feedback about your holiday rental!