Beautiful bays and turquoise waters are the main attraction bringing tourists to Majorca for many years. One of the main resorts on the island is Alcudia and the neighbouring Port d'Alcudia which offer a lot to see and do apart from their stunning beaches.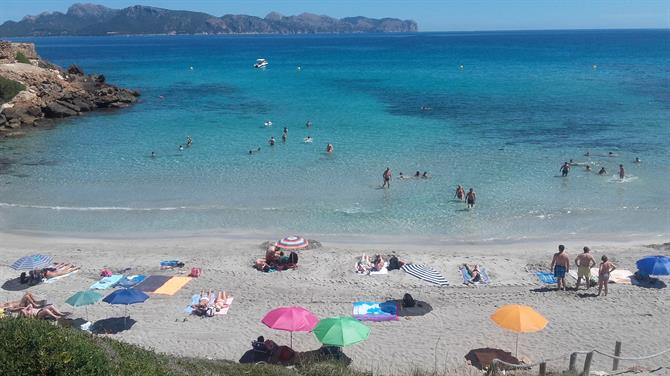 Here you can find beaches to suit all tastes from stunning coves hidden amongst rocks and pine forests to busier stretches of fine golden sand. Alcudia is a popular destination for families with children because the bays provides calm and shallow waters, ideal for young swimmers.
Playa Alcudia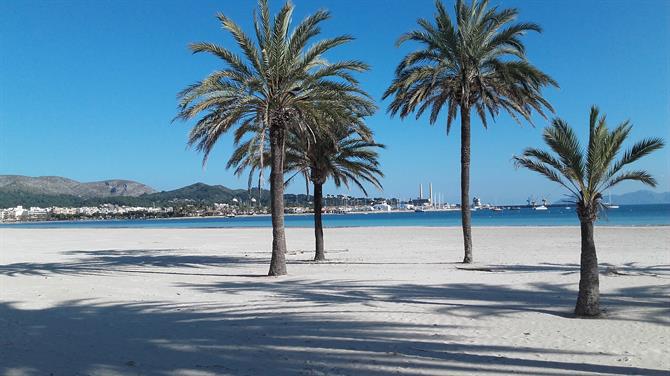 Playa Alcudia or Playa del Puerto de Alcudia is the main beach in the area. Although it is a very popular tourist resort, the lack of tall buildings and the presence of palm trees and sea pines provide this beach with natural and rugged beauty.
It stretches over a length of over 3 km, guaranteeing a lot of free space. Tourists are amazed by the clean, fine white sand, the turquoise shade of the water as well as the shallow waters.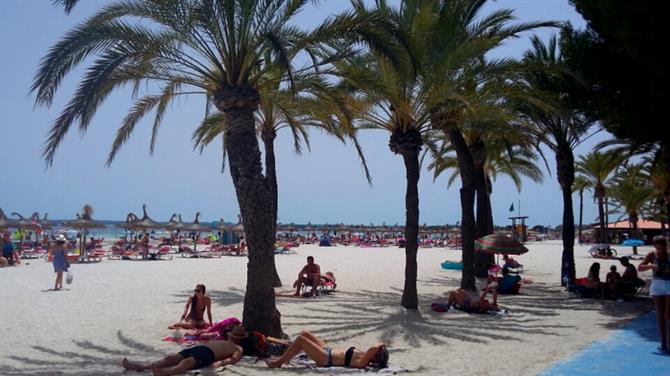 Playa Alcudia is divided into two parts. The first starts at the sports harbour in Port d'Alcudia, and along it runs the promenade always full of locals and tourists enjoying a leisurely stroll in the sun. It is definitely a more crowded zone of the beach because of the numerous hotels located nearby.
You will find chiringuitos here, beach bars and water equipment rentals. You can rent water scooters, ride a banana boat, or try paragliding to admire the beautiful Bay of Alcudia from above.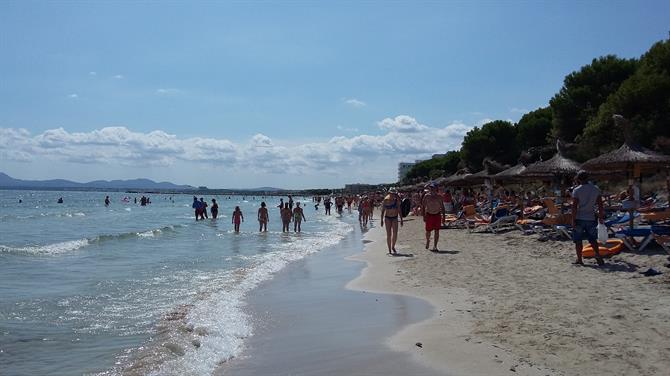 The conventional border between the two parts of Playa Alcudia is the so-called Ciudad Blanca. From here, up to Playas de Muro stretches the second, a much calmer part of the beach, a quieter more natural spot.
S'Illot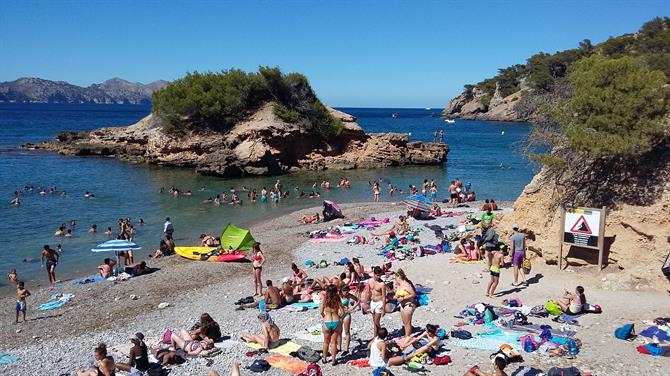 S'Illot is a beautiful beach in the form of two arches, located on the Cape of La Victoria and just 5 km from the city of Alcudia. The beach is covered with gravel and round stones but this does not discourage the many sunbathers.
Take snorkelling masks and diving fins with you, to see the many fish and octopus hiding amongst the rocks. On this beach, there is also a small island, climb with caution and jump off into the water.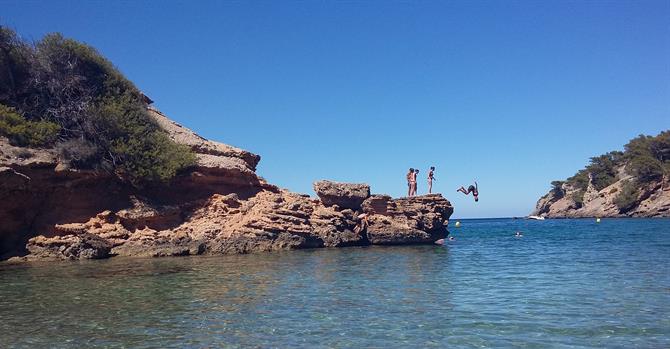 The rocks along the beach give shade and shelter on hot days. The waters on S'Illot are usually very calm and clear, and the scenery is stunning and unspoilt, making this area popular for kayak, paddleboarding and water caving excursions.
Sant Joan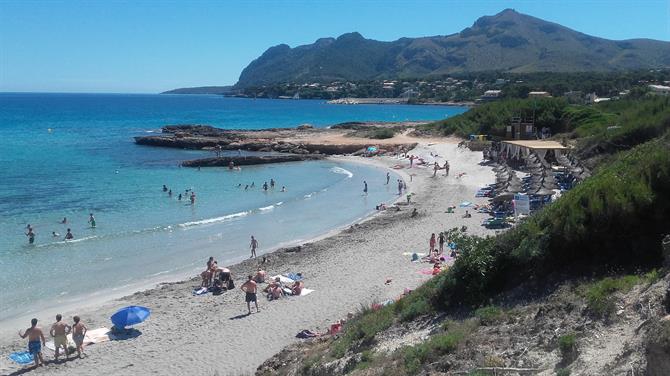 Playa Sant Joan Alcudia is only 3 km from Alcudia city and is often frequented by locals. To get here from your holiday rental in Alcudia, head towards Mal Pas urbanisation and follow the signposts. At the beach you will find a small parking area, you will need to get here early in the summer months to secure a spot.
Sant Joan is a combination of sandy and rocky ground and the perfect place for summer photo sessions where you can admire Pollensa Bay in the distance.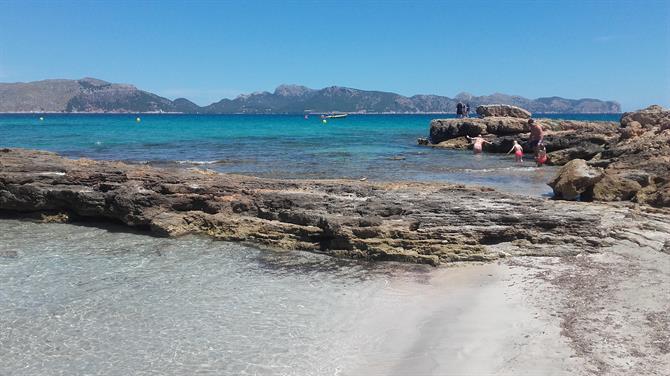 The colourful seabed invites you to dive and admire the Mediterranean fauna. On the beach, you will find a bar, a lifeguard booth and umbrellas.
Sant Pere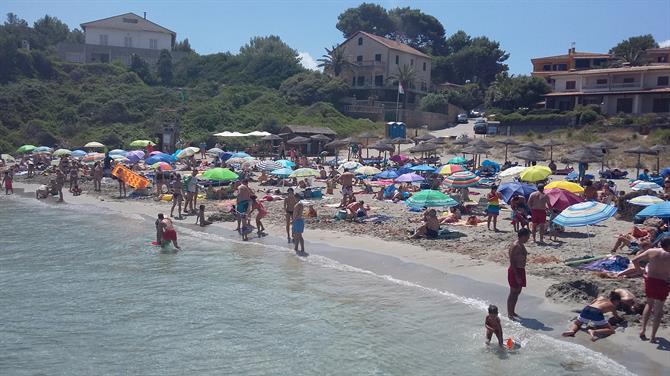 Rent a holiday home in Mal Pas to be located near Sant Pere beach. Located next to the Marina de Donaire "Cocodrilo" sports port, find 100 metres of fine sand ideal for a full day of sunbathing. During the high season, there is a beach bar (chiringuito) as well as umbrellas and sunbeds available to rent. A lifeguard is also on hand.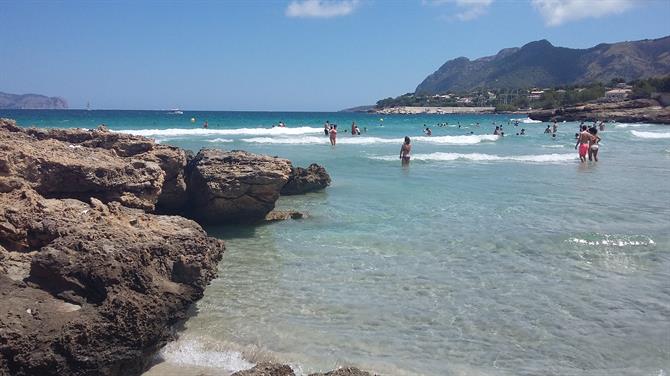 This beach is fairly small and sits between rocks. The water is clean and shallow near the shore, ideal for children. If you are in the area, it is worth visiting, 5 Oceanos Chillout bar, which in the evening serves tasty drinks with an amazing atmosphere.
Aucanada
Located just next to the golf course, Aucanada or Alcanada is just 3 km from the city of Puerto de Alcudia. It is a small pebble beach with clean and calm water. A small pine forest surrounds the bay, providing shade and rest from the sun on hot summer days. This beach is popular with families and local residents who often enjoy picnics and barbecues here.
Right next to the beach and just 150 metres from the shore, there is a small island with a lighthouse. The shallow water allows you to swim out to the island from the beach.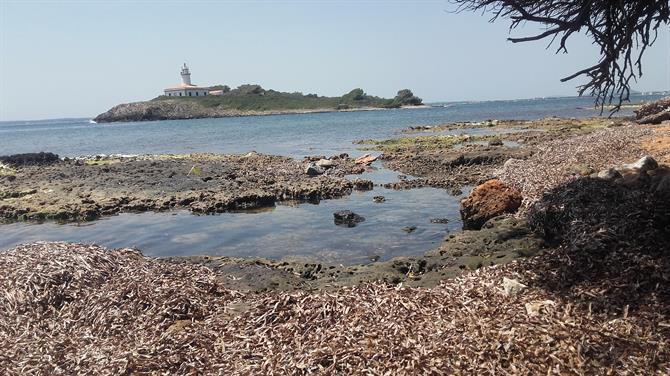 At Platja de l'Alcanada, in addition to the small pebbles, the beach is covered with dry algae, known as Posidonia. This is unique to this area, which you will not see in many other places on the Balearic Islands.
Es Faralló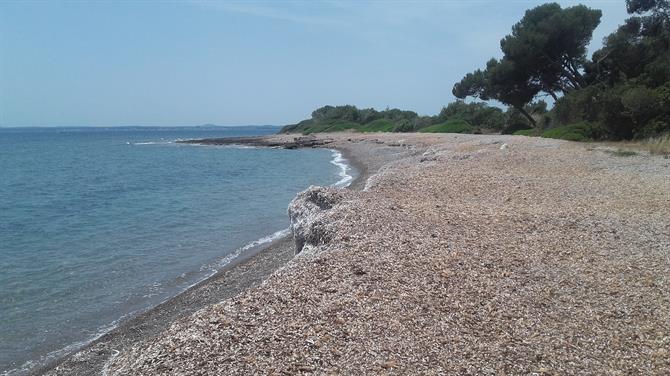 Passed the island in the direction of the golf course, you will find another beach. This bay is less frequented and often visited by nudists, also covered with an algae rug. Continue walking and you will reach the small beach, Es Faralló. Stones and thick gravel are the main substrate of this bay, characterised by a narrow and elongated shoreline, located at the foot of a slope.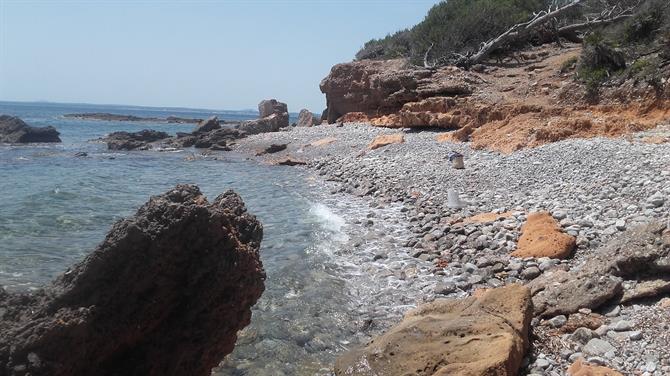 This beach is well hidden, away from any urbanisation and is rarely visited by tourists, which guarantees tranquillity away from the crowds. The rocky bottom conceals many treasures, so it is worth bringing masks and fins for diving.
Coll Baix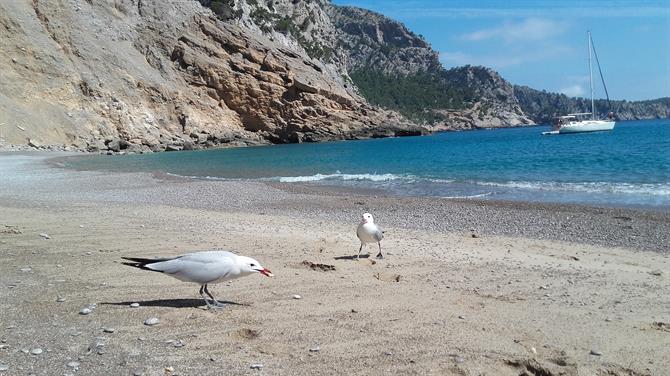 Coll Baix has been named ​​the most beautiful beach in the area. It's beauty, however, is well hidden. To get here access is possible by two means only: the sea (by boat or scooter) or on foot, starting at the beginning of the forest and continuing along the rocky coast.
Some areas along the route are steep and quite dangerous so its important to wear appropriate footwear but due to the beauty of this beach, there is no shortage of people willing to reach this hidden piece of paradise.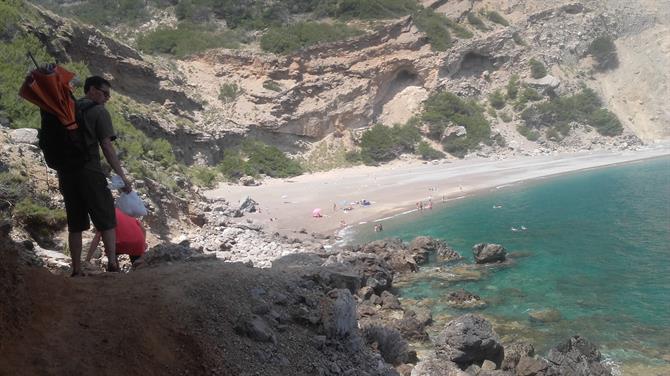 This pebble beach is 220 metres long and 50 metres wide, surrounded by high rocks that seem to protect it from intruders. Frequent guests on the beach are seagulls waiting for a piece of bread, as well as mountain goats, a common species in this part of the island. These goats are not afraid of people but it is not advised to feed any wildlife.
If you choose to go to Coll Baix, remember to bring your own amenities as due to the rugged location of this beach there are no facilities. From Alcudia itself, you can get here by car, but you will have to park up and walk down to it.