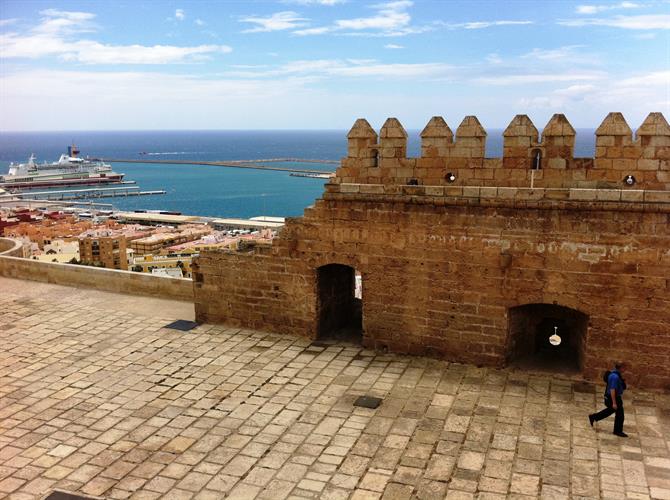 This historic location founded in 955 has lots of free activities to enjoy. Discover these fifteen travel tips for Almeria and make your holiday budget go further.
Free! The best view in town: The Alcazaba towers above the city of Almeria. This imposing fortress offers spectacular views over the city and coastline. This is free for EU citizens. Also they are offering free guided tours for groups of school children on Thursdays and Fridays too. Well worth the hike up the hill, the Alcazaba is the largest of the fortresses built by the Moors in Spain. It dates back to 955 when the city began.
Free swim: A short drive to any of the beaches in the area will refresh your day. Whether you head east to Aguadulce or Roquetas del Mar or go to the rustic beaches of Cabo de Gata there is a great choice. In a 30 kms radius from Almeria itself you can change it up every day.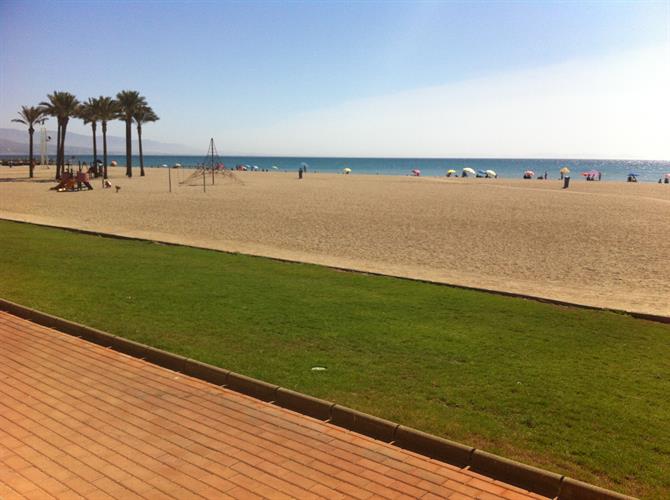 Free night out: Once a year the Almerienses celebrate the "Noche en Blanco". This special night fills the streets of Almería with six stages. On the 6th of June the city puts on more than 70 shows. They run from dusk right through the night. Most of them are in the streets and squares and all are free of charge.
Free internet: More and more Free Internet or Wifi is available in shops and restaurants. Some newspaper kiosks even offer free connections. So keep your eyes peeled for the typical black and white WIFI sign on the walls of places you visit. Almeria Airport has Wireless S.L which allows 15 minutes free connection.
Free information: Visitors to the city of Almeria have three tourist information offices available. They have plenty of information on the city and province. Take away free leaflets and city maps with you to plan your day. Find them at Calle Parque Nicolás Salmerón, Plaza de la Constitucion or at Plaza Bendicho. The Plaza de la Constitucion is as known as Plaza Vieja. This has to be the prettiest square in Almeria.
Free scenery: At you may know Almeria has been the set for many Hollywood films. There will be no shortage of scenery for your holiday photos. As you arrive in Almeria you will notice the Cable Inglés. This Iron Structure designed by Gustave Eiffel dates back to 1904. This is particularly good for a photo at night time. Built as a loading platform for the Alquife Mines and Railway Company Limited. The minerals would leave Almeria port after arriving here from Alquife in Granada province. The Cabo de Gata, Tabernas Desert and Alcazaba fortress will also provide you with great scenery too.
Free public parks: The Nicolás Salmerón Park has well established ficus plants, palm trees and pine trees. The Parque El Boticario is just 10 mins out of town, it has 400 free parking spaces. There are often cultural activities and concerts here. There is a large area for children with swings, slides and climbing frames. The park is set out in four areas, Rock garden, Arab garden, botanic area and wood.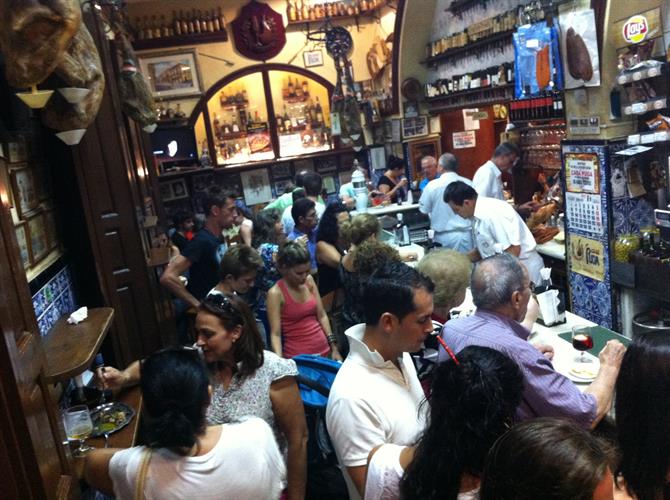 Free food: Almeria has the complimentary tapa system. (As does Granada and Jaen) You receive a delicious tapa when buying a drink. Most bars and restaurants give you a free snack when you order beer, wine or a soft drink. They will only charge you the cost of the drink. A well-known bar is Casa Puga, it´s been running since 1870 (Calle Jovellanos, 7). You could try the authentic Parrilla Pasaje. It was here where a popular Almeria tapa called the Cherigan was first made. It´s like a toasted sandwich and comes with several fillings. (C/Rueda Lopez, 1) and if you are a wine lover try Bodega Aranda (Rambla Obispo Orberá) right by Puerta Purchena.
Free museum entrance: The museums in Almeria which are free, as well as the Alcazaba, are the Museo Arquelogico de Almeria on Carretera de Ronda, 91. It does not open on Mondays. Here are many archaeological finds and they often have children´s activities too. Also the Andalusian Photography Centre on Calle Pintor Díaz Molina, 9.
Free Spanish Lessons: At La Oficina (Calle de las Tiendas, 26) each week there is English and French language exchange. Every Tuesday people meet up and each person speaks for 10 minutes. Usually after 10 minutes the other person takes their turn. Correcting each other as you learn.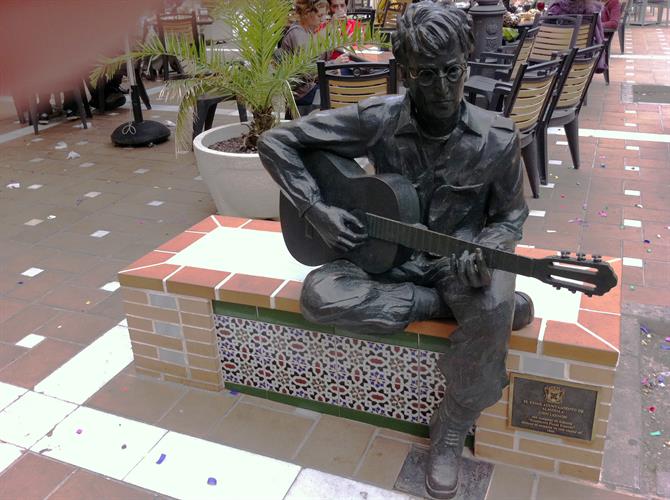 Free photo with John Lennon: The statue of John Lennon playing his guitar is in the Plaza de las Flores. This is remembering that it was in Almeria where he composed the song Strawberry fields forever. Lennon was in Almeria for the filming of ´How I won the war´ in Autumn 1966
Free exhibition: At the Aljibes de Jayran on Calle Tenor Iribarne there are often small art exhbitions. This interesting building contains the Arab cisterns built for King Jayran in 1038. The building still bears his name Aljibes árabes de Jairan. They supplied water for the whole city. Now it´s the base of Peña El Taranto and the oldest flamenco club in Almeria. The cloister at the Escuela de Arte (Almeria art school) is worth taking a look at. It is free to go in and sometimes they have arts exhibitions in the building too. (Plaza Pablo Cazard, 1)
Free children´s ticket: Many museums and places of interest don´t charge children. Check the conditions and age ranges that apply when paying at the ticket desk. For example children under 3 don´t pay at the Aquarium Roquetas de Mar (at Avenida Reino de España)
Free fiesta: In Almeria there are plenty of fiestas and festivals throughout the year. Most of which are free to see. Some of them are the Cruces de mayo, August fair, Nativity scenes at Christmastime and Easter processions. All these traditional are all culturally interesting and vary from other regions of Spain.
Free prayers: Beautiful churches in Almeria are free to go into. Head to the Iglesia Virgen del Mar. This church celebrates a floral offering to its Virgen of the sea each year Mid August. Discover the 12th century remains of the main mosque of Almeria. The mihrab is still visible inside the Iglesia de San Juan Evangelista. (Calle General Luque with Calle San Juan)
For more ´Spain on a Shoestring´ travel tips see 15 free things to do in Granada