The right time for chocolate
There is a time and a place to start that rigorous diet. Take Easter, a high village in the Alpujarras, and an artisan chocolatier and you probably have the wrong time and place - on all levels!
So, ditching the scales and reaching for a larger pair of jeans, I greedily accepted the invitation to visit an artisan chocolate shop and factory high in the Alpujarras - it would be rude not to!
As you can see from the picture below, it was a slightly misty day, the mountains in the background covered in snow, despite the perfect temperature of 18 degrees in the Poqueira Gorge.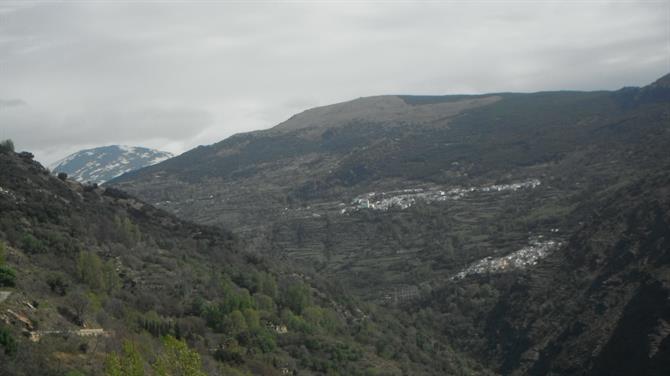 Where is it?
How high can you go? Our destination was Pampaneira, one of the three Poqueira Gorge villages - set loftily in the Alpujarras mountains. Sweep higher and higher, narrow roads flanked by sweet herbs, wild flowers and crashing natural waterfalls. Snake carefully around each corner, on and up, and you''ll eventually come to the lower of the three villages of the Poqueira gorge - Pampaneira. The next is Bubion and Capiliera is the top layer on this pretty mountain cake.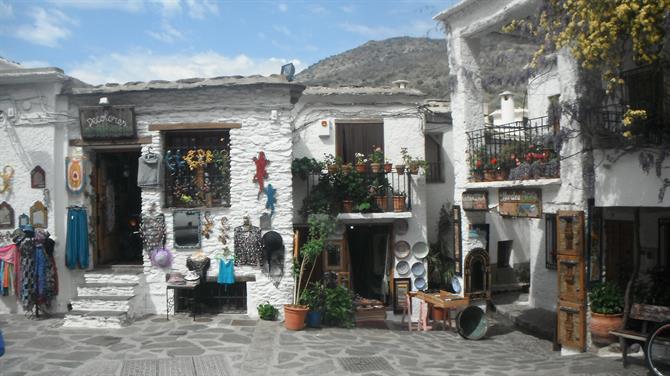 Information
As you enter the village, you'll see a parking sign on the left, a large and FREE car park - plenty of room for all, even in this tourist destination, which gets pretty packed out in high season. The tourist office is in the same spot, so drop in and pick up any maps or guides you may need, perhaps a signed copy of Driving Over Lemons or a chat with the multi lingual chap manning the desk. There's also a small shop there, selling a small selection of walking gear, and a little traditional museum upstairs.There are lots of boards displaying the flora and fauna of the area, and examples of animal tracks - handy to know whether a wild Boar is two steps ahead of you whilst hiking :).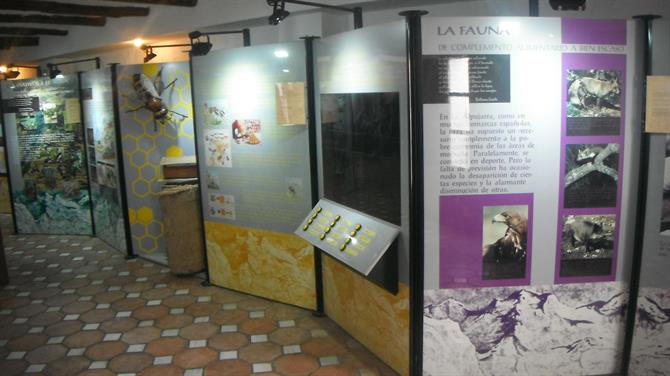 Destination cocoa
Just out of the car park, turn right for a few metres past the souvenir shops and across the street you'll find our delicious destination. Abuela Ili is the place to head, where you can top up your serotonin levels and get that happy feeling in seconds.
Head downstairs past the sacks of Cocoa and interesting items on show, old tempering tools and antique cocoa grinders. *Downstairs is on a softly graduating slope so fine for pushchairs and wheelchair access.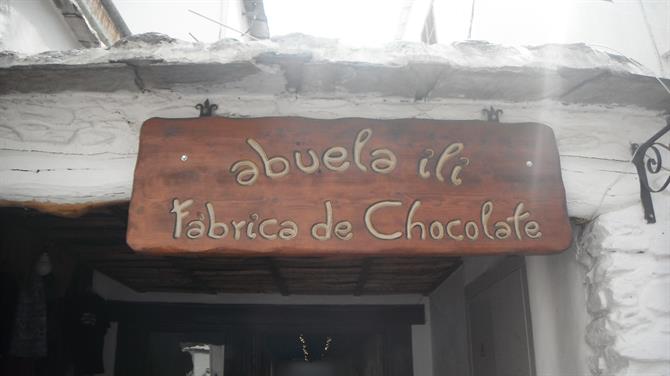 Tasting the goods
Downstairs and you'll find that heaven is actually straight down! Counters weighed down with chocolate of all colours, textures and flavours. Slabs of my favourite darkest decadent downfall lay there, calling me over. Did I resist? Er...no.
Plain, milk and white chocolate, encased in fruit and nuts, infused with natural fruit oils, raspberry pink, cool and minty green, figs stuffed with almond and dipped in pure decadent chocolate - bliss.
Eat and watch them work
They also have samples of everything, and it's rude not to try absolutely every flavour and type- I'm sure that's the rule anyway. We left with a rustling brown bag of happiness, an assortment of 15 bars in different flavours (€15) and a box of those dipped figs. (£4.30)
They sell home made ice cream too...
The glass partition allows you to see the chocolatiers at work (what a job!) as they temper, create, and pack the goods.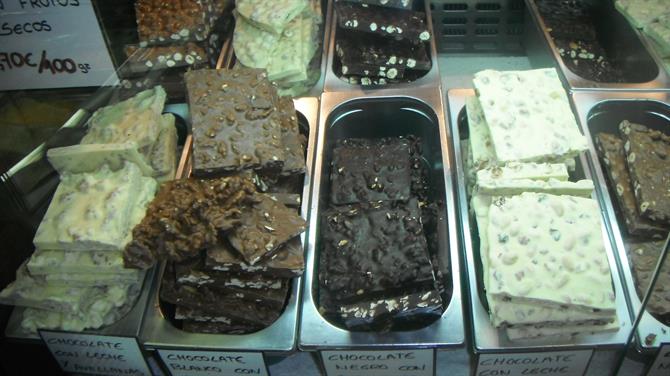 Street level
Dragged outside - still all those samples still to try! - see the rest of the village. Pampaneira offers restaurants at every step, interspersed by shops selling leather-work, souvenirs, jewellery, glassware, and of course, the ubiquitous Alpujarran rug. It's a place aimed at tourism, fair and square, but there's still a good hint of the Alpujarras of old.
I dare say when the last of the autumn sunshine and walkers have departed, these mountain villages return to a slower traditional life - probably with the first slow curl of grey-blue smoke spiralling upwards from one of the traditional chimneys.