It seems that oranges are not the only fruit in Andalucia. Let's look at 10 of the best seasonal fruits and vegetables. Come and take a bite out of Spain in winter!
A plot or a pot
If you're lucky enough to rent a holiday home in Andalucia with a garden or even a terrace, you might also find something to eat. Perhaps an orange tree, or even a lemon tree in a pot - just perfect to go with fresh fish or that evening drink. What are you likely to find, whether straight from the garden, or at the bustling local market?
1. Citrus scene
In Spanish: Naranja, Limon.
The orange trees are weighed down at the moment on our patch of green, ready to be harvested and turned into marmalade, squashed for a juicy breakfast, or better still, eaten straight from the tree. The lemons won't be too far behind, although there aren't many of those at altitude up the mountains - you'll be surrounded by them down at the milder coast - practically driving over lemons!
2. Quince
In Spanish: Membrillo.
Eating Manchego cheese will never be the same. You must try some of the jam-like accompaniment known also as Membrillo, like the fruit of the same name. Large and round and very hard - impossible to eat raw - but boiled down with sugar a delicious friend to cheese and more. Also, quartered and added to stews and casseroles - fantastic with pork - think apple sauce!
3. Persimmon
In Spanish: Caqui.
Everywhere right now you'll see the little cardboard signs announcing "Se venden caquis" with various slants on spelling! Pick up a box or a few from the local stall - but don't bite into them when they're hard - you'll be left with a rather dry mouth - they're really astringent whilst unripe. The best way to soften them up is to place them around a glas of clear alcohol - it draws the astringency away. Or, if you have a log burner in your holiday home, then slice them and leave to dry for a chewy and vitamin packed snack.
4. Avocado
In Spanish: Aguacate.
Love these, they're ten a penny at the moment and so tasty in a bacon sandwich, or topped with juicy coastal prawns, or just as they are, fresh and full of goodness. They might be more fattening than most fruit, but did you also know that the avocado is also a superfood? Some fats can be good!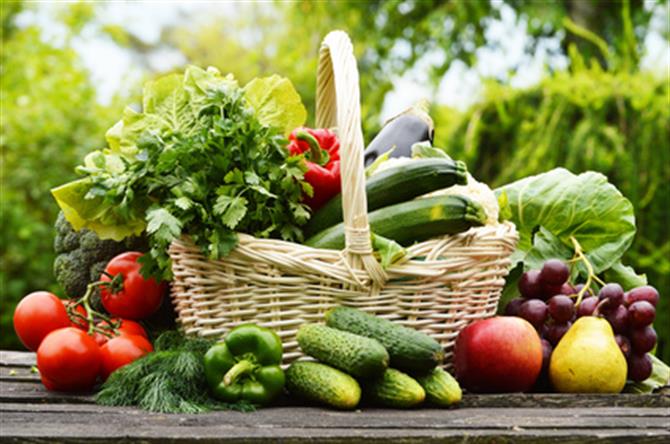 5. Custard apple
In Spanish: Chirimoya or Cherimoya.
Around Motril along the Costa Tropical, there are rows upon rows of these right beside the road. Miles of orchards full of this tropical fruit, and harvested right now - so therefore cheap and plentiful at the local market or tooting village van. Originally eaten by the Inca people, they taste, well, like custardy apples! Once you get past all of those fiddly black seeds...
6. Lettuce
In Spanish: Lechuga.
Yes, even in winter, lettuce grows well in Andalucia. A Menu del Día will always have a plate as a first course - it's the rule! All types are grown, and found for sale. The mild daytime temperatures of the Costa del Sol mean you can enjoy a fresh salad in the open air and sunshine - even in winter.
7. Roots
In Spanish: Tubérculo comestible.
Back to your roots! There's nothing like a warming stew served in the mountains of Andalucia in the depths of winter. Ski holidays with a daily dose of sunshine and cosy nights by the fire of some little mountain village restaurant, a bowl of local stew served in an earthenware dish with some crusty bread on the side. Potatoes, carrots, parsnips, they're all great value right now and locally available. Try slicing them really thinly and frying for your own homemade crisps. Don't forget the potatoes for the Ensaladilla Rusa!
8. Squash
In Spanish: Calabaza.
Not just for Hallow'een - there are giant specimens of all kinds of squash out there: butternut, pumpkin, marrow, courgette - they're all from the same thick skinned family. Great for whipping up quick soups, roasted, even in puddings and pies - a very versatile winter fruit from Andalucia.
9. Cabbage
In Spanish: Col.
Green and leafy, not always rubbery! Choose tender heads of cabbage from the market and stuff the leaves with whatever takes your fancy, it's dirt cheap at the moment and plentiful. Stir fry it, or blanch it - just don't overdo it! As Jamie Oliver rightly says: "It's already dead, there's no need to kill it again."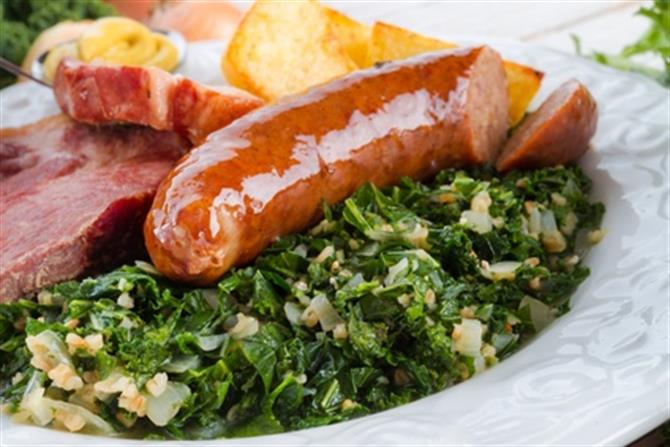 10. Chard
In Spanish: Acelga.
Similar to cabbage, Swiss chard comes in green or red, and has a slightly bitter taste. You just know it's good for you! Stir fry it, finely chopped, with Andalucian pine nuts and Spanish olive oil for the best quick snack or add some to that Spanish tortilla in place of potato if you like.
All of these foods are available, in season, right now. Plentiful equals cheap, it's really possible to self cater on a budget if you manage to stick to what's in season and out there on the stalls. Tasty treats for your next winter family holiday in Andalucia!