Autumn is a very special time in many places across Spain. From coast to coast, the country anticipates the arrival of this beautiful season with festivals and celebrations full of colour, flavour, and tradition. This is especially the case in southern Andalusia -- one of the top ten best destinations to visit during Fall!
To celebrate the cozy season, many big-name chefs take to the outdoors in gastronomic events that fuel the senses. Using stone ovens and temporary kitchenettes, seasonal favourites are prepared using products typical of the region, including mushrooms, chestnuts, figs, persimmons, rabbit, partridge, wild boar, deer, woodcock, and a variety of vegetables.
We bring you some of the neatest festivals in the region, enjoyable for the whole family. Come take a look!
Fiesta de la Castaña - Chestnut Festival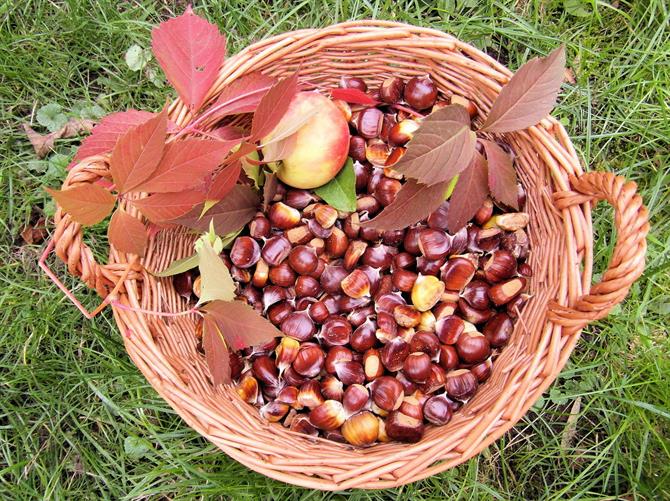 In the town of Alcaucín located in Malaga province, an ancient tradition known as "Day of the Chestnut" is celebrated annually. This year, the celebration will take place on November 7th. Locals come together in the town square to participate in numerous activities while celebrating (and eating) the delicious dried fruit! The feel is everything Fall related, and this festival is a great opportunity to celebrate with neighbours, family, and friends.
It has been declared a Provincial Tourist Interest, and is one of the busiest "fiestas" in the region!
For more information, visit:
City of Alcaucín
T: 952 510 002
XIX Mycological Days, Sierra Norte de Sevilla Natural Park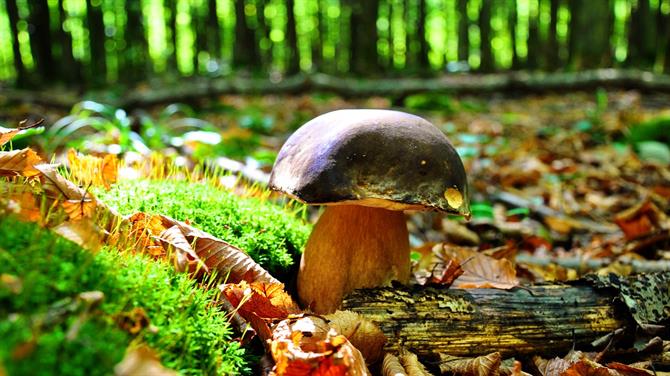 This a fun and unique activity that definitely should be scheduled into your November plans! Participating in Mycological Days in the Sierra Norte de Sevilla Natural Park entails collecting different kinds of mushrooms and funghi, accompanied by experts who offer helpful and interesting advice during the activity. The tour is guided by the Botanical Garden 'El Robledo'. If you've always been interested in
For more information, visit:

City of Constantine
T :. 955880700
Iberian Ham and Pork Fair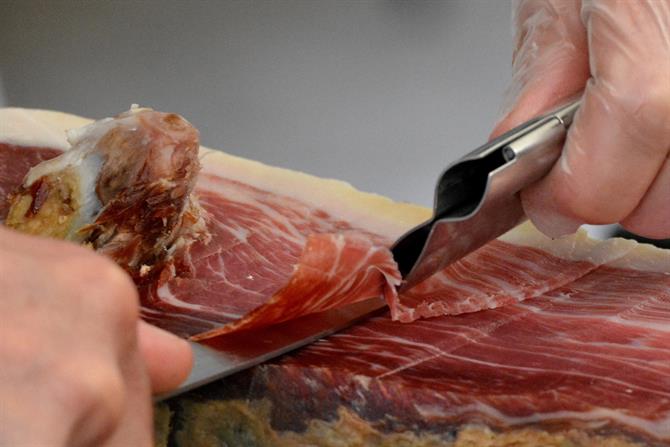 This regional fair takes place in Aracena, a town in the province of Huelva. Held during the third weekend of October, it's more of a feast than a festival, offering some of Spain's most popular cured meats to taste and to take home!
Many local farmers and meat producers set up their stands in the livestock fairgrounds, inviting the public to sample their gastronomic specialities. Why not participate in the various activities held at the grounds, too? A ham cutting contest, giveaways, tastings, and more!
A similar fair worthy of mention, declared a Singularidad Turística Provincial (a unique provincial tourist attraction), is the Campillos ham festival held in early November in Campillos, Málaga! For more information on both of these pork fairs, visit:
Iberian Ham and Pork Fair:
Ayuntamiento de Aracena - Huelva
T :. 959126276
Campillos Ham Festival:
T .: 952723254
M.: 628206953
Fiesta del Mosto - Wine Festival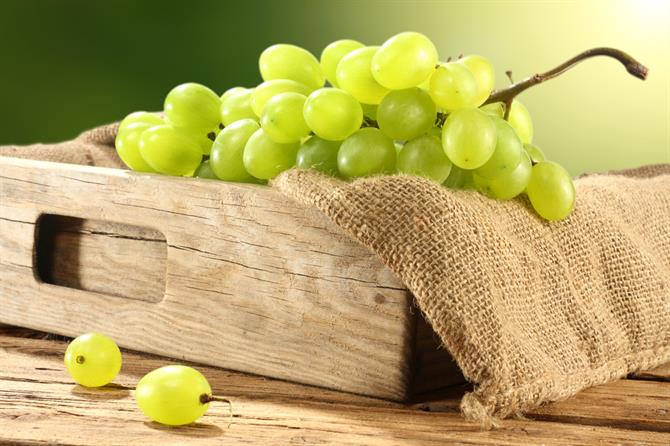 One of the most anticipated events of the year (who would have guessed) is the festival of wine! In remembrance and celebration of the great wealth that possessed these lands in the past, Atajate's wine festival takes place on the last Saturday of November.
Like many other festivals, it begins in the town square, whose historic streets and shops are filled with incredible aromas of freshly fermented and ready-to-taste wine. Be prepared to enjoy this party well into the evening hours!
You will have the opportunity to purchase the popular beverage from local wine-makers who produced their wine entirely by hand. Don't forget to check out the wine route in nearby Ronda, boasting more than 21 beautiful wineries!
For more information:
City of Atajate - Serrania de Ronda - Malaga
T :. 952183504
Fiesta de la Aceituna - Feast of the Olives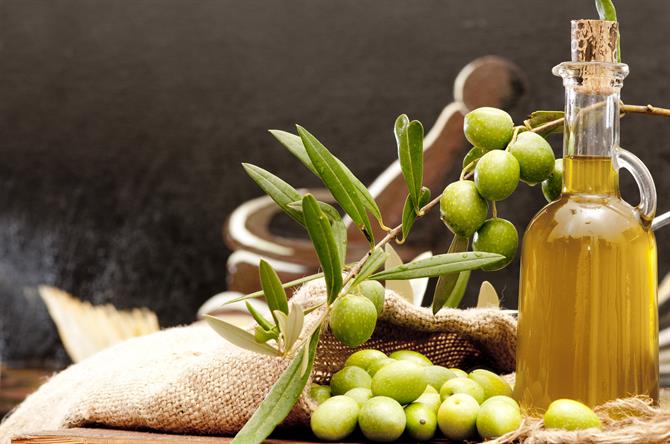 Who isn't a fan of homemade, flavourful Spanish olives? If you are, like me, do not miss out on the Feast of the Olives in early December, to honor the work of all olive harvesters in the city of Martos, Jaén.
Everything begins on December 8th, the traditional date of the olive harvest!
**Out of curiosity: Did you know that Martos is the largest producer of olive oil in the world?
For more information:
City of Martos
T :. 953704005
Fiesta del Membrillo - Quince Festival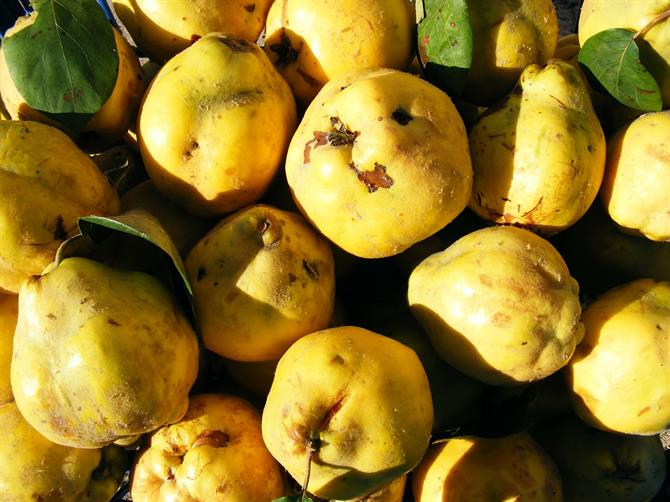 There is nothing more enjoyable than adding some fresh, seasonal quinces to your Autumn produce bowl.
Don't know what quince is? What it looks like, tastes like, how you can cook it?
If you are interested in learning more about the secrets of the fruit, the last week of October offers the Quince Festival in Zagrilla, Priego de Córdoba. You can purchase a variety of quince products, as well as related foods and items!
For more information:
Tourist Office of Priego de Córdoba
T: 957 708 420
La Fiesta de Tostantos - All Saints Festival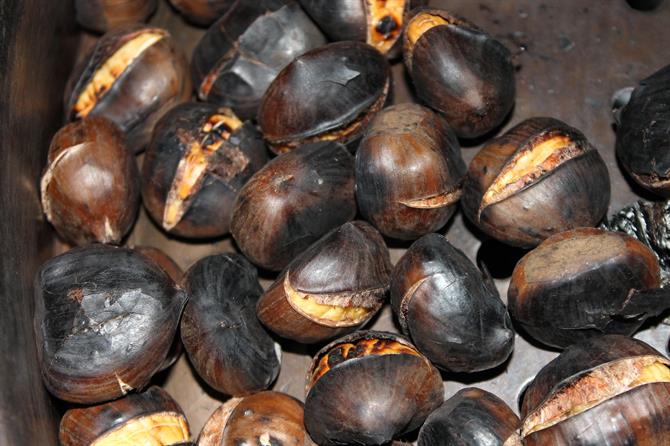 This festival arrives in late October/early November, and as its name suggests, honors all the saints and martyrs of Christianity.
In Cadiz, it is known as "Fiesta de Tosantos" (short for todos los santos, or, all the saints), and is a very special day during which you can enjoy such popular products as the desirable huesos de santos (a dessert that translates directly to saint's bones), buñuelos (donuts), creamy sweet potato soup, roasted chestnuts, walnuts, and almonds, as well as many other authentic flavors of autumn.
In Andalusia, the event differs slightly depending where you go, but the celebration is for the same purpose. Some places include Benacazón, Sevilla where the celebration is known as el día de Tozanto; Santa Ana la Real in the province of Huelva; towns Ojen, Istan, and Alcaucín in the province of Malaga; Cádiz (as mentioned above); and lastly, northern Andalusia in Córdoba where it is tradition to light candles in the house while eating porridge with milk.
Día de la Pasa - Day of the Raisins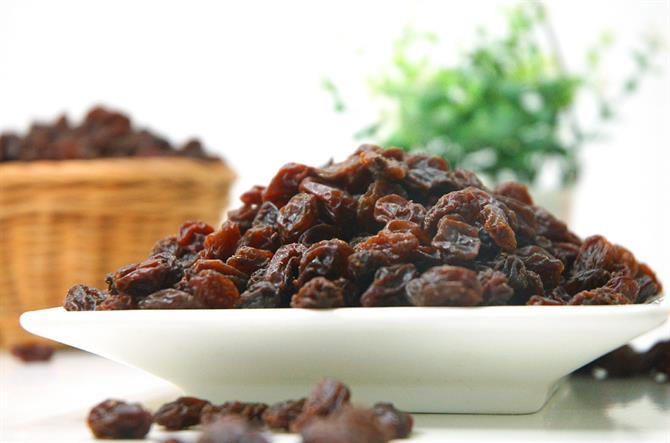 The small town known as El Borge is home to just over 1000 inhabitants and it is also the largest producer of raisins in Spain. Each year on the third Sunday of September, the town and its visitors can enjoy this special world record by celebrating Raisin Day.
This celebration is a certainly a party, accompanied by Rocío choirs and verdiales musicians. In addition, you'll learn the entire raisin preparation process and you'll have the possibility of also trying other typical local products, such as gazpacho, muscatel wine, and sausages.
For more information:
City of El Borge
T: 952 512 033
Día de la Sopa Perota - Day of the Perota Soup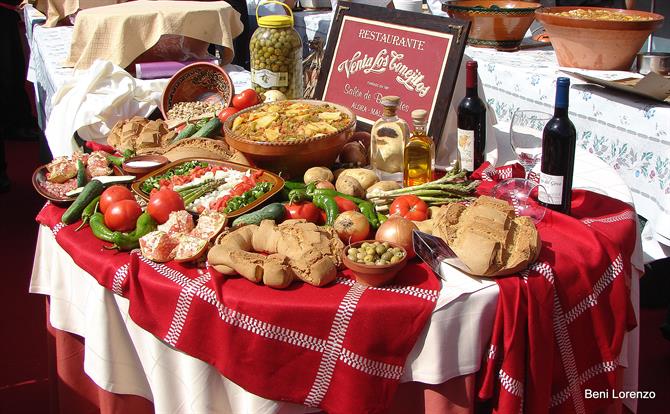 Though it's a relatively new festival, attendance grows year after year as more people come out to celebrate the region's traditional local cuisine.

The first week of October in Alora is celebrated by tasting a traditional soup known as sopa perota, a soup enjoyed by all the former and current labourers who worked very hard in the Andalusian countryside for the past few centuries.
The soup is made with bread, potatoes, asparagus, peppers, onion, tomato, and garlic, which kept them strong and tough to continue with their work efforts. It is an economical recipe, extremely quick, easy, and cheap to make. If you are fortunate to be around Alora during this time of year, you may have the pleasure of trying the local soup!
This festival is accompanied by a market where you can participate in various activities and there over 50 stalls with local produce artisans.
Try hiking the Caminito del Rey in nearby El Chorro for an exhilarating experience! Be sure to book ahead.
For more information:
City of Alora
T: 952 49 61 00
Map