The Spanish Autumn is not the same as in northern Europe. In the south and southeastern parts of
Spain
- from Murcia to Andalusia - the summer weather continues on until the end of October, with the hottest days reaching up to 30 degrees.
One thing is for sure, Autumn weather in Spain is warmer and drier than almost anywhere else in Europe. Below find a list of best autumn destinations in Spain for all travellers.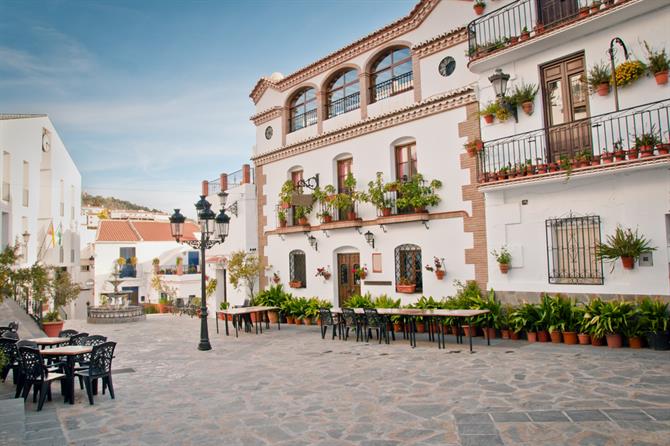 You will find that there are a lot of autumn getaway options from exciting city tours of Barcelona, Valencia and Málaga, Chestnut picking and wine tasting in Catalonia, surfing in the Basque Country, climbing the Teide volcano, taking a horseback desert tour through the Tabernas desert, and finding beach holiday options into the fall.
Autumn Beach Holidays in Spain - Murcia, Almería, Ibiza
You can swim in the Mediterranean well into October. In the southeast, the water temperatures stay warm for the longest. Those who want nothing more than to lay out on their towels and swim in the sea into autumn should check out the Murcia region at least once. In the seaside resorts of Mazarron, Águilas and La Manga, where there is a wonderfully warm saltwater lagoon called Mar Menor, holidays are affordable and the weather is beautiful.
The small town of Águilas is surrounded by great beaches and quaint holiday accommodation and the restaurants are very reasonable. So if you want to swim in the off-season, staying on Murcia's Costa Calida is a good option. Calida means "hot" in Spanish, and it stands up to its name - this corner of Spain has the warmest average temperatures on land and in water throughout the year.
Weather for Mar Menor in Murcia from September to November
Average temperature: 18-30 degrees
Water temperature: 19-24 degrees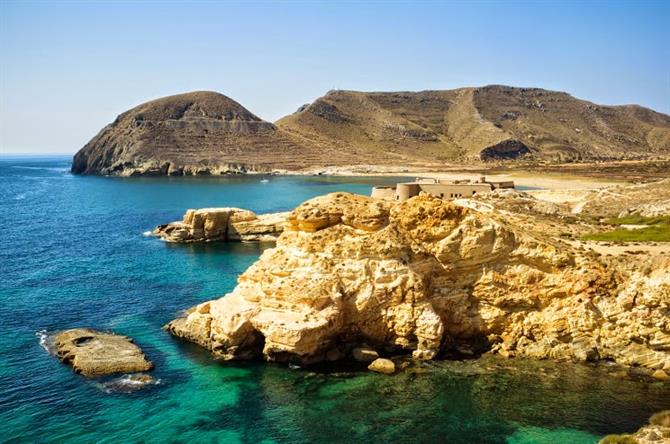 Almería is located to the far east of Andalucia and is less touristy, which makes it all the more charming. Those who travel to Almería in the winter will find great hiking areas, interesting old villages whose architecture date back to the Moorish time such as the Alcazaba of Almería, Spain's second-largest Moorish fortress following Granada's Alhambra.
For swimming, the beach village of Mojacar Playa is beautiful with a 17 km-long beach area and many fun beach bars. The best beaches are located in the southern part of Mojacar Playa where the water temperatures are still good for swimming up to the end of October. From here, it is also not far from the Natural Park of Cabo de Gata where there are some of the wildest and beautiful natural beaches of Andalusia. Halfway there, you can stop by the fantastic Playa de Los Muertos and Aguamarga.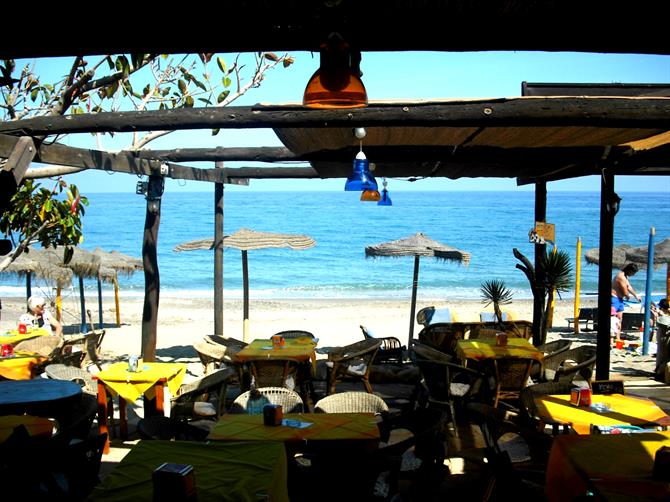 Ibiza is not purely party island, but like all the
Balearic Islands
it is a true natural beauty. When the high season ends, it is more relaxed but you will still be able to meet people on the island.
You can swim at the gorgeous beaches in Ibiza until mid-October or go on a tour to discover the island. In September, the thermometer still often gets up to the 30-degree mark. In November, the island is clearly cooler and wetter and you should definitely pack long pants and raincoat. The late Autumn is most ideal for hiking or cycling. The ocean remains surprisingly warm around Ibiza and with a little luck, you will still be able to swim into early November.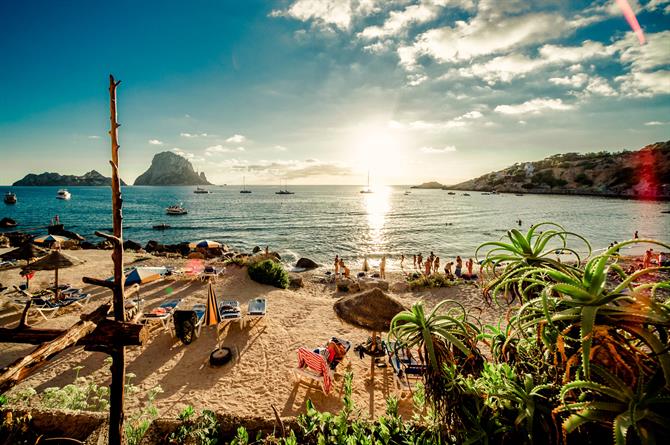 The cultural highlight is the island's capital, Eivissa, with its wonderful Mediterranean charm. Prices for holiday homes tend to fall from mid-October onwards, find holiday rentals in Ibiza with sea views.
Weather in Ibiza from September to November
Average temperature: 16-23 degrees
Water temperature: 20.4-21 degrees
The Canary Islands in the autumn - swimming, walking, surfing
You can travel to the Canary Islands throughout the year, but the Atlantic is much warmer in the autumn than in the winter or even in the spring. So if you still want to go swimming, you should book by early November. Collectively, the Canary Islands have fantastic beaches from those in Gran Canaria to those in Lanzarote for surfing in Papagayo or Famara. Fuerteventura has the kilometre-long sandy beaches of Corralejo, and find the small island of La Graciosa off of Lanzarote.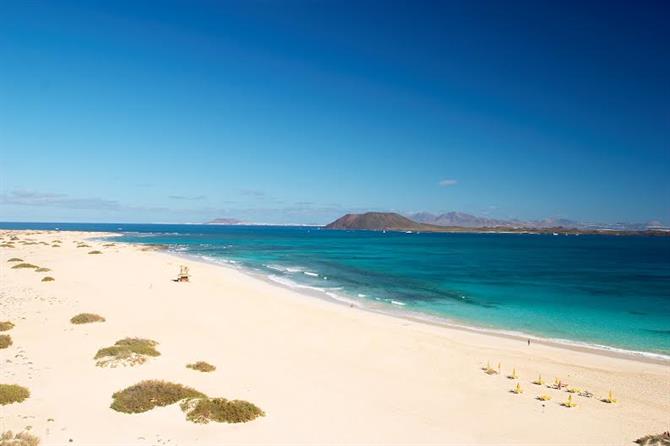 Those who want to climb Spain's highest mountain will find the ideal climate to do so in autumn. During autumn, the Teide volcano on the largest Canary Island of Tenerife is neither snowy or too hot for walking in the midday sun. You can also drive to the Teide National Park to go up by taking a cable car to reach the 3,555-metre summit. For adults, the price is €27 euros, for children €9.50. Those who want to climb to the very highest point must check with the National Park Administration, otherwise, you will only be able to wander by the cable car station.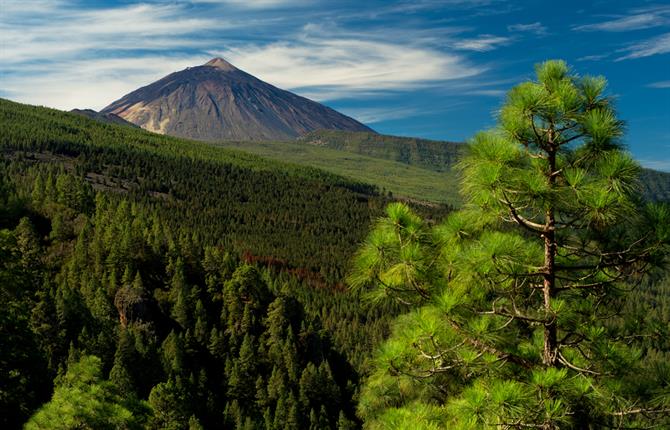 Access to Teide is only allowed to a limited number of visitors.
Weather in the Canary Islands from September to November
Average temperature: 18-30 degrees
Water temperature: 20.4-21 degrees
City tours of Barcelona, Valencia or Málaga in the autumn
These three cities are located near the sea and sun, and despite the hustle and bustle that is common to all big cities, you can always find a soothing serenity. There are beautiful city beaches in Málaga, Barcelona and Valencia where you can avoid the summer crowds and treat yourself to a pleasant autumn break.
Holiday in Barcelona in October and still experience very hot days and even swim in the sea. The surf beaches of Barceloneta or Bella Mar are occupied in the fall because this is when the first major waves of surfers arrive. Along the beach promenade at the old port, Port Vell, you can take wonderful strolls until late into the nights and eat outside on terraces.
Weather in Barcelona from September to November
Average temperature: 16-25 degrees
Water temperature: 15-22 degrees
Valencia is Spain's third-largest city and it has a lot of culture, architecture, and history, and the scenic science park has a lot to offer. In October, the average temperature is around 20 degrees, but there can also be very warm or cooler days. The sun shines for at least 6 hours a day and the climate is pleasantly mild overall thanks to the sea.
A stroll through Valencia's old town and to the 13th-century cathedral, the old silk exchange from the 15th century and the bullring are just some of the highlights of the historic downtown. Valencia city is great for anyone interested in architecture and those interested in natural sciences should visit the City of Arts and Sciences - Ciudad de las Artes y las Ciencias.
Around Valencia, a trip to the Costa del Azahar (Orange Blossom Coast) is worthwhile, as are visits to ancient cities such as Gandia, Peñíscola, or Cullera with its 10th-century castle. There are also many great beaches here. Those who want to be a little more active can climb the rock of Calpe (it's too hot to climb it in the summertime).
Weather in Valencia from September to November
Average temperature: 14-23 degrees
Water temperature: 17-23 degrees
Stay in a holiday home in Málaga for a pleasant autumn break, as tourists visiting the Costa del Sol gradually die down at this time. Málaga can be a comfortable base for trips into the surrounding areas such as the wonderful Torcal Mountains or the famous canyons along the recently renovated Caminito del Rey.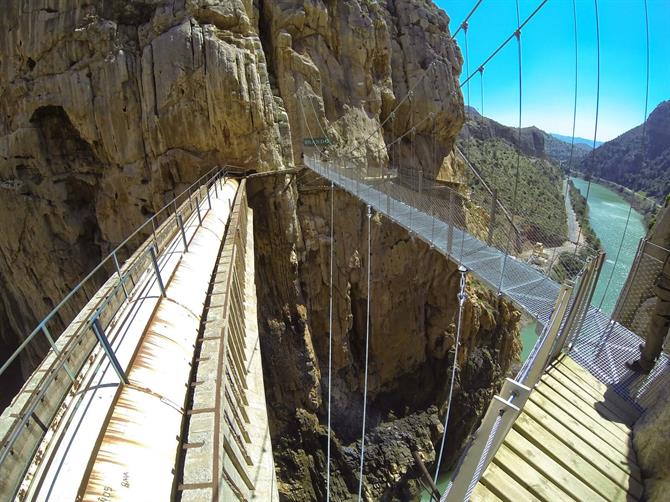 Nearby, visit the
caves of Nerja
and its wonderful beaches, very easy to reach from Málaga. After just a 30-minute drive east you'll be there and be able to combine the trip with a visit of
the white village of Frigiliana
or
the lost village of Acebuchal
. These are magical Moorish villages where time has stood still and you will want to walk through the streets forever to admire the pretty white houses.
A city break to Málaga itself is just as special. Easily spend 3 to 4 days here without running out of things to do. The beautiful Moorish Alcazaba fortress, its botanical gardens and the seaside promenade are great places to stroll around without a care in the world.
Weather in Málaga from September to November
Average temperature: 14-31 degrees
Water temperature: 15-22 degrees
Old Catalonia and its rural charm
Autumn in
Catalonia
could be considered the best season for everyone who loves good food and good wine. In the Pre-Pyrenees mountains, sweet chestnuts and huge mushrooms can be found just by walking around.
There are also beautiful woods of old chestnut trees. This includes one of the largest and probably the oldest chestnut trees in Spain, located in Parque Natural del Montseny at Can Cuch in Canoves.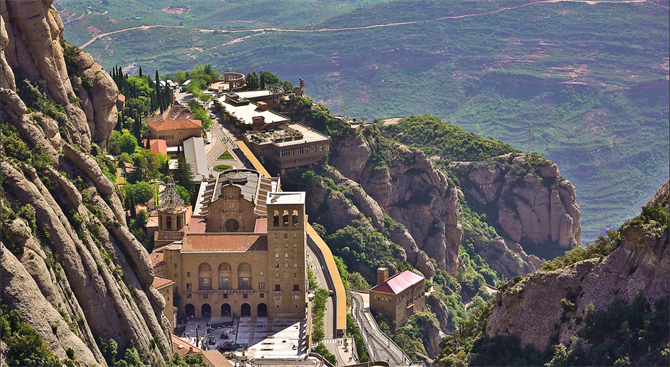 Around All Saints Day (Todos Los Santos), the harvest festival of La Castanyada has freshly roasted chestnuts and regional Muscat wine during celebrations. There are delicious Catalan specialities such as panellets (almond biscuits), boniatos (sweet potatoes), fruta confitada (candied fruit), and castañas (chestnuts).
The wine tasting begins in September too with many festivals in Penedes, where excellent red wines and the world-famous Cava (Spanish champagne) are made in the autumn. A tour of the best bodegas during the wine harvest is an experience for all the senses. There are numerous tours through the wine country, which can be booked from abroad or on spot.
The harvest begins in late August and continues during the month of September.
Learn more about wine tours of Penedès
Consorci de Promoció Turística de l'Alt Penedès
Email: info@enoturismepenedes.cat
Tel: +34 938 17 01 60
There are many great destinations to be visited including the ancient walled city of Girona, the city of Vic with its medieval charm, or Besalú with its Romanesque churches. One of the most famous buildings in Catalonia is the Montserrat Monastery near Barcelona. This is a place definitely worth visiting because there are fewer tourists and even during the winter it is not so cold within the walls of the monastery.
Weather in Sitges from September to November
Average temperature: 16-21 degrees
Water temperature: 18-24 degrees
Wild beautiful Basque Country in autumn - A Surfers Paradise
Every year, the surfers of Spain and other parts of the world make their way to the Atlantic's grandiose sandy beaches. In the Basque Country, you will find some of the
best surf spots and beaches
in Europe, which happen to be natural beaches with little-to-no nearby buildings and mountains in the backdrop. One of the top surf beaches is called Zarautz and it is located in a city that goes by the same name.
From October, surf season begins and continues on into the winter. Surfing around this time of year definitely means that you will have to wear a wetsuit and surf shoes because the water is very cold.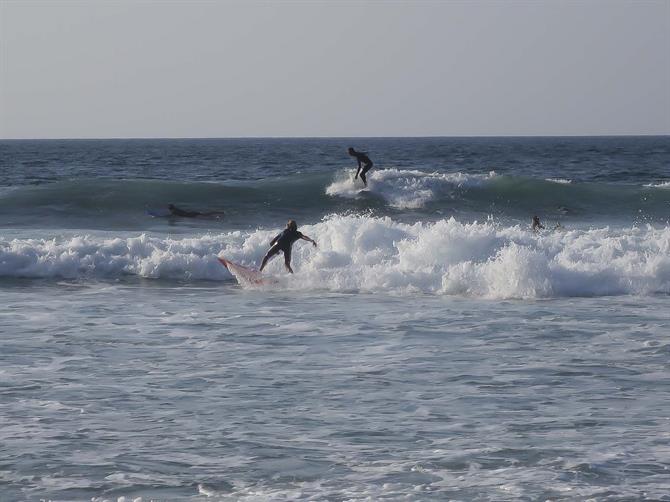 While the Basque Atlantic Coast is colder than southern Spain, the autumn feels strangely warm even when there is rain. The average temperatures range from 12-21 degrees from September to November.
Great attractions in the area include the beautiful city of San Sebastian, which is near the sea and the famous caves of Altamira in Cantabria.
Weather in San Sebastian from September to November
Average temperature: 12-20 degrees
Water temperature: 16-21 degrees
Tarifa in the autumn (and a view of Africa)
In the last corner of Andalucia, the province starts to lose its European feel. In Tarifa, Africa is so close that on clear days you can the shape of the continent. The Strait of Gibraltar is very busy with ships from around the world.
The wind in Tarifa is created by the mixing of the cool Atlantic waters with the warm Mediterranean Sea.
These winds are exactly why people from all over the world come here to kitesurf. But, if the wind is blowing strongly offshore, things can get out of control. For this reason, you should be cautious and choose days when the
wind is blowing from Levante
(easterly).
The long, wide sandy beaches are beautiful unless any cows get it your way (don't worry they are actually pretty friendly) - you will understand when you visit.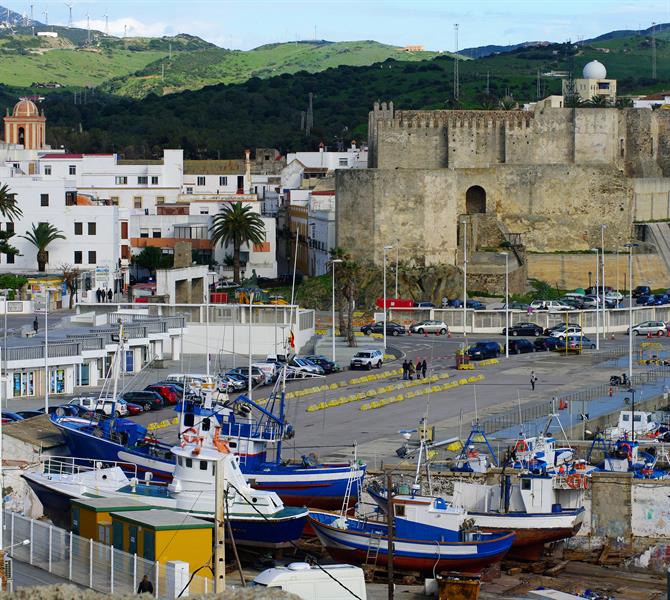 Finding a
holiday rental in Tarifa
, this small surfer community and the fishing village will likely bring you towards Playa de Bolonia, which leads to the most beautiful beaches of Cadiz.
The white villages of the Cadiz region are also worth visiting, as well as places like Vejer de la Frontera, Medina Sidonia, Arcos de la Frontera, Zahara de la Sierra or the village of
Setenil de las Bodegas
.
Weather in Tarifa from September to November
Average temperature: 16-21 degrees
Water temperature: 19-23 degrees
The Tabernas Desert in the Autumn
This desert region is located in the Andalucian province of Almería. Not only is it quite special to see a desert region in Spain, but it is also interesting to know that numerous Western movies have been filmed right here.
In the summertime, temperatures reach 40 degrees and above. While in Almería, visiting Fort Bravo Tabernas is a must and some might say that autumn is a better time to visit without the extreme summer temperatures.
There are numerous horseback riding trails throughout the desert; you can also take a mountain bike here. These activities are best practised from the end of September onwards when the region finally cools down a little. Nevertheless, we recommend wearing a hat, drinking lots of water, and keeping a GPS device handy so that you do not get lost.
The desert is quite large and it can be difficult to orient yourself, so a nice (and safe) option is to join a guided tour.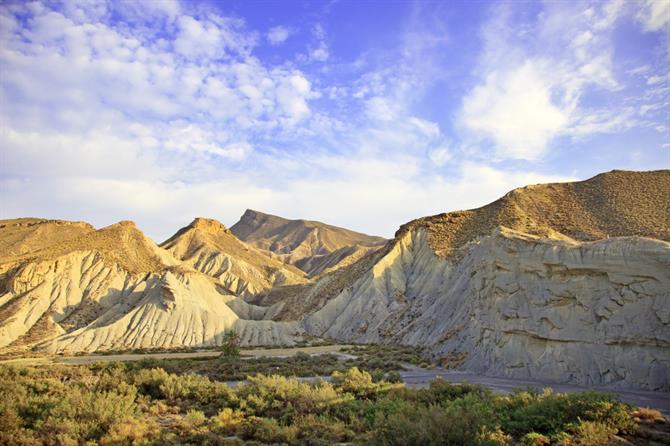 In the desert of Tabernas, there are many great activities for the whole family, if you want to combine a bit of adventure with nature experiences during your autumn holiday. Apart from Fort Bravo, there is a zoo to visit and the Western cities Mini Hollywood and Western Leone, where you can find tepees, log cabins and saloons straight out of the movies. Children have a lot of fun here.
Weather in Tabernas from September to November
Average temperature: 20-26 degrees
To note: At night, temperatures can drop to about 10 degrees in the desert.