Manilva is a small town surrounded by famous Andalusian resort cities. While it's hard to compete with Marbella and Estepona in terms of beaches and tourist attractions, Manilva is undeniably unique in comparison to these Costa del Sol destinations.
This uniqueness comes straight from Manilva's vineyards, which fit beautifully into the landscape of surrounding hills. Let's get to know Manilva's wine, a true essence of the lands.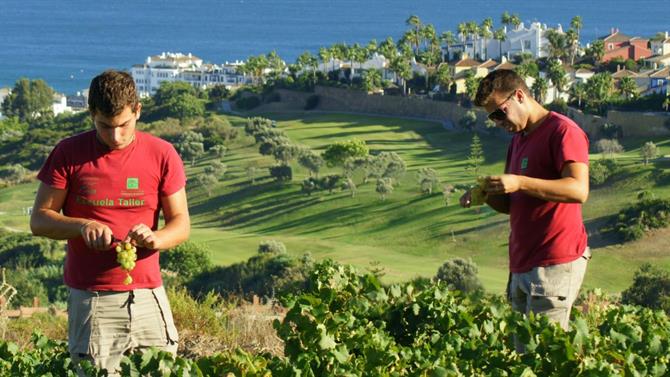 The sea of vineyards under the coastal sun
Manilva has been inhabited by farmers, fishermen and sailors for generations, and the town combines the simplicity and harmony of Andalusian traditions and the inexplicable magic of the Mediterranean. Manilva sits along eight kilometres of coastline consisting of rocky coves and golden sandy beaches. The vineyards of the area take in all of this sunshine and sea breeze.
Driving along the coast towards Gibraltar, this beautiful town of 14,000 shouldn't be missed. It is here that you can take the opportunity to learn about the history the Mediterranean grapes by visiting the wine museum.
This museum is the only place, without counting some restaurants in major Andalusian cities, where you can taste the local Nilva wine, produced from grapes grown in the Manilva hillsides. For wine lovers, this is a treat.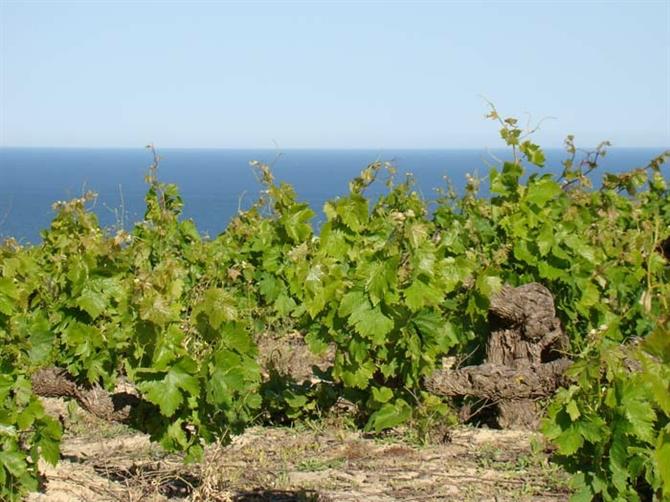 Centuries of tradition


The beginnings of viticulture in Manilva can be traced back hundreds of years. The first documented records date back to January 29, 1549, when the Council of Casares (a neighbouring village) asked the Duke of Arcos for land to cultivate grapes. However, grapes had been grown in the area since much earlier times.
The history grapes in Manilva begins in the year 40 with the planting of the Moscatel de Alejandría vine. At this time, farmers focused on the sale of fresh grapes, as well as producing raisins. Wine production was eventually taken up as a complete side product.
In 1989, it was recorded that grapes were planted across an area of 490 hectares. Next came the dark years of rampant urbanization; the fields, occupied by vineyards for hundreds of years, were put into question, and civilization drastically changed the agricultural world of Manilva. The sale of land became much more profitable than growing grapes. With this, the surface of vineyards began to shrink steadily and farmers abandoned their fields.
Following this period, Manilva went many years without producing any grapes, and it is only recently that farmers have returned to their traditional activities.
Grapes and raisins
Today, growing grapes in Manilva is based on the Moscatel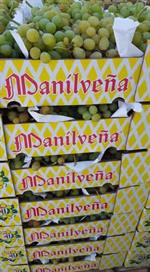 de Alejandría grape variety. These large white grapes are suitable to be sold fresh, dried as raisins, as well as used to make both sweet and dry wines.
Manilva's fresh grapes have earned a name for themselves on the regional market and they are known to be more flavourful than grapes from other parts of Spain. You can often you can buy bunches at roadside stands where farmers sell their crops under shady reed umbrellas.
Manilva is also one of the largest manufacturers of raisins in the Málaga Province. These are produced in an environmental way; sun-dried naturally and there are no added preservatives. You won't find raisins branded as from Manilva in stores though - they are sold under a common trademark as raisins from the Málaga Province (Denominación de Origen Pasas de Málaga).
According to an old recipe
While it can be surprising for visitors that a seaside town is home to vineyards that give such wonderful fruit, almost every family in Manilva has a vineyard of their own. A few even produce their wine in a traditional way, passed down over generations. Once a year, there is a contest to select the best regional wines.
Despite such a great tradition of winemaking, the town did not have an official winery and label for much time.
It was over several years that the town's government, along with local farmers' associations, tried to revive the vineyards that had been neglected and abandoned during the area's construction boom. Along with this revival, a first local wine branded as a product of Manilva was established. As for the popular Nilva, it is an experimental wine produced in limited quantities. It pairs perfectly with seafood.
The museum and bodega
The best place to start exploring Manilva is with a visit to the Wine Museum - Museo del CIVIMA (Centro de Interpretación Viñas de Manilva).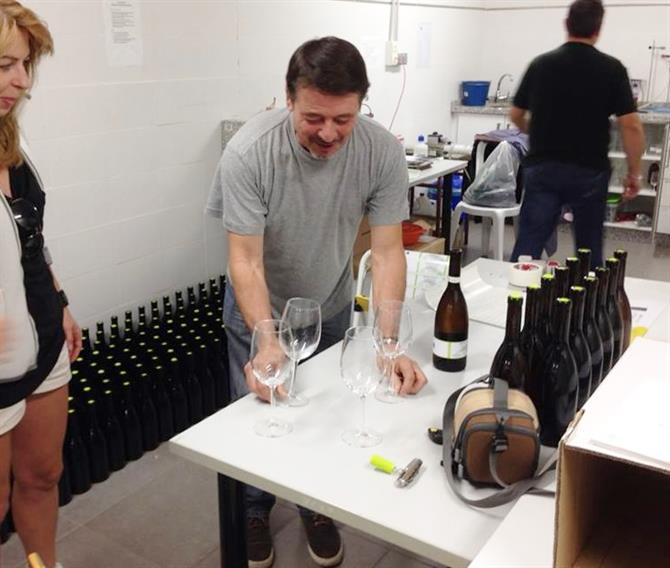 The museum consists of several rooms, each devoted to a different topic. In the audiovisual room, we can see an exhibition about the history of winemaking in the region, as well as the town's history. In the wine hall, the specificities of viticulture are presented and tools used during the harvest are shown. In the oenological room, there is a description and presentation of wine production from the past to the present. There is also a hall that tells about local holidays and harvest festivals. Finally, there is a temporary exhibition section where local artists present their works.
La Bodega NILVA winery, where all the wine production takes place, is located in the CIVIMA building and also serves as an educational and experimental zone. It is here where recipes and flavours are developed - it truly is a wine laboratory. You can watch the whole production process and the quality control of the wine. Tastings are also offered.
Visiting the bodega is a unique experience. It truly is a magical place where wine specialists, embraced by scientific passion, search for those special flavours and aromas.
You probably won't be able to resist leaving the bodega without a few bottles of NILVA. At present, the production capacity of the small bodega is 6000 litres per year, which is very little.
Visiting the NILVA vineyards
The Del Peñoncillo vineyard, where the grapes are harvested to produce NILVA wine, is located 1.2 kilometres from the bodega. As the local vineyards are a real heritage of the town, they continue to be cared for although they don't generate much money.
Apparently, it is Manilva's microclimate, which links the Mediterranean and the Atlantic, that causes these ideal conditions for growing grapes. Because of it's geographical positioning, mountains protect Manilva from cooler temperatures, while it rains more frequently here than it would in more northern latitudes.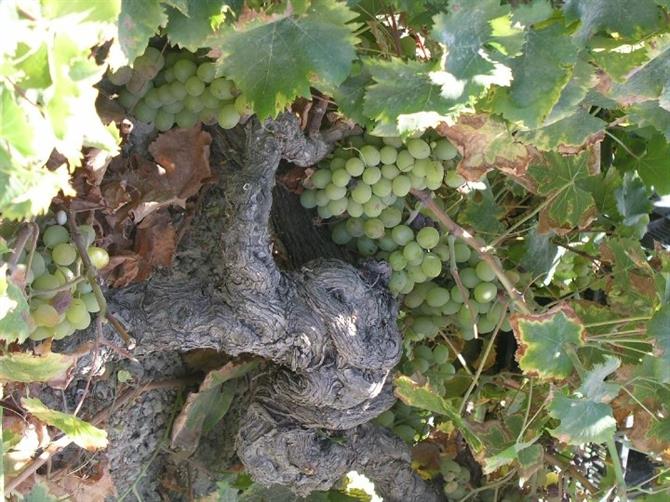 Like most vineyards in Manilva, Del Peñoncillo is located on a very steep slope, making much of the field work only possible by hand because the use of machines is virtually impossible. This zone is characterized by very strong winds, causing the vines to grow creeping along the ground. The vineyard is certified organic (CAAE Certificado de Agricultura Ecológica).
While exploring the vineyard, visitors have the chance to sit and admire the views of the surrounding area at tables among the crops. If visiting in September, you will have the opportunity to witness the grape harvest, as well as try a juicy bunch straight from the vine.
After visiting the museum, bodega, and vineyards, the beach is just 2 kilometres from the town centre to complete your perfect day. You can also try out a local restaurant and sample delicious fish dishes including skipjack or fire-grilled sardines. At dinner, don't forget to ask for the local wine you're now an expert on!
Visiting the Wine Museum - CIVIMA
You can get a guided tour of the CIVIMA museum by pre-booking your visit by calling +34 609 290 370. Each guided tour ends with a wine tasting. There is the option of visiting the museum and bodega, or visiting the museum, bodega and vineyards.
If you don't plan on getting a guided tour, you may simply buy your ticket before entering. 3 € per person, half price for children up to 12 years old.
Groups should pre-book tickets.
For more information please email info@nilva.es or call +34 609 290 370.
How to get there
The museum is located on Calle Doctor Álvarez Leiva n° 229691 Manilva, Málaga, near the fire station. There is free parking by the museum.
The museum is located half an hour from the Gibraltar Airport, an hour from Málaga, 10 minutes from Estépona, and 45 minutes from Ronda. If you want to try more wine on your holiday, check out Ronda's wine route and the Descalzos Viejos winery.
Enjoy!