Marbella is a centre of prestige and exclusivity on the beautiful Costa del Sol and it is considered to be one of the most luxurious holiday destinations in the world.
Most extravagant of all is Puerto José Banús, 7 km from Marbella centre along the Southwest coast, often referred to as Spain's answer to St. Tropez or Monaco. This stretch between Marbella and Puerto Banús, known as The Golden Mile, is lined with the coast's finest estates and it is a sight to see on its own.
From its humble beginnings as a small fishing village, to José Banús' building of Puerto Banús in 1970, to Prince Fahd of Saudi Arabia's extravagant summers at the Mar-Mar palace along the Golden Mile, the Marbella area has seen constant evolution.
Video of Puerto Banús
Puerto Banús boasts the country's highest concentration of designer boutiques per square metre, the biggest yachts and the most exclusive sports cars, combined with unparalleled gastronomy and a never sleeping nightlife. Throw in over 320 days of sunshine per year and tons of golf courses, and you have a paradise for all those who love a little luxury in their lives underneath the Spanish sun.
Marbella Luxury Weekend 2014
Puerto Banús is sure to impress on any day of the year, but the Marbella Luxury Weekend definitely adds extra hype to this luxury destination.
The weekend is dedicated to sports cars, designer clothing, jewelry, art, champagne, fine dinning and amazing parties along the harbour. Personal VIP invitations are sent out to renowned clientele, but for those without a VIP pass it is still one of the best times to visit, as there are lots of stalls, events and sampling open to the public.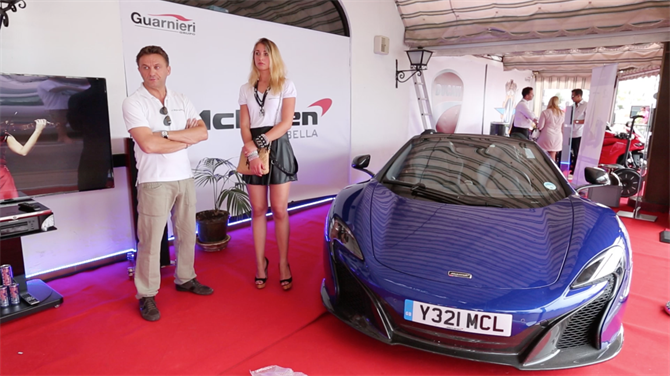 MLW2014 featured events including car shows hosted by Grupo Guarneri and Porsche, a painting and sculpture exhibition and on-site painting by notable American artist Daniel Orfano organized by Timeless Gallery, Tod's Shoes had a shoemaker on-hand ready to give personal touches to shoes from the collection, and local businesses set up their own stalls and tents along the port.
Luxury shops including Cartier, Escada, Salvatore Ferragamo, Bulgari, 7 For All Mankind and BDBA held exclusive cocktails, while a floating catwalk featured nightly pasarelas. Wolford, Swarovski and local designer Assja Dimitrova's Sena Design put on the opening shows, and Bikkembergs, Custo Barcelona and many others presented their collections on following evenings.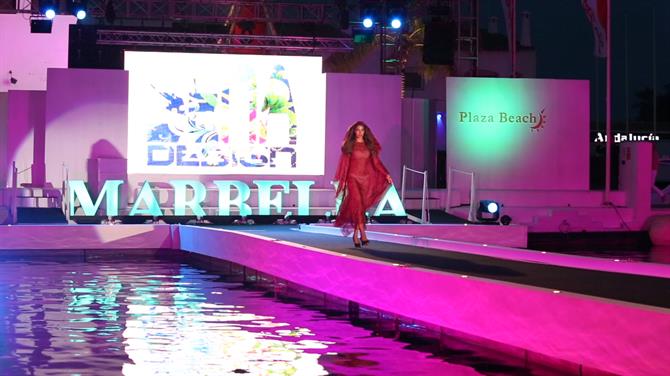 In fine dinning none other than renowned Michelin Star chef and Marbella native Dani García presented spectacular specialty coffees and cocktails alongside an exclusive dinner featuring delicacies from his Andalusian Brasserie & Tapas Restaurant BiBo, showing off his cocinacontradición concept.
Every day was followed by long nights of parties and concerts overflowing with champagne, molecular cocktails and mojitos at open-air clubs, atop roof-top terraces and onboard luxury yachts, the spotlight-lit turquoise sea sparkling in the background.
What to Do in Puerto Banús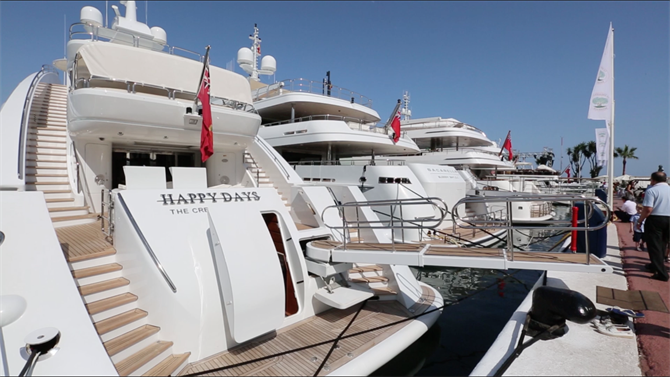 A "regular" day in Puerto Banús is never very regular at all. Even when the Marbella Luxury Weekend isn't on, daily life proves to be luxurious and all the best places to spend the day, shop, dine and party the night away are still waiting for you. At 60 km from Málaga international airport and easily accessible by car, Puerto Banús and Marbella are top destinations for many of those who travel to the Costa del Sol. Below you'll find some tips on what to do while enjoying your luxury getaway.
Where to Spend the Day
Some of the most extravagant options to fill your day include hanging out at top beach clubs like Ocean Club right along the Puerto Banús harbour and famous for its daytime champagne-spray parties, Suite del Mar at the Puente Romano Hotel beach resort between Puerto Banús and Marbella, or even the ultra exclusive Nikki Beach which is just a short drive away. There are also many amazing golf courses nearby including La Quinta Golf resort situated within a luxury residential complex, just a stone's throw from the centre of Puerto Banús. You also might want to check out one of our top 10 beaches in the Marbella area.
Where to Shop


With an incredibly high density of luxury shops per square metre, the marina offers one the best luxury shopping experiences in southern Europe. Strolling along the port, you can find all the most prestigious world-class luxury brands from Christian Dior to Versace and Louis Vuitton to Cartier. A few steps away you can also shop at Spain's largest El Corte Inglés department store, as well as the Cristamar and Marina Banús shopping centres.
Where to Dine


You'll never find yourself short of great restaurant options in Puerto Banús. Try La Sala for the ultimate social and dining experience with dinner, live music and dance floors. Another option is Los Bandidos, one of Puerto Banús' most famous restaurants serving a mix of Swedish, French and Spanish foods - just be sure to reserve in advance. For a Japanese and Andalusian fusion try Lamoraga Puerto Banús. Other favourites include long-running Italian restaurant Pizzeria Picasso, Antonio's Restaurant for incredible seafood, and of course El Gran Gatsby with a view not to be missed. If you feel like venturing outside of Puerto Banús, Marbella offers several excellent restaurants - try Restaurante Dani García at the Puente Romano Hotel for an unforgettable experience.
Where to Party


If you're looking for a wild nightlife, you've come to the right place. Some of the most popular destinations to go for a drink in Puerto Banús include Pangea one of Europe's best sky bars, News Café one of the trendiest bars along the harbour, and O'Grady's Irish Bar where you can have a beer and watch the latest sports game. For clubgoers, the options are endless. Some favourites include the sophisticated Aqwa Mist Nightclub, Tibu Banus with its fantastic open air terrace, the Arabic and Asian inspired Seven night club, Sleek which is one of the largest dance clubs in Puerto Banús, or you can head to the dark and intriguing Funky Buddha which is just a short cab ride away in Marbella centre.