Admiring glances at Andalucia
Admiring the herbs and wild plants of Andalucia is a pleasure in its own right, but they have lots of uses - some more unusual than others.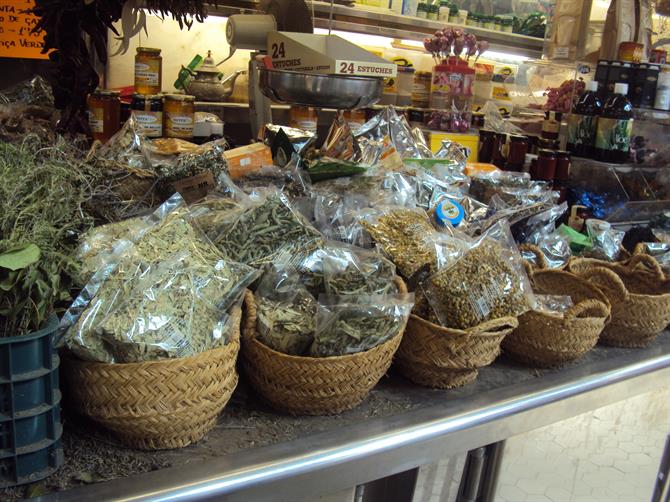 Smelling Spring
Spring in Andalucia is never far around that wintry corner, here in the foothills of the Sierra Nevada we seem to go from the snows of winter straight into the next season - always surprisingly faster than expected. Often we say it's just like flicking a light switch - so rapid is the change. New Year walks take on a fresh appeal - little shoots of green making their way up to smile at the Spanish spring sunshine, and identifying all these sweet smelling plants makes for an interesting ramble.
Walking on sunshine
If you choose to holiday in Andalucia in spring, then perhaps a walking holiday exploring the GR7 is on your mind - a good choice too - decent walks with superb views, interspersed with traditional mountain village life, and warm spring weather to boot, pardon the pun!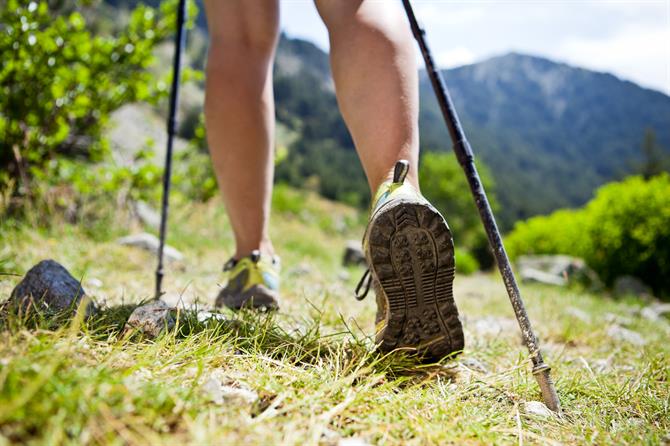 Doctor's orders
Driving around Andalucia, you'll observe the local ladies, mostly in black and always in a group, walking at certain times of the day along the road and sometimes into the local countryside. Allegedly, the respective - and respected - village doctors say to 'walk', and so they do. Perhaps that's why the people of Andalucia are known for their good health and longevity, as well as contributing factors such as the Mediterranean diet, and the fresh and clear air in this stunning mountainous region. Come in Spring for the stunning Almond blossom and sweet scented air.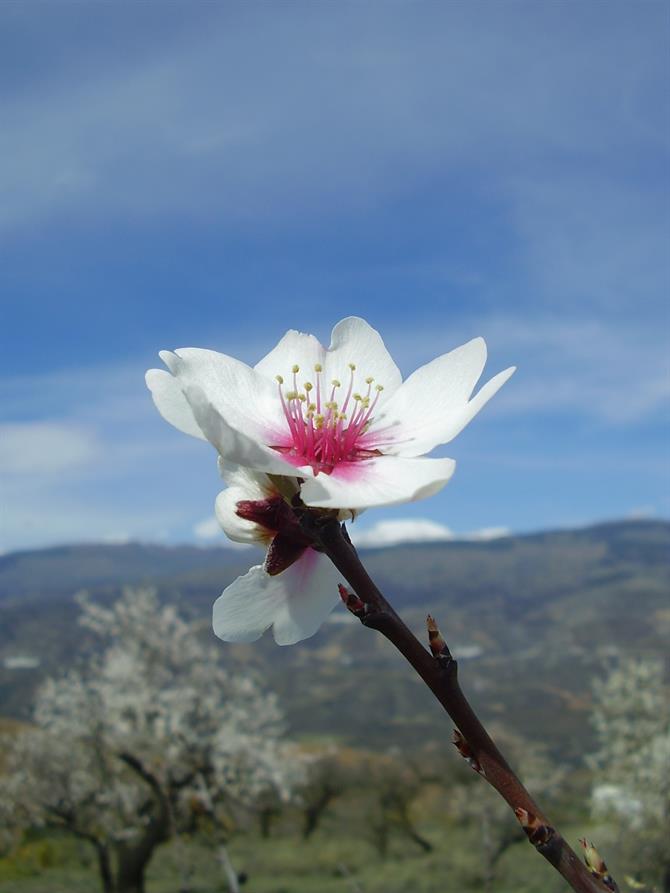 Walk and learn
Last spring, we walked with them on a few balmy evenings for a little local exercise and to be sociable, and got an eduaction into the bargain. Expecting no more than local gossip, we found the ladies who walked were surprisingly knowledgeable about the surrounding plants and herbs. Most of the local plants had their uses in days gone by - and 'recipes' and remedies have been passed through local families for generations, some still in use today. Let's take a look at some of them:
1. Rosemary and Thyme.
Use the leaves, the stems and the flowers.
Growing abundantly here in Andalucia, Rosemary scents the mountain air and flavours the local honey. It's helps with memory, and increases concentration - but has other uses too. Locals rinse their hair in fresh mountain water infused with fresh rosemary, it promotes shine and encourages growth - and also heps with baldness, so I guess the local men don't get much of a look in! It's used in stews and roasts here too, especially in the local speciality, rabbit stew. Use thyme in the same way, it's also a powerful antiseptic for sore throats, just gargle with a thyme infused warm water solution.
2. Basil.
Use the soft leaves.
Wild basil is intoxicating. Smaller leaves than the larger commercial plants, you'll have to look closely to find it but the smell when trodden on will immediately give it away. Local 'old boys' will always have a jaunty sprig of the stuff tucked behind their ear. Why? Flies and mosquitos really don't like it and will stay away. Perfect! Of course, in the kitchen, basil is perfect friends with those fresh and juicy Andalucian tomatoes. Instant tapas!
3. Lavender.
Flower heads and leaves.
Swathes of wild lavender cover the hillsides and roadsides around here from early March until the end of April. Great clumps of the flowering herb are abundant and as obvious by the striking purple colour of the flowering heads as the intoxicating smell. We picked a whole load last year, and laid it on the back seat of the car, we were almost asleep by the time we arrived home! That's the secret to lavender, it's soothing and relaxing, a few sprigs in the bedroom will instantly relax and send you off to sweet dreams. But, it's also a powerful antiseptic and disinfectant - so keep it around for the kitchen and bathroom too. A few drops of the essential oil on a nearby clean hanky works great for headaches too.
4. Borage.
Use the leaves and stems.
Bright blue flowers cutting the palette of greens and yellows will identify this plant, furry stems and leaves. Used widely here for tea, the leaves are picked from young plants and steeped in almost boiling water - a little fresh mint adds to the flavour and it's a cooling and relaxing drink, especially on a hot day. You can gently fry the stems too.
5. Wild Garlic.
Use all of it!
The wonder plant. Garlic is known for many uses, but when out walking try and spot some of the wild stuff - you'll smell it before you see it! Looking a little like Lily of The Valley - it's a pretty plant, I once made the mistake of gathering the flower heads and putting them in a vase - the whole house soon reeked of wild garlic! Eat all of it - cooked or raw, if you're feeling brave and a little unsociable!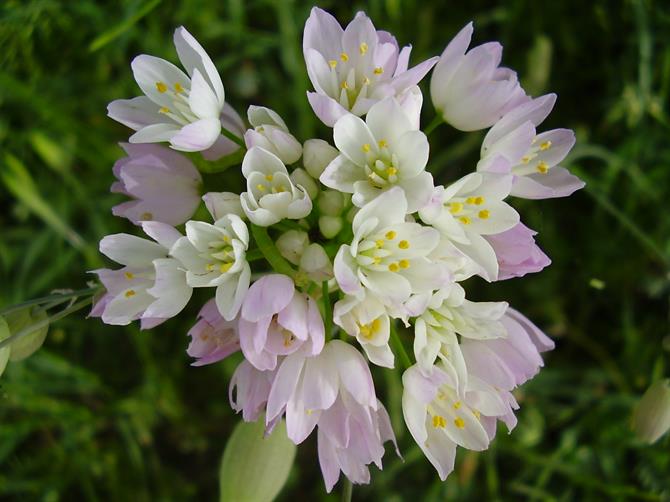 6. Fennel.
All of the plant is used.
Wild fennel can be seen growing next to the roadside, so no scrambling to get to it! The furry fronds are easily identified and gathered, not just as a popular fish herb, but also known to be used after non poisonous snake bites and also, in case you're interested, to ward off witches - plenty of those around here! Mules love it too...
7. Blue Lupine.
Seeds after flowering is finished are used.
Actually a member of the pea family, you'll see plenty of those cousins around too, deep pink and red flowers on the banks, they taste like freshly podded peas and can be used in salads. But the Blue Lupine itself, which looks like a tall garden or common Lupin, is used for the seeds that are gathered after it has finished flowering - they're a rich source of protein and were pretty important around here during the 'hunger years' - as were, and still are, snails, for the same reason. Sprinkle them on top of your salad for an instant energy boost.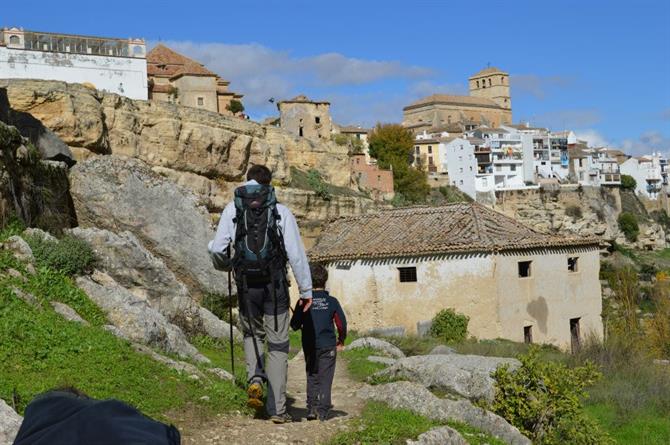 Take that hike
That's just a few of the plants and herbs growing wild hereabouts, they have many uses as well as being pretty to look at. So, next time you take a hike in the countryside of Andalucia, take a second look around at the plants and flowers. Don't pick or eat anything you're not 100% sure of, as many can be poisonous and most are protected, take a local guide and see what's available - you might be surprised!