About Archidona
The small town of Archidona sits just past the Peña de los Enarmorados, amid the landscape of undulating olive grooves and replanted pine trees that make up the Sierra de Gracia. It is one of the most picturesque towns in the area and still very Moorish in nature.
Untouched by mass tourism, the old quarter has preserved a number of vestiges from its period of Moorish rule.
Despite this distinctly Moorish feel, Archidona's most famous landmark is the Plaza Ochavada, an octagonal square, that was built in the 18C and is situated right in the town centre. The focal point of the town, this unusually shaped square was used for bullfights until recently.
The Sierra de Gracia is a small natural park that sits just beside the town. Only 35 hectares in size, the Sierra de Gracia is officially classified as
Periurban park
, being so close to civilisation.
The Sierra de Gracia is home to the remains of Archidona's Castle and the Ermita de la Virgen de Garcia, a small 18C chapel that was built within the walls of the old Moorish castle. The Via Ferrata starts near here.
Archidona's Via Ferrata
Archidona's Via Ferrata is officially known as the Ferrata Sierra de Gracia and provides a great introduction to ferratas in Andalusia.
The newly installed route is in good condition and has a lifeline running its entire length. Technically, it's very straightforward, with a 80m climb and a 30m Tibetan hanging bridge at the end.
Classified as basic to moderate. The Sierra de Gracia ferrata is a favourite for many activity and mountaineering clubs in the area and is often classified as 'suitable,' for children. In saying that, I wouldn't take my children on this route and would most definitely advise against taking under 12s. As with any activity in the mountains, they'd need to have experience and a head for heights.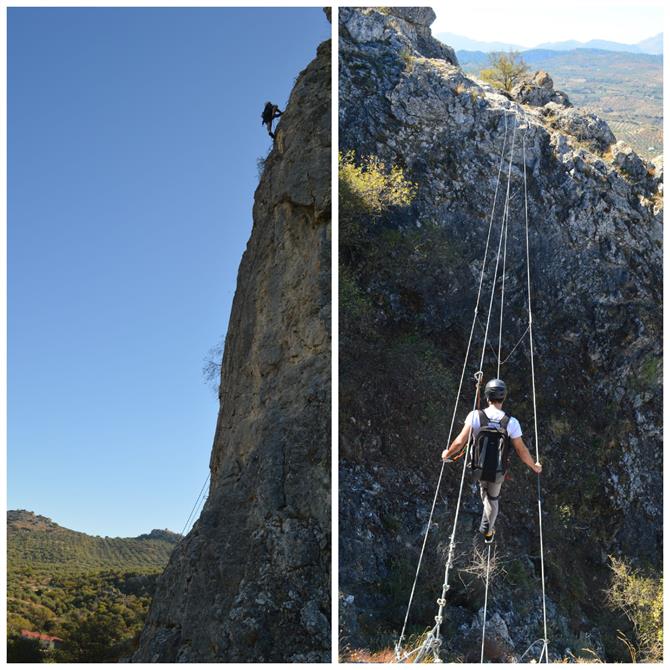 When going with a mixed ability group, or with children, it's always best to do the route on your own first and gauge how difficult it is.
It's also a good idea to bring rope if you need to abandon mid-way, or to belay someone through difficult/scary sections.
Technical details
Total length - 150m
Accumulated height - 110m
Difficulty - Easy to moderate
Access - Good. About 15 minutes from the road
Ferrata condition - Very good, newish installation, September 2015
Equipment - At a minimum, a helmet, harness, Via Ferrata lanyard and at least one climbing sling with a screwgate carabiner. Helmets are a necessity on this route, there's a lot of loose rock that can come down easily.
Getting there
If coming from Malaga, follow signs for Granada, taking the exit 114 onto the A-92M. Follow this road past Villanueva del Rosario and eventually coming off at exit 11 towards A-7202/Archidona/Villanueva del Trabuco.
Upon entering the village take the road on the left that leads upwards towards the mountains. You'll soon pass the municipal swimming pool on your left. The concrete road quickly becomes a track. Keep going upwards and you'll come across a sign for the Ferrata. Park here - map.
There's a 10-15 minute walk to the start of the Ferrata, as a reference point look for the mountain with big telephone masts on the top. This is the mountain with the Ferrata installed.
When you've finished the Ferrata, you'll come out at the top of the village. Make your way downwards towards the parking along the road, passing the castle and Ermita.
A word of warning
Via Ferratas are dangerous. Their increased popularity and accessibility has lulled many into a false sense of security. A fall off a Via Ferrata can be very serious. Usually far more serious than a fall you'd experience while climbing.
The fall factor involved is usually very high and a lot higher than you'd ever likely to take in a rock climbing fall. Ferrata lanyards are designed to absorb shock by opening up. If you do fall, there's also a good chance that as you fall, you will bounce off and collide with things, stemples and ladders that make up that via ferrata, as well as rock ledges and protruding rocks. Take care.
Always make sure you check conditions, bring the right equipment and, if unsure, use a professional guide.
A special thanks for Porfirio for showing us the route, providing the equipment and above all, for his insider knowledge!!