Gran Canaria has many hiking routes, dotted around the island. One of the lesser-known ones is also the most accessible. Introducing Arucas' SL4.
Westward ho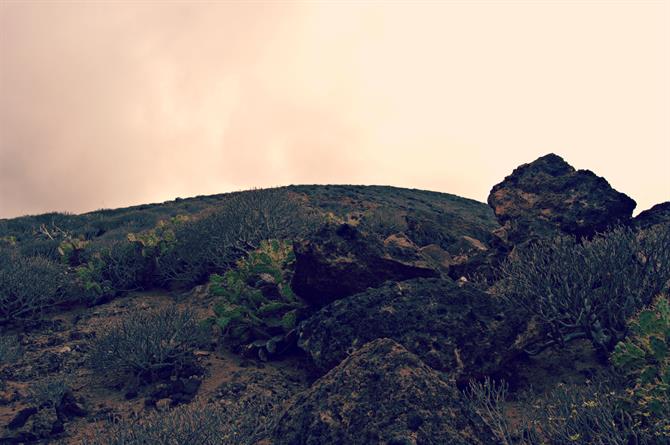 I travel around the island on Global a lot, to bring you regular articles about Gran Canaria. If I'm heading south or into the centre, I'll catch a bus from Las Palmas de Gran Canaria's Parque San Telmo bus station. However, if I'm heading westwards along the north coast's GC-2, I'll use the Juan XIII bus stop closer to my home as a launch pad for my adventures.
It was from this stop which, more accurately, is on the Avenida Marítima that I caught the 210 to Arucas by way of Cardones at close to quarter past four in the afternoon (16:14:35 to be precise). The fare to take me to Cardones was 1,65€. And I soon drifted off into a mini siesta as the bus made its protracted exit from Las Palmas de Gran Canaria.
From Cardones to coast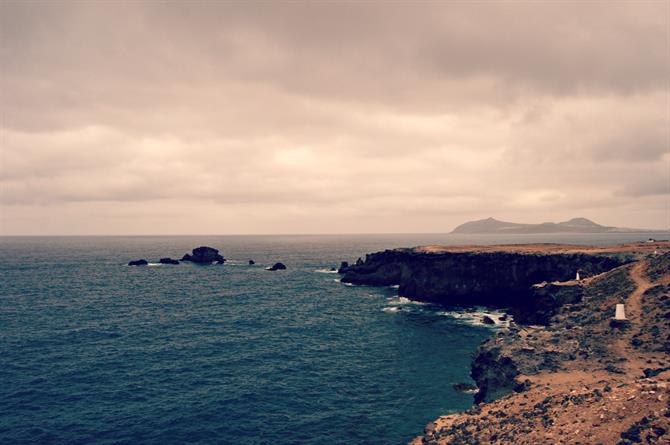 I'd been to Cardones before when we we were property hunting. We concluded that it's a meh kind of place, so I didn't linger long especially as the bus dropped me off at the start of the hike.
However, I did make a slight detour to view the Iglesida de San Isidro Labrador. It certainly looks older than its 99 years. But there wasn't much else to detain me, so I was soon on my way, heading towards Arucas' dramatic coastline.
From turf to surf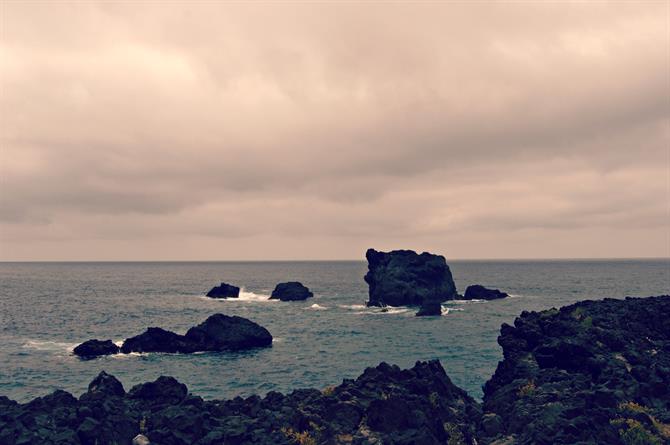 Usually being in Arucas reminds me of South America, but taking in Cardones' countryside reminds me of somewhere closer to home. As in Telde's Cuatro Puertas. There are caves I half expect a canarii still living in the Stone Age to leap out of.
As it is, the only caves that seem to be inhabited these days in these parts seem to be by dogs. Yes, cave kennels. Closer to the GC-2 there are some newer farms and banana plantations, and a quarry which proudly display Arucas' famous blue stone.
To cross the GC-2, I have to go through the tunnel. Where I reach the Punta de Arucas, a popular barbecue spot for local families. Although there are some permanent residents too which probably don't number more than all you can count on two hands.
Back to LP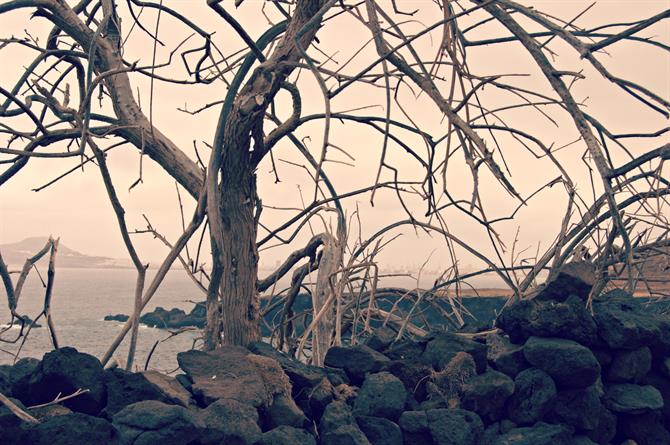 One of our reasons for considering Cardones as a place to relocate to is its proximity to Las Palmas de Gran Canaria. It's 10-minutes' close. And there are excellent views of the capital's skyline.
As there are of the surging Atlantic beyond. This is not a place to swim with the nearest beach to be found at El Puertillo, although there's a rock pool to splash about in at the Punta de Arucas. Indeed, there are warnings prohibiting entering the water. If that's not sufficient deterrent, perhaps the various crosses will deter you.
There's not much fauna to see until you reach the hike's end. This includes a spooky forest made up of dead tamarisk (salt cedar). Rather more verdant's the dragon-tree plantation at the bottom of the steep path you have to take to get up to the main road.
The first bus stop I find only has two buses using it. So I walk on to the next one, outside the Albergue Insular de Animales. From here, I catch a bus back to Las Palmas de Gran Canaria (1,45€) around 3 hours after leaving. Well, at 19:23:43, to be precise.