Telde may be the Canary Islands' original city thanks to a Franciscan brotherhood from Mallorca securing a papal decree. However, the area was already populated by the pre-Spanish inhabitants of Gran Canaria, the Berber-descending canarii. Who resided in cave dwellings such as Cuatro Puertas.
Artificial intelligence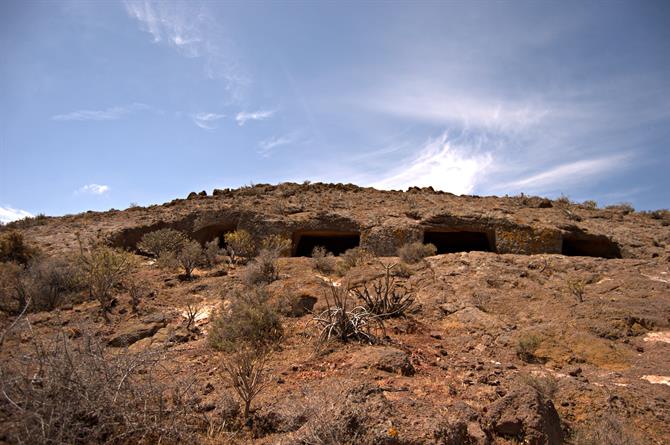 Cuatro Puertas is one of a series of artificial caves carved out of the Wensleydale-crumbly Montaña Bermeja, Bermeja mountain, with stone picks. It takes its name from the four doors which lead to one capacious chamber. This was a sacred site presided over by faycanes, the revered high priests of the aboriginal community.
Nowadays, Cuatro Puertas also refers to the small settlement which surrounds this holy place. It's a 30-minute drive from Las Palmas de Gran Canaria, although if you travel with Global buses from the capital, you'll have to change in Telde before taking a bus going to either Agüimes, Doctoral, Faro Maspalomas, or La Mediana. You'll find Cuatro Puertas on the C-816, just before you reach Piletillas.
Paper craft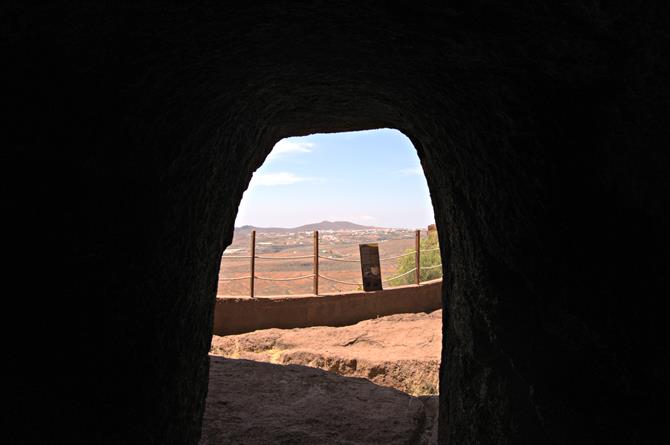 After taking the right turn on the main path which allows you to enjoy a close-up of the Cuatro Puertas, retrace your steps and bear left instead. This will take you to the other side of the Four Doors. Where there are even more caves to discover.
The first is the Cueva de los Papeles (Paper Cave) which features pubic triangles similar to those found in Artenara's Risco Caído, used as part of fertility rituals. Later, local shepherds converted this cave, introducing whitewashed walls, cemented floors, and doorway notches. The Cueva de los Papeles was last utilized in this way as late as the end of the 20th century, by a local shepherd who housed his flock here.
Pillars of the community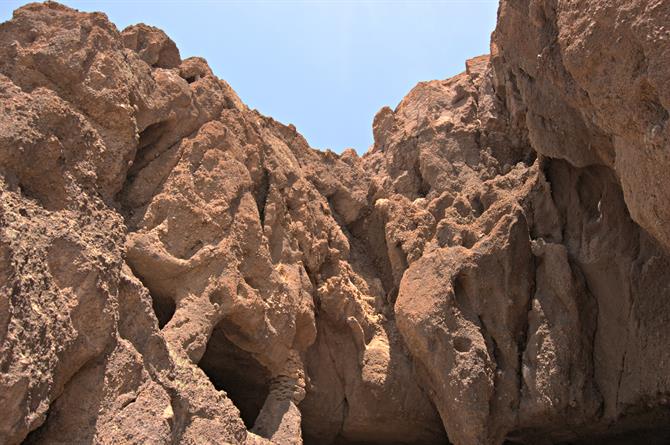 Continuing westwards from Paper Cave, you'll soon reach the Cuevas de los Pilares. These south-facing caves guaranteed plenty of sunshine but protected inhabitants from bad weather. As well as admiring the ingenuity of these living spaces, check out the precariously-placed La Audiencia, a Cenobio-de-Valerón-style granary, deliberately difficult to reach so that it was easier to defend against any potential ransackers.
On location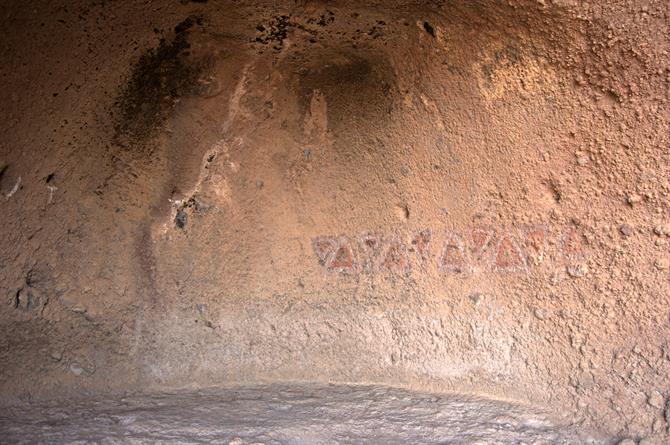 Unlike in the Cueva de los Papeles, do not be fooled by the wall drawings in the Pillar Caves. For they date back to no earlier than 1954. When the Cuevas de los Pilares were used as a film set during the shooting of Tirma, a Spanish-Italian production which starred Silvana Pampani as the legendary canarii princess, Princesa Guayarmina.